Third Party Risk Management Solution (TPRM): Checkmating your Business Risks With Confidence
The third-party risk management solution includes establishing the legal compliance, financial viability, and integrity levels of outside partners, suppliers, customers, and other sources worldwide that seek potential affiliations with your organisation.
CRI Group™ is launching a third-party compliance verification and certification program – 3PRM-Certified™ – across the Middle East, Europe and Asia region. This TPRM program can help organisations establish the legal compliance, financial viability, and integrity levels of outside partners, suppliers and customers seeking to affiliate with your business.
3PRM™ SCOPE OF WORKS
Our 3PRM™ solution streamlines the third-party risk management process through scalability, and efficiencies – from third-party risk identification to assessment what sets us apart is that our 3PRM™ provides a comprehensive solution covering:
Due Diligence
Screening & Background Checks
Regulatory Compliance
Business Intelligence: Information Management
Investigations: i.e. IP, Fraud, Conflict of Interest, etc
Anti-bribery & Anti-Corruption (ABAC) Compliance
Employee auditing training & education
Monitoring & reporting
WHAT AREAS OF MONITORING 3PRM™ INCLUDE?
CRI Group 3PRMTM monitoring includes:
Supplier & vendor information management
Corporate & social responsibility compliance
Supplier Risk Management
IT vendor risk
Performance measurement
Contract risk management
WHAT ARE THE KEY FEATURES OF 3PRM™?
Our 3PRMTM suite of services can help you transform, implement & manage third-party risk management efforts. The key features of 3PRMTM includes
Diagnose, develop & enhance your program or function around:
Governance & oversight
Policies & standards
Third-party inventory
Risk approach & models
TPRM processes & assessment frameworks
Profile third parties and assess their risk and controls leveraging your framework or ours, covering:
Risk profiling
Global onsite and remote-control assessment execution across all risk domains (e.g., cyber, resiliency, financial health and regulatory compliance)
Analytics and reporting
Manage third-party risk processes across the relationship life cycle to provide:
Pre-developed risk models, review criteria and reporting
Risk profiling/third-party inventory
End-to-end third-party oversight and governance
Global onsite and remote-control assessment execution across all risk domains (e. g., cyber, resiliency, financial health and regulatory compliance)
SPECIFIC AREA ADDRESSED IN 3PRM™ ASSESSMENT
CRI Group™'s Third Party Risk Assessments are front-line tools used to ascertain whether an organisation has the proper policies and procedures in place to address all potential risks at the management, operations and financial levels, and simulates the likelihood of those risks occurring. 
A 3PRM™ assessment includes a review of internal auditing procedures, compliance guidelines, performance criteria, internal controls, reporting processes and contractual requirements that are vital to foster a long-term positive outcome with the third-party provider when looking at the relationship from a cost-benefit standpoint.
Specific areas addressed in our 3PRM™ assessment include:
Audit and supervision functions that assign clearly defined responsibilities within the organisation
Business continuity plans that take into account natural disasters and third-party business closures
Supply-chain alternatives that react and respond to every possible scenario, from regional events to currency fluctuations
Jurisdictional considerations and affiliations with potential partners located in regions that may be prohibited by law
Data and intellectual property protection, which includes customer privacy and information security considerations
Anti-corruption and whistle-blower policies begin with staff education and extend to safe internal and external reporting mechanisms which are easily accessible to management and staff.
OUR RESOURCES FOR 3PRM™ SOLUTION
Our 3PRM™ resources include:
International business verification
Individual business interest search
Personal profile on individual subjects
Company profile on corporate entities
Historical ownership analysis
Identification of subsidiaries & connected parties
Global & national criminality & regulatory records check
World-check politically exposed person database
International media research
Country-specific databases that include litigation checks, law enforcement agencies & capital market, regulators
Company background analysis
Industry reputational assessment
FCPA, UK Anti-Bribery & corruption risks databases
Global terrorism check
Global Financial authorities check
Money laundering risk databases
Financial reports
WHO NEED A 3PRM™ SOLUTION?
If your organisation requires any of the following within your compliance checklist, then you must consider a third-party risk management solution:
Have a lack of visibility or understanding danger of the risks posed by your relationships with many types of third parties?
Want greater visibility into third-party performance and risks?
Need to improve operational costs, process, efficiencies, and organisational agility associated with your third-party relationships?
Need to gain greater control over the related risks?
Want to be confident that third parties are compliant with your business' policies, as well as their own—based on government regulations and industry requirements?
WHY IS THIRD PARTY RISK MANAGEMENT A CRITICAL STEP FOR YOUR BUSINESS?
TPRM is especially critical when your business:
Performs pre-merger & acquisition research
Conducts due diligence
Engages new clients
Employs, contracts or retains foreign business partners
Requires a consistent, audit-worthy anti-money laundering and anti-corruption compliance program
Implementing TPRM helps you avoid:
Merging with an international business embroiled in behind-the-scenes legal battles
Getting caught up in making procurement decisions involving the inappropriate influence of government officials who were slated to receive kickbacks
Partnering with organisations that are potential credit risks, have claimed bankruptcy, have dissolved stated companies or are faced with debtor filings.
Awarding work to an overseas contractor with absolutely no prior experience
Affiliating with a contracting company owned by a politician with significant influence on future awards
WHY PARTNER WITH US?
Why partner with CRI Group™ for your third-party risk management solution?
CRI™ has one of the largest, most experienced, and best-trained integrity due diligence teams globally.
We have a flat structure which means that you will have direct access to senior members of staff throughout the due diligence process.
Our multi-lingual teams have conducted assignments on thousands of subjects in over 80 countries, and we're committed to maintaining and constantly evolving our global network.
The unique 3PRM service we offer is flexible, and we will tailor our scope to address your concerns and risk areas, saving you time and money.
Our extensive solutions include due diligence, employee pre and post-background screening, business intelligence, and compliance, facilitating any decision-making across your business, regardless of area or department.
Brochure on Third-Party Risk Management: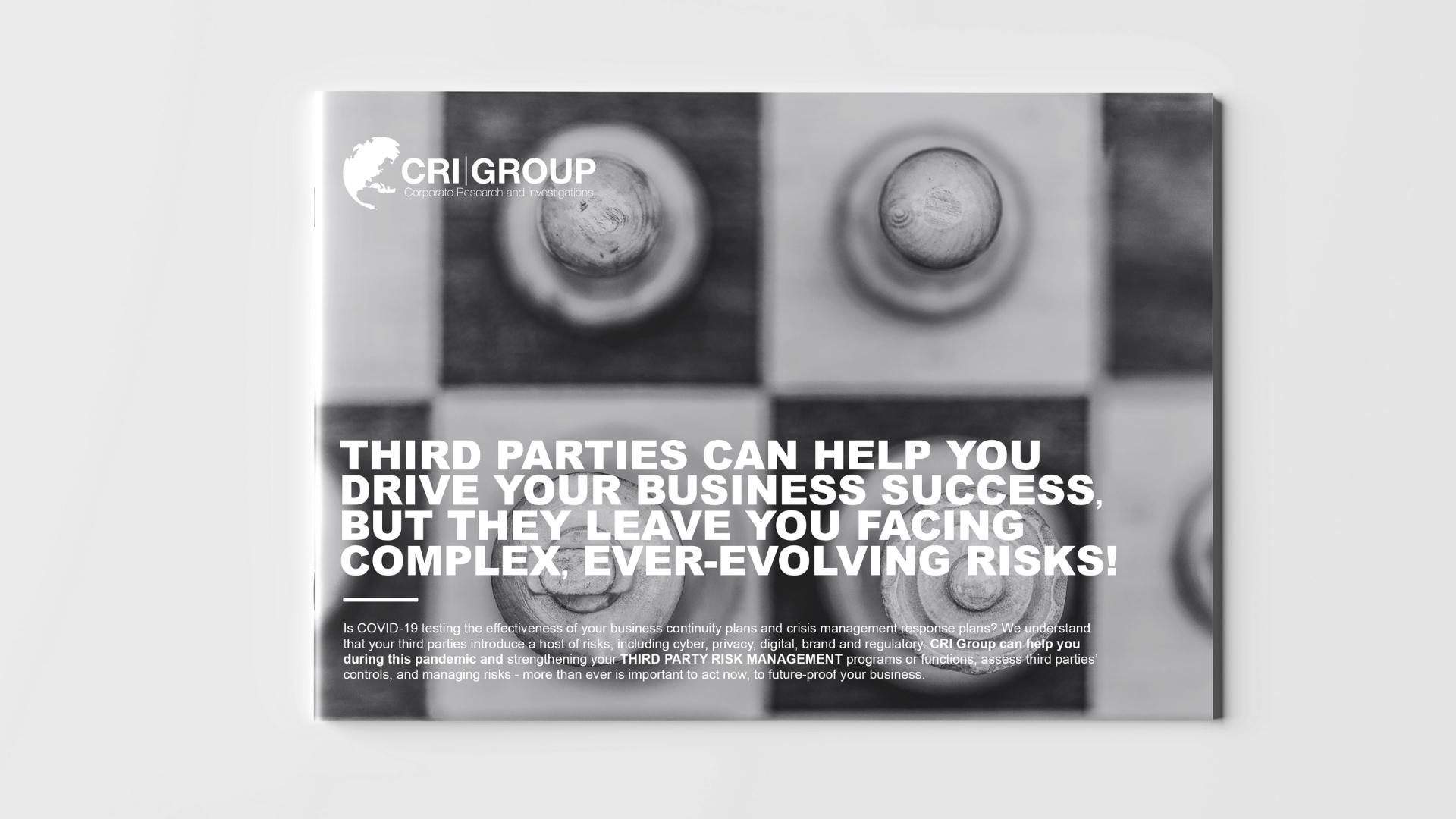 Brochure: 3PRMTM Solution
Third parties can help you drive your business success, but they leave you facing complex, ever-evolving risks!
Download Brochure
Request a 3PRM™ Quote
Please complete the form below to help us prepare the best and most accurate quote for you. We will get back to you within 48 working hours.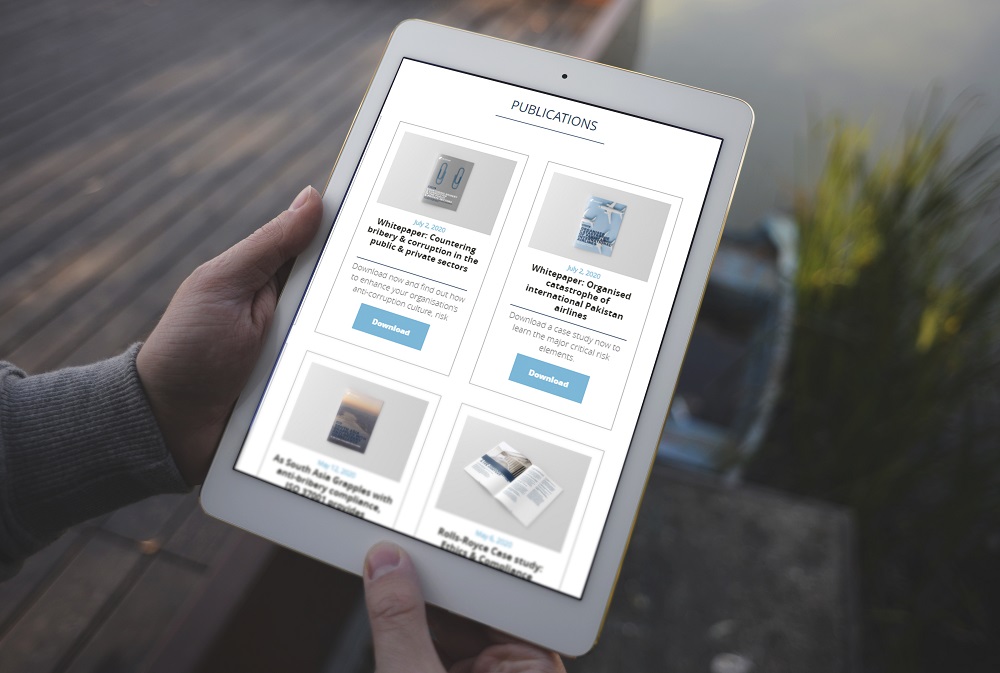 GET INDUSTRY NEWS DELIVERED TO YOUR INBOX
Sign up for risk management, compliance, background investigations, business intelligence and due diligence-related news, events and publications.