Don't Fall Prey to Unscrupulous Business Dealings & Outside Threats: Engage Our Corporate Accountability Services to Protect Your Business!
CRI™ Corporate Accountability services are vital when it comes to enhanced due diligence on potential business partners. This would be required when adding a new vendor or hiring a new employee to confirm the legitimacy and reduce the risks associated with such professional relationships.
Global integrity DueDiligence360TM investigations provide your business with the critical information it needs in making sound decisions regarding mergers and acquisitions, strategic partnerships, and the selection of vendors, suppliers, and employees. This will ensure that working with a potential trade partner will ultimately achieve your organisation's strategic and financial goals. At CRI™, we do diligence where ever you are.

Our Basic Due Diligence 360 investigation includes:
International business verification and Individual business interest search
Personal profile on individual subjects and Company profile on corporate entities
Historical ownership analysis and identification of subsidiaries & connected parties
Global/national criminality & regulatory records checks and Politically Exposed Person database
International digital media research and Company background analysis
Industry reputational assessment, FCPA, UK Anti-Bribery & corruption risk databases
Global terrorism checks and global financial regulatory authorities checks
Money laundering risk database
Financial reports and asset tracing
Country-specific databases include litigation checks, law enforcement agencies & capital market regulators.
CRI™ Level I Essential Integrity Due Diligence scope of work includes:
All in Basic Due Diligence 360 Package
Confirmation of the address and telephone number
Verification of corporate record research for current shareholdings/directorships, officeholding including executive and/or non-executive positions, and ultimate beneficial owners' corporate legal structure.
Verification of Corporate and business affiliations.
Verification of Personal Information of the Principal(s) associated with the subject entity.
Local language/English press and electronic media search.
Research on government affiliations, political positions and relationships with public officials.
Research with Police and Relevant Court resources for criminal history record checks.
Research with relevant public record resources for civil litigation, liens, previous judgments, and bankruptcy.
Research with regulatory agencies on current and/or pending actions/sanctions.
CRI™ Level II Enhanced Integrity Due Diligence scope of work includes:
All in Level I Essential Integrity Due Diligence Package.
Onsite visits and take pictures of the address and locality.
Verification of Previous Employments and/or Projects completed, Business and Personal References, Academic and Professional Qualifications.
Verification of Current activities, track record and history (including any other multi-national companies) and partners, modus operandi, and business track record in the Territory.
Overview of the background and track record of key principals and shareholders of the Subject, focusing on regulatory or reputational issues of concern.
Assess any other material that could constitute a red flag deterring an association between client and the Subject, its key principals and shareholders.
Research with publicly available property records and asset ownership.
Comprehensive local and International Sanction list screenings. Watch lists: PEP databases checks, global compliance database searches, OFAC and other international sanctions and law enforcement institutions for the Subject and its key principals and shareholders.

Research on Relationships and Placement. Profile the positioning and connections of Subject and its key principals and shareholders: Focusing on business relationships, political relationships, any associations between the Subject, its key principals and shareholders and any disreputable individuals and organisations, exposure to international anti-bribery and Anti-Corruption legislation (including the FCPA and UKBA) or trade sanctions legislation.

Undertake Source Interviews to use local and industry expert source enquiries.
Engage our due diligence services to protect your business and remain compliant with the country's regulations:
Due diligence to stay in compliance with regulations:
Use our DueDiligence360™ reports to help you comply with anti-money laundering, anti-bribery, and anti-corruption regulation or ahead of a merger, acquisition, or joint venture.
Due diligence involving critical decision-making:
You can also use them for third-party risk assessment, onboarding decision-making, and identifying beneficial ownership structures. Identify key risk issues clearly and concisely using accurate information in a well-structured and transparent report format. Our comprehensive range of reports includes specialised reports that support specific compliance requirements.
Due diligence to understand the risks involved:
Our detailed reports will protect your reputation, financial damage, and regulator action risk. They enhance your knowledge and understanding of the customer, supplier, and third-party risk, helping you avoid those involved with financial crime.
The parties of interest for due diligence investigation shall include the following:
Suppliers
Agents
Distributors
Advisers
Joint Venture Partners
Brokers

Third-Party Affiliates
Technology Vendors
Business Services Vendors
Distribution Channel Partners
Any Other Entity Wishing To Transact With Your Business
DueDiligence360™ Expected Outcomes – RED FLAGS.
Undisclosed third-party transactions
Material misrepresentations or commissions
Unreported financial difficulties
Criminal or regulatory sanctions
Prior bribe or corruption allegations
Undisclosed legal or bankruptcy proceedings
Politically exposed Persons -PEPs
There can be more red flags depending on the nature of industry, scope and jurisdiction of the subjects in question.
What is Due Diligence?
Due Diligence or Corporate Accountability are understood as the reasonable steps taken to satisfy legal requirements in the conduct of business relations. It allows you to reduce risks – including risks arising from the FCPA (Foreign Corrupt Practices Act) and the UKBA (UK Bribery Act).
Due Diligence and corporate compliance management also allow you to make informed decisions and to pursue takeovers or mergers with more confidence. Unlike other kinds of control (audits, market analysis, etc.), it must be completely independent and thereby rely as little as possible upon information provided by the researched subject.
Methodologies of due diligence services
The other important difference lies in the methodology adopted. Commercial or financial due diligence analyses available information. Investigative due diligence provides reliable and pertinent, but raw, information.
At CRI® Group, we specialise in Integrity Due Diligence services, working as trusted partners to businesses and institutions across the world. Our people work with energy, insight and care to ensure we provide a positive experience to everyone involved – clients, reference providers and candidates.
Safeguarding business integrity
CRI™ unique identity and vision evolved from our fundamental desire to support our clients and their candidates. Safeguard your business and its integrity with DueDiligence360™.
Our Corporate Accountability exposes vulnerabilities and threats that can cause serious damage to your organisation and can significantly reduce business. CRI™ is trusted by the world's largest corporations and consultancies. Outsource your corporate due diligence process to an experienced provider and you will only ever have to look forward, never back.
Brochure & Publication on Due Diligence: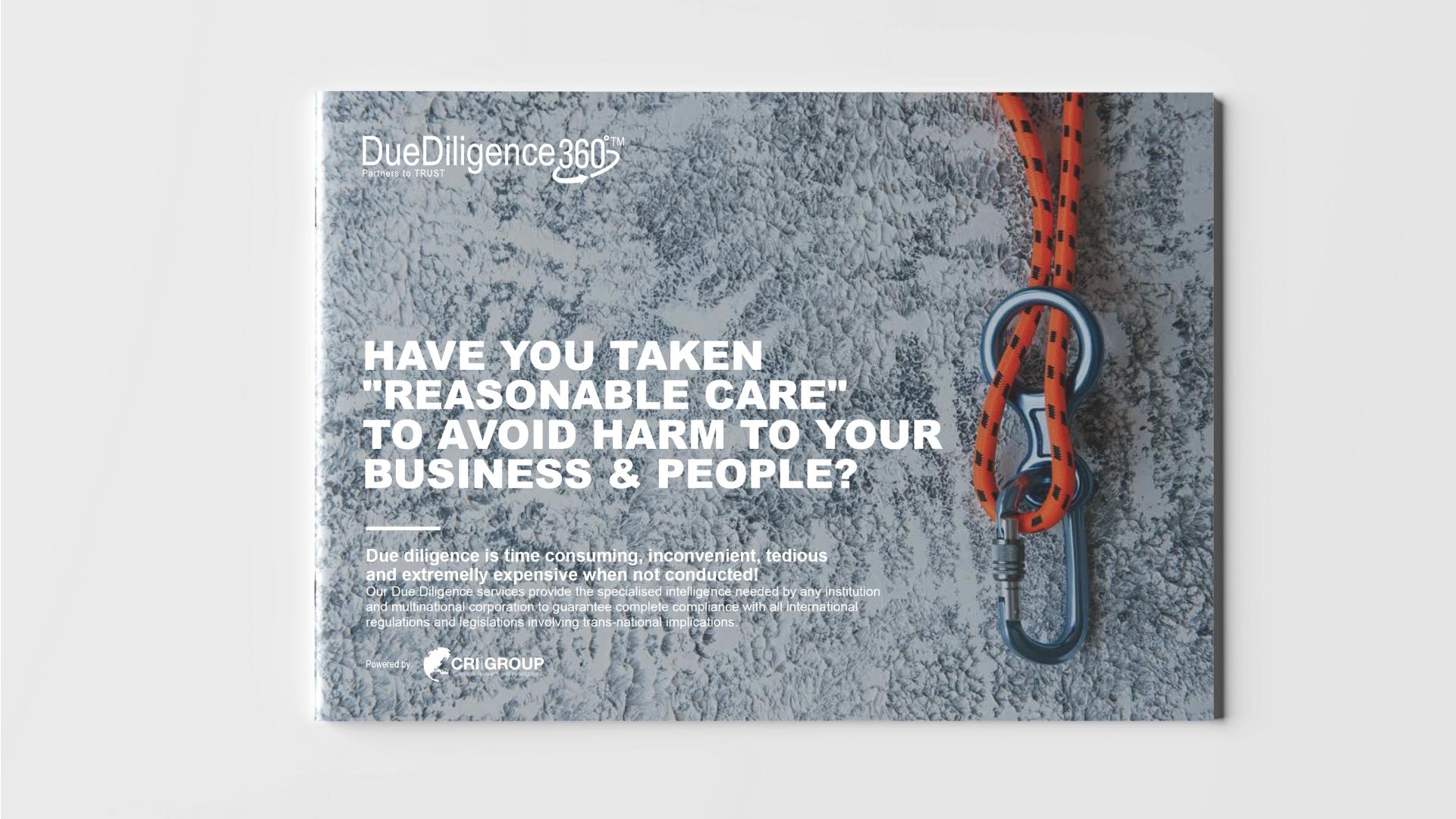 Brochure:
Due Diligence 360TM
Due diligence is time-consuming, inconvenient, tedious, and extremely expensive when not conducted! Find out how CRI Group, DueDiligence360™ can help your business.
Download Brochure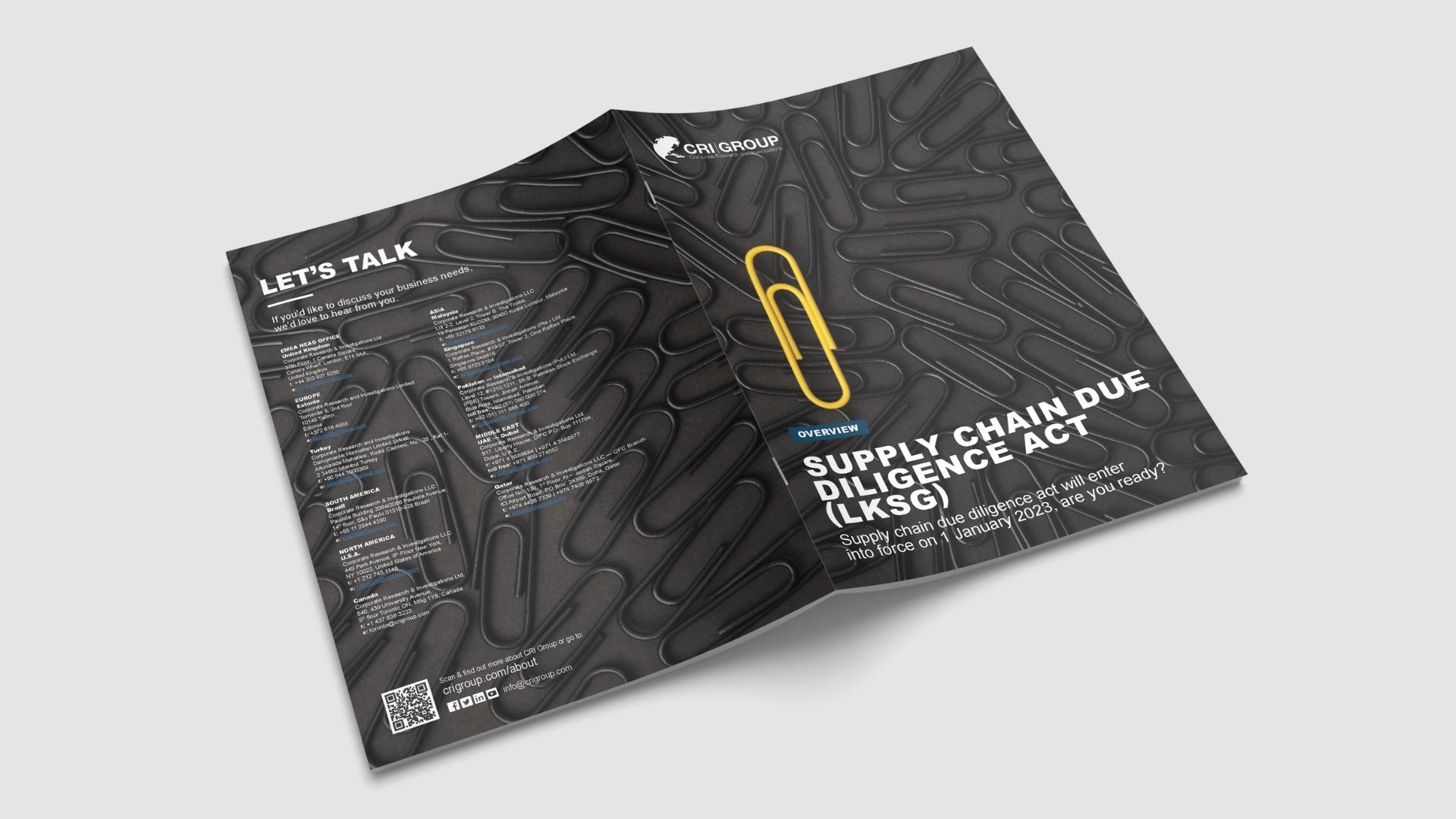 Playbook:
German Supply Chain Due Diligence Act (LKSG)
The German supply chain due diligence act will enter into force on 1st January 2023, are you ready? Learn more about the act and what to do for its implementation.
Download Playbook
Request a Due Diligence Quote
Please complete the form below to help us prepare the best and most accurate quote for you. We will get back to you within 48 working hours.
YOUR DUE DILIGENCE EXPERTS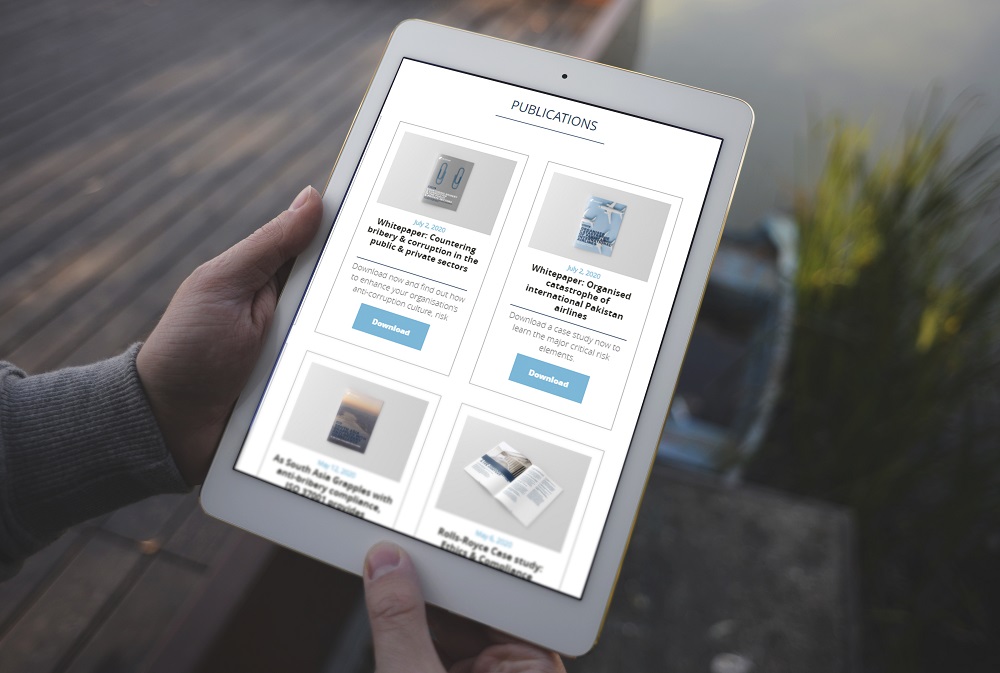 GET INDUSTRY NEWS DELIVERED TO YOUR INBOX
Sign up for risk management, compliance, background investigations, business intelligence and due diligence-related news, events and publications.