CRI Group™'s ABAC™ Center of Excellence Limited is excited to be celebrating the 4 years anniversary since its formation back in 2016.
At ABAC™, we are committed to helping businesses fight bribery and corruption inside and outside their organisations. Every day, we work extensively to promote transparent business relations across the world and spread knowledge about the negative impact of bribery and corruption.
For the last four years, we educated, equipped and supported the world's leading business organisations with the latest best-in-practice risk assessments, performance assessments, systems improvement and standards certification.
To commit with our promise to ensure the highest quality of certification and training services, ABAC™is affiliated with leading certification and accreditation bodies around the world. These affiliations and accreditations help demonstrate the high level of experience, knowledge and credibility we provide in anti-bribery, risk and ISO 37301 Compliance Management Systems management to our clients on a daily basis. That's why ABAC® has achieved essential accreditations from the United Kingdom Accreditation Service (UKAS), Emirates International Accreditation Center (EIAC) for ISO 37001 Certification, and membership in the Association of British Certification Bodies (ABCB).
ABAC™ is also a member of the "Partner in Corporate Governance" programme with the Malaysian Institute of Corporate Governance (MICG) and a Corporate Member of Transparency International Malaysia (TI-M). From the last year, ABAC™ became a registered vendor of the Ministry of Finance Malaysia, got registered with Malaysia External Trade Development Corporation under the Malaysia Ministry of International Trade and Industry, has been accepted as an Alliance Partner of Business Integrity Alliance, Malaysia, and became an Observing Member of Association of Anti-Bribery Management System Practitioner, Malaysia. Learn more about our affiliations and accreditations here.
The past year has helped ABAC™ to expand our network even more and establish core business relationship across different regions. The bigger ABAC™ team is thankful to all clients, partners and global teams for being together in this journey and wishes for many more years of continuous partnerships.
See below our timelines.
Who is CRI Group™ & ABAC™?
Based in London, CRI Group works with companies across the Americas, Europe, Africa, Middle East and Asia-Pacific as a one-stop international Risk Management, Employee Background Screening, Business Intelligence, Due Diligence, Compliance Solutions and other professional Investigative Research solutions provider. We have the largest proprietary network of background-screening analysts and investigators across the Middle East and Asia. Our global presence ensures that no matter how international your operations are we have the network needed to provide you with all you need, wherever you happen to be. CRI Group also holds BS 102000:2013 and BS 7858:2012 Certifications, is an HRO certified provider and partner with Oracle.
In 2016, CRI Group launched Anti-Bribery Anti-Corruption (ABAC™) Center of Excellence – an independent certification body established for ISO 37001:2016 Anti-Bribery Management Systems, ISO 37301 Compliance Management Systems and ISO 31000:2018 Risk Management, providing training and certification. ABAC™ operates through its global network of certified ethics and compliance professionals, qualified auditors and other certified professionals. As a result, CRI Group's global team of certified fraud examiners work as a discreet white-labelled supplier to some of the world's largest organisations. Contact ABAC™ for more on ISO Certification and training.[/accordion_son][accordion_son clr="#ffffff" bgclr="#1e73be" title="2 Years Anniversary"]ABAC celebrates 2 years since the formation of the CRI Certification, now re-branded as the ABAC™ Center of Excellence, back in October 2016. For two years we have gone from strength to strength, having hosted two ABAC Summits in both Pakistan and Malaysia, with plans for more to come.
2018 has seen great advances for us. This year CRI Group™ has been granted accreditation by the Emirates International Accreditation Center – EIAC (formerly known as Dubai Accreditation Center – DAC) for the scope of ISO 37001:2016 Anti-Bribery Management System Conformity Assessment Body. The accreditation is the first of its kind awarded to a certification body specialising in global anti-bribery and anti-corruption, risk and compliance standards.
Similarly, our application for UKAS has now been accepted and we are working hard towards achieving this further accreditation, thus giving us that greater credibility edge. We are excited to see where the next two years moving forward will take us.
Let's stay connected!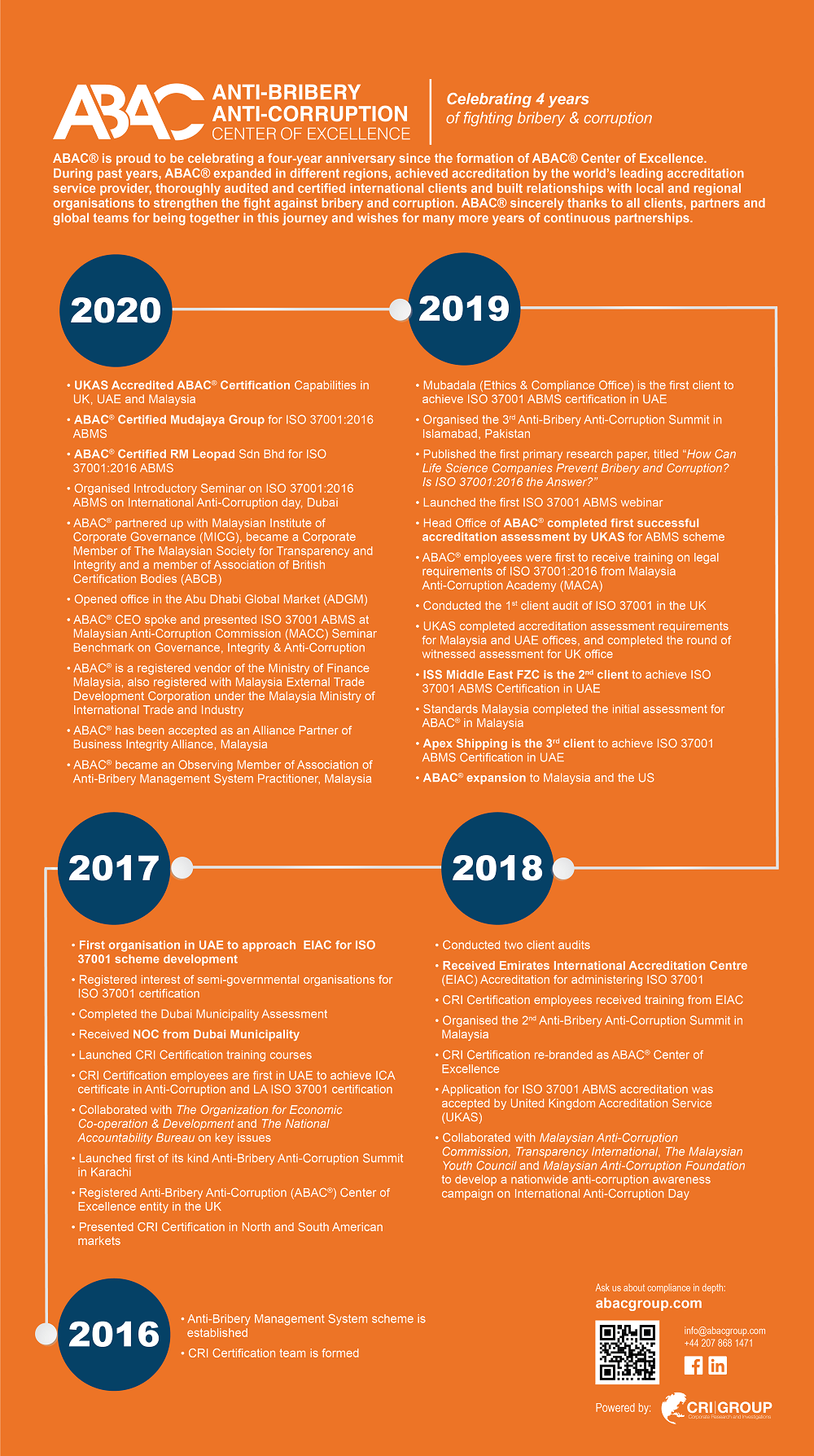 3 Years Anniversary
CRI Group's ABAC® Center of Excellence is proud to be celebrating three-years anniversary since its formation back in 2016. For three years, ABAC has gone from strength to strength, having hosted three ABAC® Summits in Karachi, Islamabad and Kuala Lumpur, with plans for more to come. During this time, ABAC® was accredited by EIAC for administering ISO 37001 certification, audited and awarded clients with ISO 37001 ABMS certifications, collaborated with Malaysian Anti-Corruption Commission, Transparency International, The Malaysian Youth Council and Malaysian Anti-Corruption Foundation to develop a nationwide anti-corruption awareness campaign on International Anti-Corruption Day and initiated other activities to fight bribery and corruption globally. Bribery and corruption is everybody's problem, and it cannot be prevented and detected if your employees aren't provided with the information and training they need to combat it.
ABAC® is committed to promoting transparency and compliance to businesses and their professional relationships. Let's address bribery and corruption together.