Wednesday the 9th of December marks the International Anti-Corruption day since the passage of the United Nations Convention Against Corruption on 31st October 2003. Based on AntiCorruptionDay.org, as the world is recovering from COVID-19 pandemic, this year "the campaign for International Anti-Corruption Day will therefore focus on measures to reduce the risks of mismanagement and corruption without compromising the speed and flexibility demanded by the health crisis, while ensuring an inclusive recovery. This year's motto "RECOVER with INTEGRITY" focuses on recovery through corruption mitigation and emphasizes that inclusive COVID-19 recovery can only be achieved with integrity."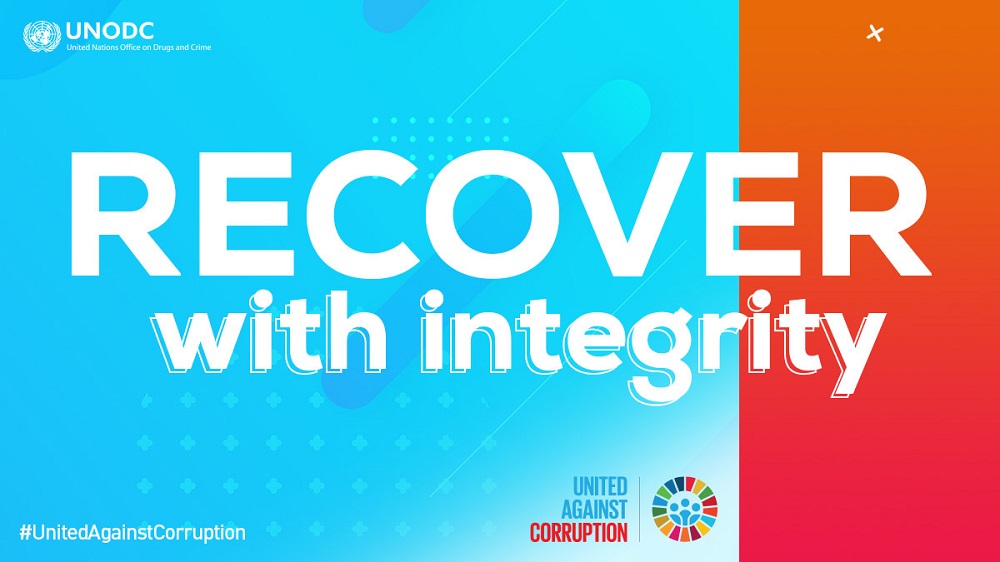 Bribery and corruption stories 2020
Even with much of the world under partial lockdown during the COVID-19 pandemic, there's been no shortage of bribery and corruption cases. Each of these stories makes it clear that organisations must have proper controls in place to prevent bribery and corruption. ISO 37001 Anti-Bribery Management Systems standard provides a comprehensive approach to mitigating bribery and corruption risk. In no particular order, we collated some of the top bribery and corruption stories we've seen so far in 2020. Click here to read the full list. 
Airbus
In February, French-based Airbus agreed to pay a record $4 billion in fines for alleged bribery and corruption spanning at least 15 years. The company reached a plea bargain with prosecutors in Britain, France and the United States. According to prosecution documents, Airbus used a global network of agents or middlemen for corrupt transactions, included payouts disguised as commissions to push airplane sales.
"Fallout from the Airbus bribery scandal reverberated around the world on Monday as the head of one of its top buyers temporarily stood down and investigations were launched in countries aggrieved at being dragged into the increasingly political row." (Reuters, 2020)
Novartis
While the investigation into suspected corruption at Novartis began seven years ago, it appears that 2020 is the year the company can finally close this damaging chapter in its history. The resolution comes at a steep cost. The Swiss-based pharmaceutical company will pay a staggering $1.3 billion in a settlement for kickbacks, bribery and price-fixing.
"The latest settlements cover two different cases. In the first, federal prosecutors claim Novartis used 'tens of thousands of' speaker programs and events — some entailing exorbitant meals — as disguise to provide bribes to doctors. The goal, according to prosecutors, was to encourage doctors to prescribe its drugs, including Lotrel, Valturna, Starlix, Tekturna, Tekamlo, Diovan and Exforge." (Fierce Pharma, 2020)
Ohio House Speaker Larry Householder
While political corruption is nothing new, his constituents were nevertheless shocked when Ohio House Speaker Larry Householder was arrested, along with four alleged co-conspirators, as part of a $60 million racketeering and bribery investigation. The alleged scheme is being described as one of the biggest public corruption cases in Ohio, U.S. history.
"All the charges are tied to what federal prosecutors said was a criminal enterprise dedicated to securing a bailout for two nuclear power plants in northern Ohio owned by FirstEnergy Solutions of Akron. The bailout is expected to cost the state's utility ratepayers $1 billion." (Cincinnati Enquirer, 2020)
Alexion Pharmaceuticals
Charged by the SEC with violating the FCPA by bribing officials in Turkey and Russia, Alexion Pharmaceuticals will pay $21.4 million to resolve an investigation that began in 2015. The Connecticut, U.S.- based company was also accused of failing to keep accurate financial records at subsidiaries in Brazil and Colombia.
"In Turkey and Russia, Alexion paid government officials and doctors at state-connected hospitals to promote use of its blood-disease drug, Soliris. Alexion retained a consultant in Turkey from 2010 to 2015 with ties to health officials. Alexion Turkey paid the consultant over $1.3 million for 'consulting fees and purported expense reimbursements,' the SEC said. … In Russia, Alexion paid doctors at government hospitals over $1 million from 2011 to 2015 to increase Soliris prescriptions. … The bribery resulted in Alexion being 'unjustly enriched' by about $6.6 million in Turkey and $7.5 million in Russia, the SEC said." (FCPA Blog, 2020)
> Read the full list of bribery and corruption cases in 2020
Prosecution of corruption is like a dose of painkillers. It can help with the symptoms, but it won't solve the problem. On the other hand, the anti-bribery management system is comparable to a healthy diet. No one is excited about it but some of us are more determined to choose an apple instead of cake. International Anti-Corruption Day is the best time for organisations of all sizes and industries take steps now to ensure that they don't end up on a future list of top bribery and corruption scandals. Earlier this year, we published a series of articles how ISO 37001 standard could be implemented into the different industries – the first part of the article focused on automotive, aviation, insurance industries, while the second edition examined how pharma and healthcare, property, IT and telecommunications, food and beverage industries might benefit from ISO 37001 certification too.
CRI Group's continuous fight against bribery and corruption risks
At CRI Group we understand, that corruption and bribery affect any organisation, large or small, public or not-for-profit. It has the potential to cause severe harm to your business, including financial loss, dire legal consequences, damage to your brand, company's reputation and sustainable development. Therefore anti-bribery needs to be managed correctly and effectively. ISO developed ISO 37001:2016 ABMS standard helps organisations promote an ethical business culture. "Designed to help your organisation implement an anti-bribery management system (ABMS), and/or enhance the controls you currently have. It helps to reduce the risk of bribery [and corruption] occurring and can demonstrate to your stakeholders that you have put in place internationally recognised good-practice anti-bribery [and anti-corruption] controls".
The first step of demonstrating your organisation's commitment to implementing an effective anti-bribery management system solutions is to commit to ISO 37001 solutions. In order to offer you ISO 37001 training and/or certification, CRI Group launched an Anti-Bribery Anti-Corruption (ABAC®) Center of Excellence. ABAC® offers a complete suite of services and solutions designed to educate, equip & support the world's leading business organisations with the latest best-in-practice risk & performance assessments, systems improvement & standards certification. ABAC® programs protect your organisation from damaging litigation & safeguard your business in the global marketplace by providing certification & training not only in ISO 37001 Anti-Bribery Management Systems but also in other internationally recognised ISO standards such as ISO 37301 Compliance Management Systemss and ISO 31000 Risk Management Systems implementation.
ABAC® offers ISO 37001 Introductory, Internal Auditor and Lead Auditor training to upskill the teams and organisations who want to show a proactive way of demonstrating your organisation's commitment to ethical sustainability. Your employees will be able to recognise any form of corruption, and report it. Our trainers are the best in the business. They're passionate about sharing their knowledge with you and/or your employees. ABAC® trusted experts have years of hands-on and business experience – they bring the subject matter to life with relevant and contemporary examples.
Companies should take a zero-tolerance attitude towards corruption and put policies in place covering issues such as gifts, supply chains and whistle-blowers, in order to promote a fair and just environment. In business terms, integrity pays: the world's most ethical companies prove a clear correlation between ethical business practices and improved financial performance.
Recently, ABAC® also launched ISO 31000 Risk management e-training – even though this course is for risk management in general, ISO 31000 implementation and training give businesses a broader view of all risks associated with their organisations and how to overcome them. ISO 31000 training is focused on improving your and/or your team's skills in implementing ISO 31000 Risk Management which will help organisations see both the positive opportunities and negative consequences associated with all types of risk, and allow for more informed, and thus more effective, decision making, namely in the allocation of resources.
> Learn more about ISO 31000 training
Expand Your Third-Party Risk Management Strategies
CRI Group is launching a third-party compliance verification and certification program – 3PRM-Certified™ – across the Middle East, Europe and the Asian region. This Third-Party Risk Management (TPRM) program can help organisations establish the legal compliance, financial viability, and integrity levels of outside partners, suppliers and customers seeking to affiliate with their business.
Third-party relationships are critical in business today and include partnerships with suppliers, distributors, consultants, agents and other contractors. While such affiliations are essential to the success of your organisation, the consequences of inadequate due diligence cannot be overestimated. The risk of data breaches and supply chain disruptions continue to rise with COVID-19, so does the need for an effective TPRM program. Whether you're a TPRM professional looking for a certification to advance your skillset, or the leader of your organisation considering how to better equip your team with the best knowledge and skills, the 3PRM-Certified™ program is an all-in solution.
Support International Anti-Corruption Day – consider ISO 37001, ISO 31000 and ISO 19600 as invaluable tools of your Third-Party Risk Management Strategy. Combined with due diligence, background screening, business intelligence and compliance solutions, ISO standard certifications and training can lift your overall risk management process and help your business mitigate risks from third-party affiliations, protecting your organisation from liability, brand damage and harm to the business.
> Read more about the 3PRM-Certified™ program
Supporting International Anti-Corruption Day 2020
Find below CRI Group's resources helping you to know more about bribery and corruption risk. It does not wait and can happen anytime – we encourage you to think about anti-bribery and anti-corruption not only on International Anti-Corruption Day 2020 but all year round. Explore our other resources, or sign up for risk management, compliance, anti-bribery and anti-corruption related news, solutions, events and publications in your inbox. We will be happy to hear from you if you have any questions at all – contact us today or get a quote for any anti-bribery, anti-corruption, risk or compliance management solutions through our ABAC® Center of Excellence. Explore our recourses and expert insights in the Q&A sessions now:
Q&A: Corporate Fraud and Corruption in Pakistan
Q&A: Corporate Fraud and Corruption in the UK is growing, FAST!
Q&A session with our CEO: the United Arab Emirates fighting Fraud and corruption
Prove that your business is ethical
ABAC® published the free Highest Ethical Business Assessment (HEBA) to evaluate businesses' current Corporate Compliance Programs. Find out if your organisation's compliance program is in the line with worldwide Compliance, Business Ethics, Anti-Bribery and Anti-Corruption Frameworks. Let ABAC® experts prepare a complimentary gap analysis – the HEBA survey is designed to evaluate your compliance with adequate procedures to prevent bribery and corruption across the organisation. This survey is monitored and evaluated by qualified ABAC® professionals with Business Ethics, Legal and Compliance background. The questions are open-ended to encourage a qualitative analysis of your Compliance Program and to facilitate the gap analysis process.
Who is CRI Group?
Based in London, CRI Group works with companies across the Americas, Europe, Africa, Middle East and Asia-Pacific as a one-stop international Risk Management, Employee Background Screening, Business Intelligence, Due Diligence, Compliance Solutions and other professional Investigative Research solutions provider. We have the largest proprietary network of background-screening analysts and investigators across the Middle East and Asia. Our global presence ensures that no matter how international your operations are we have the network needed to provide you with all you need, wherever you happen to be. CRI Group also holds BS 102000:2013 and BS 7858:2012 Certifications, is an HRO certified provider and partner with Oracle.
In 2016, CRI Group launched Anti-Bribery Anti-Corruption (ABAC®) Center of Excellence – an independent certification body established for ISO 37001:2016 Anti-Bribery Management Systems, ISO 37301 Compliance Management Systems and ISO 31000:2018 Risk Management, providing training and certification. ABAC® operates through its global network of certified ethics and compliance professionals, qualified auditors and other certified professionals. As a result, CRI Group's global team of certified fraud examiners work as a discreet white-labelled supplier to some of the world's largest organisations. Contact ABAC® for more on ISO Certification and training.