What is BS7858 & BS102000? The BS7858:2019 standard, "Screening of Individuals Working in a Secure Environment – Code of Practice," places emphasis on the risk assessment of secure environment workers. The code focuses on the need for tighter controls over the pre-employment screening – and periodic re-screening – of individuals, who in their positions could potentially benefit from illicit personal gain, become compromised, or take advantage of other opportunities for creating breaches of confidentiality, trust or safety. Read more here.
When it comes to providing information security, financial audits, risk assessments, background checks, due diligence and a wide range of anti-fraud related services, maintaining the highest levels of training and expertise is an absolute must. That's why CRI® Group achieves critical certifications from the British Standards Institute (BSI), the National Association of Background Screeners (NAPBS) and other preeminent groups in the security and anti-fraud field as part of the company's commitment to its clients. 
CRI® Group is the first and only investigative research company in the Middle East to receive the certifications BS102000:2013, Code of Practice for the Provision of Investigative Services, and BS7858:2019, screening of individuals working in a secure environment, from internationally recognised training and certification body BSI. CRI® Group also holds other BSI certifications (more on those within this article).
Founded in 1901, BSI is the UK national standards body that works with thousands of organisations in more than 150 countries. BSI is accredited by 20 local and international bodies. We sat down with CRI® Group President and CEO Zafar I Anjum, CFE, to discuss these certifications and what they mean:
CRI

®

Group is the only firm of its kind in the Middle East to hold the BS102000:2013 and BS7858:2019 certifications. What led you to embark on gaining these and other certifications from BSI?
Anjum: Just a few years ago, we announced that CRI® Group would be engaging BSI for training and certification on many levels, and these and other certifications are direct results of that initiative. Earning multiple certifications from a distinguished standards body like BSI is a mark of pride for us as it demonstrates expertise in our core services.
BS102000:2013 is the "Code of Practice for the Provision of Investigative Services." What does this mean?
Anjum: This certifies CRI® Group's proficiency in providing services regarding fraud risk assessment and investigations, forensic accounting, intellectual property (IP) investigations, due diligence and background investigations, debt collections, corporate security consulting and investigation, pre-and post-employment screening and fraud and crime investigations.
BS7858:2019 denotes "Security Screening of Individuals Employed in a Security Environment." Please tell us more about this certification.
Anjum: This recognises CRI® Group's expertise in screening services including identity checks, financial checks, employment checks and criminal records checks. CRI® Group implemented this standard with regular external audits conducted by BSI and adhered to recommendations specifically vetting and conducting employment background screening of security personnel seeking affiliations with security companies.
How does this relate to CRI

®

Group's EmploySmart program?
Anjum: Background screening professionals must be on the cutting edge of industry technology and resources – while also staying educated on the changing laws and regulations that govern the field. At CRI® Group, we are proud to provide the most extensive and thorough background screening services as part of our EmploySmart program.
CRI

®

Group also holds the certifications ISO/IEC 27001:2013, Information Security Management System and you are a credentialed NAPBS (National Association of Professional Background Screeners) Research Provider. Congratulations on these distinguished credentials!
Anjum: Thank you. We are pleased to have our expertise in these areas recognized by BSI, NAPBS and other leading bodies, and we will continue to strive to provide the top level of service for businesses to help them prevent and detect fraud.
BS7858:2019, a new way to mitigate employee risk during COVID-19
The far-reaching impact of the COVID-19 outbreak has affected virtually every business and economic sector worldwide, and depending on the global region, has hampered (on various levels) the ability to conduct proper and thorough background screening investigations. In the United Kingdom and the United Arab Emirates, the countrywide lockdowns forced leaders to close sites and send their workforce home. Many are having to learn how to manged people working from home (WFH) or remotely for the first time. The previous concerns about productivity, privacy and protecting sensitive information only grew more with the practice of WFH. They highlighted the vital importance of pre-employment background screening and background investigations. BS7858:2019: the revised standard for screening individuals working in secure environments offers a complete solution.
Find out how you can mitigate employee risk during this pandemic with BS7858:2019 
The revised BS7858:2019 standard enables organisations to demonstrate a commitment to safeguarding their businesses, employees, customers and information utilising widely accepted methods that focus on risk assessment and top-down management involvement in the company's employment policies and practices. In establishing policies and practices around the standard, organisations can show that they place a high value on hiring individuals who possess integrity. Organisations can then task them with responsibilities designed to keep their co-workers, customers and information safe from the negative forces that have become more prevalent in today's ever-changing COVID-19 world.
BS7858:2019, everything you need to know and more!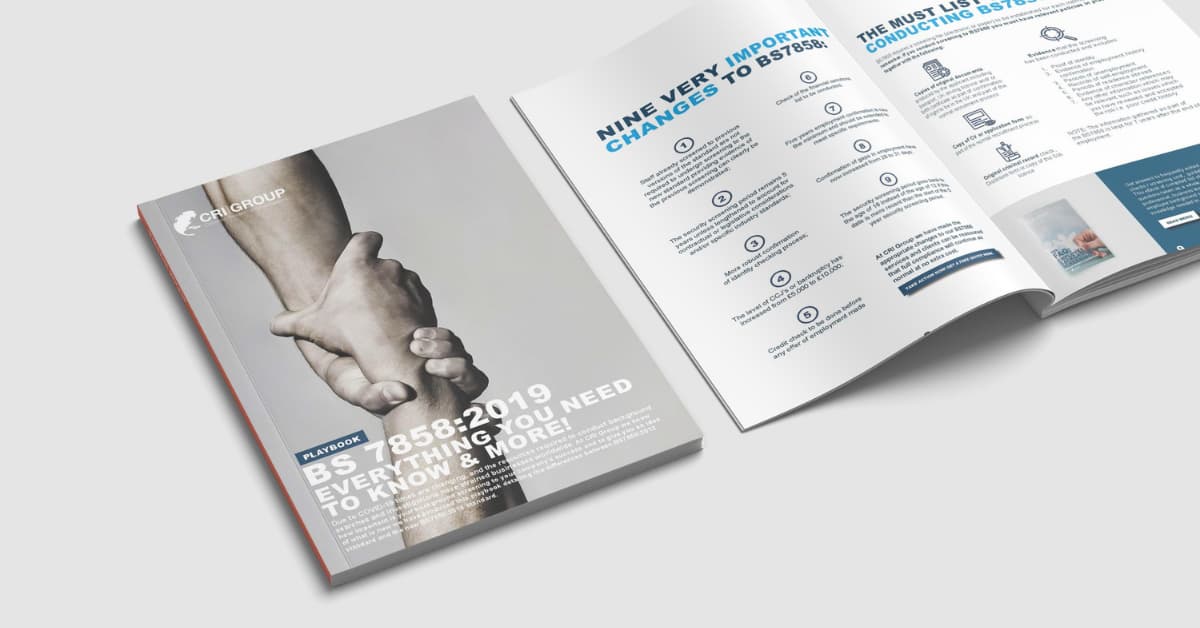 The price of a bad hire has far-reaching consequences for any business, including productivity loss, decreased employee morale, risks to employee safety and increased exposure to costly negligent hiring claims and potentially devastating litigation. The premise behind the standard is to safeguard employers from bad or fraudulent hires. Cases of organisations that forego conducting due diligence on a new hire – especially a hire with high-risk exposure – often end badly for those organisations. At CRI Group we know how important is your background screening to your company's success and to give you an idea of what is new we have produced this playbook detailing the differences between BS7858:2012 standard and the new BS7858:2019 standard.
Download your "BS7858:2019, everything you need to know and more!" playbook here…
Managing your people through COVID-19
The COVID-19 pandemic is undeniable affecting the world. And the situation is changing at an hourly rate as we go into a second global lockdown. Businesses are having to adapt quickly in order to survive, i.e. cutting steps in their hiring process, and no-one knows how this will play out. However, there are ways you can mitigate the impact, learn how with this FREE ebook. Taken as a whole, this ebook is the perfect primer for any HR professional, business leader and companies looking to avoid employee background screening risks. It provides the tools and knowledge needed to effectively stay ahead of COVID-19. Read the answers to the following questions:
How to turn the tide' on coronavirus crisis?;

COVID-19 Action point checklist;

Background Screening: Essential Checks;

6 steps for good practice in connection with COVID-19;

11 Steps to Reduce Personnel Costs;

COVID-19 General advice;

How to remove any danger to your business during COVID-19;

… and more!
Download your "Employee Screening during COVID-19: everything you need to know and more!" FREE ebook here!
Frequently asked questions about background checks
Get answers to frequently asked questions about background checks/screening cost, guidelines, check references etc. This eBook is a compilation of all of the background screening related questions you ever needed answers to:
Does a candidate have to give consent to process a background check/screening?

How long does it take to conduct a background check?

When should I conduct pre-employment checks?

How often should I screen employees?

How to collect references and what to ask?

How much does it cost to conduct background checks?

What is the difference between employment history verification and employment reference?

How do I check on entitlement to work?

How to conduct identity checks?

What will a financial regulatory check show?

Is it possible to identify a conflict of interest during checks?

What is a bankruptcy check?

What about directorships and shareholding search?

Can I have access to a criminal watch list?

Anti-money laundering check?

Can we conduct FACIS (fraud and abuse control information system) searches?

… and MORE!
Taken as a whole, is the perfect primer for any HR professional, business leader and companies looking to avoid employee background screening risks. It provides the tools and knowledge needed to make the right decisions.
About us…
Based in London, CRI® Group works with companies across the Americas, Europe, Africa, Middle East and Asia-Pacific as a one-stop international Risk Management, Employee Background Screening, Business Intelligence, Due Diligence, Compliance Solutions and other professional Investigative Research solutions provider. We have the largest proprietary network of background screening analysts and investigators across the Middle East and Asia. Our global presence ensures that no matter how international your operations are, we have the network needed to provide you with all you need, wherever you happen to be. CRI® Group also holds BS102000:2013 and BS7858:2019 Certifications is an HRO certified provider and partner with Oracle.
In 2016, CRI® Group launched the Anti-Bribery Anti-Corruption (ABAC®) Center of Excellence – an independent certification body established for ISO 37001:2016 Anti-Bribery Management Systems, ISO 37301 Compliance Management Systems and ISO 31000:2018 Risk Management, providing training and certification. ABAC® operates through its global network of certified ethics and compliance professionals, qualified auditors and other certified professionals. As a result, CRI® Group's global team of certified fraud examiners work as a discreet white-labelled supplier to some of the world's largest organizations. Contact ABAC® for more on ISO Certification and training.
MEET THE CEO
Zafar I. Anjum is Group Chief Executive Officer of CRI® Group (www.crigroup.com), a global supplier of investigative, forensic accounting, business due to diligence and employee background screening services for some of the world's leading business organizations. Headquartered in London (with a significant presence throughout the region) and licensed by the Dubai International Financial Centre-DIFC, the Qatar Financial Center – QFC, and the Abu Dhabi Global Market-ADGM, CRI® Group safeguard businesses by establishing the legal compliance, financial viability, and integrity levels of outside partners, suppliers and customers seeking to affiliate with your business. CRI® Group maintains offices in UAE, Pakistan, Qatar, Singapore, Malaysia, Brazil, China, the USA, and the United Kingdom.
Contact CRI® Group to learn more about its 3PRM-Certified™ third-party risk management strategy program and discover an effective and proactive approach to mitigating the risks associated with corruption, bribery, financial crimes and other dangerous risks posed by third-party partnerships.
CONTACT INFORMATION
Zafar Anjum, MSc, MS, CFE, CII, MICA, Int. Dip. (Fin. Crime) | CRI® Group Chief Executive Officer
37th Floor, 1 Canada Square, Canary Wharf, London, E14 5AA United Kingdom
t: +44 207 8681415 | m: +44 7588 454959 | e: zanjum@crigroup.com