International Fraud Awareness Week, November 14-20 – and CRI® Group is once again a proud Official Supporter of this global movement. Fraud Week was created to reduce the impact of fraud and corruption by promoting anti-fraud awareness and education.
Fraud statistics
Fraud is still increasingly common. Even when it comes to hiring employees, companies must be vigilant. CRI® Group's investigative team found that providing incorrect employment details is the most common red flag, as it was uncovered in about 4.5 per cent of background screenings. This is followed by providing incorrect education degree details as well as having adverse media (unfavorable news or online mentions), both at 2.33 per cent. Most employers would probably say that when it comes to educational background, the only thing worse than providing incorrect degree information would be outright claiming a fake degree – which occurred in nearly 2 per cent of cases.
Read more in our article "Background Screening Red flags: Numbers Don't Lie".
In another survey conducted by CRI® Group, which analyzed how COVID-19 has impacted human resources and its functions, it was revealed that companies understand the fraud risk factor during the pandemic: nearly 77 per cent of HR professionals accept that there is a risk that employees can initiate fraudulent activity because of the work-from-home arrangement.
Also, the shocking number of survey participants highlighted that they have encountered employee fraud in their career. Luckily, most companies do conduct background screening of some type. In fact, 85 per cent do so, which is important because many companies have learned that trust can be misplaced. While an overwhelming 92 per cent said they trust their employees with confidential data, background screening can help verify that your employees aren't hiding anything in their backgrounds that might put your company at risk.
Read more about the survey, as it provides valuable information for companies, employees, and human resources professionals and teams who serve them. It also sheds light on the critical need for increased employee background screening and data protection during a tumultuous time.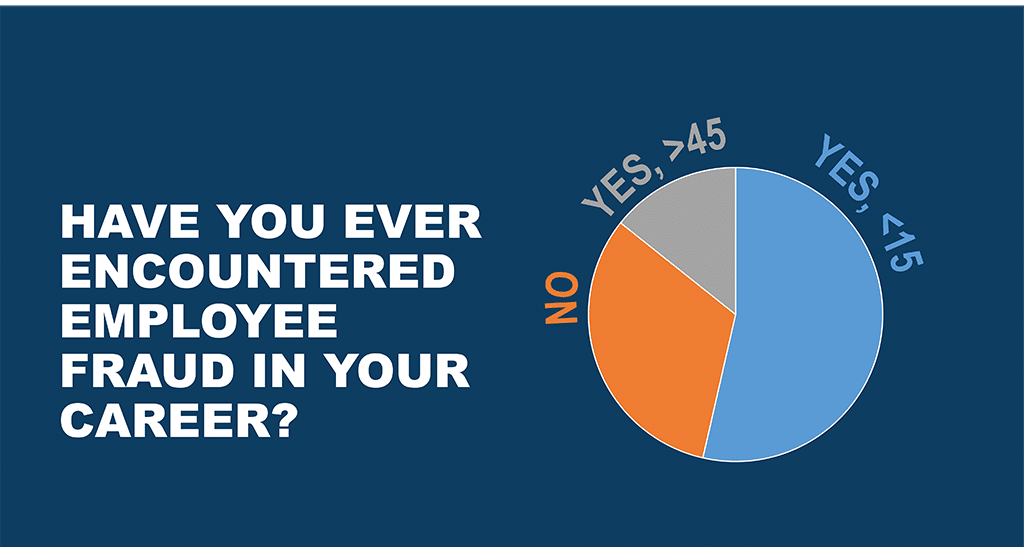 Some other stats to note (the following come from the ACFE):
The average fraud lasts 18 months before it is discovered. The longer a fraud lasts, the greater the financial damage (schemes that last for several years can cause hundreds of thousands of dollars).
The most common detection method for fraud is tips. And organisations that have reporting hotlines are much more likely to detect fraud through tips than organisations without hotlines.
All of the above indicates that the fraud issue is real and organisations must take actions to prevent the fraud risks for their organisations and even careers. For CRI® Group, the goal is to help business leaders think about fraud and corruption this week and take steps to minimise it year-round. So, what is your organisation doing for Fraud Week?
Get involved in the Internal Fraud Awareness Week
Join CRI® Group and ACFE in the fight against fraud. ACFE provides a great set of the following tools to go a step further in your role and to start discussions amongst peers, co-workers, executives and stakeholders in your community about how important fraud prevention is to society as a whole:
Post on social media using new badges and informative images with the tag #fraudweek
Add the new Official Fraud Week Supporter badge to your email signature.
Invite a ACFE to talk to your employees and co-workers virtually on how to avoid common mistakes when preventing fraud.
Download the free Fraud Week logo to share on materials or websites.
Involve your local chamber of commerce or city council to spread tips on fraud prevention for small businesses.
Host a talk or seminar for your co-workers or community on regularly staying aware of fraud prevention best practices.
Perform a fraud check-up for your organization and present your findings to executives, as well as a proactive plan for how to remedy weak spots in your current controls.
How does CRI® Group fight fraud?
CRI® proudly celebrates International Fraud awareness week and highlights that this occasion (called Fraud Week, for short) is an important effort to put a spotlight on fraud, help educate people about its perils and build a fraud-free future.
"Fraud Week reminds us that awareness is any organization's first line of defense against fraud and corruption, as properly trained employees will have a better opportunity to recognise the red flags of fraud, and a better understanding of their organization's zero-tolerance policy toward such behavior", Zafar Anjum, founder and CEO of CRI® Group says.
"Fraud is everybody's problem, and it cannot be prevented and detected if employees aren't provided with the information they need to combat it. Providing a robust anti-fraud training program increases your company's protection from risks of fraud and unethical behavior. An ounce of prevention is worth more than a pound of cure."
For CRI®, though, helping organizations prevent and detect fraud is a year-round commitment. That's why Fraud Week is a great time to reflect on CRI® Group's recent efforts in the fight against fraud, and to also look ahead to activities on the near horizon. Below are just a few of the highlights.
Does your organization have a training program in place that addresses fraud, bribery and corruption? And, if so, how robust is your training? How often is it administered? And how do you know it's working?
These are important questions, especially considering the fact that we know most fraud is discovered internally through employee tips. A recent case study is a perfect illustration of that.
Case study: Conflicts of interest
A major pharmaceutical company's security department received conflict of interest complaints that reportedly involved a range of employees, from sales personnel on up to the chief financial officer (CFO).  The company engaged CRI® Group to conduct an integrity due diligence and conflict of interest investigation in order to uncover unethical practices, including bribery and corruption, by senior employees.
CRI® Group's investigators quickly launched a risk assessment of the company's third-party relationships, which included several interviews with identified vendors and suppliers to help ascertain the engagement process and associated risks.
Investigators found one of the vendors used letterhead that lacked a physical address, and the only contact information listed was a single cell phone number. Site visits, background checks and interviews helped determine that the suspicious vendor was not a company at all – but a single person, and he was none other than the brother-in-law of the client company's CFO. Worse still was the fact that this obvious fraud was being conducted right under the noses of the company's procurement and finance professionals.
CRI® Group investigators discovered that the individual's residence was being utilised as a warehouse to help facilitate the fraud. Comprehensive litigation records check with local and regional courts found that the subject was previously convicted in federal court and spent three years in prison for the charges of selling counterfeit products, physician samples and expired medicines; further regulatory checks found that his pharmacist license had been cancelled.
The fraud had continued for five years. However, the one thing that saved the company from further financial harm was the fact that employees had stepped forward to report unethical behaviour. If not for their action, the fraud could have continued indefinitely.
Fraud Week reminds us that awareness is any organisation's first line of defence against fraud and corruption, as properly trained employees will have a better opportunity to recognise the red flags of fraud, and a better understanding of their organisation's zero-tolerance policy toward such behaviour.
CRI® Group's Certification body, ABAC® Center of Excellence provides employee training as part of the curriculum for a participating organisation. In fact, ISO 37001:2016 certifies that your organisation has implemented reasonable and proportionate measures to prevent bribery, and these measures involve training, top-level leadership, bribery risk assessment, due diligence adequacy, financial and commercial controls, reporting, audit and investigation.
Some key things to remember:
Anti-fraud training should be mandatory. This includes managers and executives, who should also receive special training regarding their position of responsibility.
Anti-fraud training should be an element of new employee orientation. After that, it should be provided to all employees on an annual basis, if not more frequently.
Training might be presented live (in-class), on video or online in an interactive format. The live class is preferred, as it allows questions and personal engagement. However, in today's business world, some employees work remotely and an online format may be more feasible.
Fraud is everybody's problem, and it cannot be prevented and detected if employees aren't provided with the information they need to combat it. Providing a robust anti-fraud training program increases your company's protection from risks of fraud and unethical behavior. An ounce of prevention is worth more than a pound of cure.
Learn more about how CRI® Group and the ABAC® Center of Excellence can help you have a well-trained workforce serving as your front line of defence against fraud, bribery and corruption.
CRI® Group is here to help and create a fraud-free future. Contact us today to learn more about our ABAC® training and certification opportunities, our EmploySmart background checking process, our investigative services and other offerings.
About us…
Based in London, CRI® Group works with companies across the Americas, Europe, Africa, Middle East and Asia-Pacific as a one-stop international Risk Management, Employee Background Screening, Business Intelligence, Due Diligence, Compliance Solutions and other professional Investigative Research solutions provider. We have the largest proprietary network of background screening analysts and investigators across the Middle East and Asia. Our global presence ensures that no matter how international your operations are, we have the network needed to provide you with all you need, wherever you happen to be. CRI® Group also holds BS102000:2013 and BS7858:2019 Certifications is an HRO certified provider and partner with Oracle.
In 2016, CRI® Group launched the Anti-Bribery Anti-Corruption (ABAC®) Center of Excellence – an independent certification body established for ISO 37001:2016 Anti-Bribery Management Systems, ISO 37301 Compliance Management Systems and ISO 31000:2018 Risk Management, providing training and certification. ABAC® operates through its global network of certified ethics and compliance professionals, qualified auditors and other certified professionals. As a result, CRI® Group's global team of certified fraud examiners work as a discreet white-labelled supplier to some of the world's largest organizations. Contact ABAC® for more on ISO Certification and training.
MEET THE CEO
Zafar I. Anjum is Group Chief Executive Officer of CRI® Group (www.crigroup.com), a global supplier of investigative, forensic accounting, business due to diligence and employee background screening services for some of the world's leading business organisations. Headquartered in London (with a significant presence throughout the region) and licensed by the Dubai International Financial Centre-DIFC, the Qatar Financial Center – QFC, and the Abu Dhabi Global Market-ADGM, CRI® Group safeguard businesses by establishing the legal compliance, financial viability, and integrity levels of outside partners, suppliers and customers seeking to affiliate with your business. CRI® Group maintains offices in UAE, Pakistan, Qatar, Singapore, Malaysia, Brazil, China, the USA, and the United Kingdom.
Contact CRI® Group to learn more about its 3PRM-Certified™ third-party risk management strategy program and discover an effective and proactive approach to mitigating the risks associated with corruption, bribery, financial crimes and other dangerous risks posed by third-party partnerships.
CONTACT INFORMATION
Zafar Anjum, MSc, MS, CFE, CII, MICA, Int. Dip. (Fin. Crime) | CRI® Group Chief Executive Officer
37th Floor, 1 Canada Square, Canary Wharf, London, E14 5AA United Kingdom
t: +44 207 8681415 | m: +44 7588 454959 | e: zanjum@crigroup.com