This three-part series of articles looks at employee background screening FAQs.
How do you know the candidate you just offered a role to is the ideal candidate? Are you 100% sure that everything they're telling you is the truth? Or are you just 90% certain? They showed you a diploma: How do you know it's not photoshopped? Did you follow the correct procedures during your background checks process?
Simply investing in sufficient screening systems can save you time, money and heartbreak.
Part One of the series of articles on employee background screening FAQs, "What, Why and Who?" provides an introduction to employee background checks and the necessary screenings that are vital to avoid horror stories and taboo tales that occur within your business. Part Two, "Pre-Employment Checks," are essentially an investigation into a person's character – inside and outside their professional lives. Part Three, "Conflict of interest check & FACIS Searches," checks for any conflict of interests and sanctions, exclusions, debarments and disciplinary actions. To receive the next series subscribe to our monthly newsletter subscribe now!
Taken as a whole, this employee background screening FAQs ebook developed by the CRI® Group is the perfect primer for HR professionals and companies wanting guidance on background screening, pre-employment screening and post-employment background checks.
WE'VE COMPILED A LIST OF OUR MOST FREQUENTLY ASKED QUESTIONS TO DO WITH BACKGROUND SCREENING. IF YOU CANNOT FIND WHAT YOU ARE LOOKING FOR BELOW, PLEASE FEEL FREE TO GET IN TOUCH WITH THE TEAM!
At CRI® Group, we specialise in employment screening, working as trusted partners to HR and recruiting managers of corporations and institutions worldwide. Our people work with energy, insight and care to ensure we provide a positive experience to everyone involved – clients, reference providers and candidates.
Does a candidate have to give consent to process a background check?
A job applicant must give written or electronic consent before any screening conducting (whether in-house or by a third party company like CRI® Group) any criminal record search, credit history check or reference interview, etc.
How long does it take to conduct a background check?
Background checks typically take 2 to 3 days to process and receive back from the outside contracted agency. A few exceptions may take up to 2 weeks. A background check may rarely take longer than 3 to 4 weeks. Please allow additional processing time for each background check in the event of a delay. A delay can occur for any of the following reasons:
The information has been entered incorrectly by the applicant or the requestor into the vendor's system.
The county or district listed for a background check in researching whether the applicant has any criminal felony or misdemeanour charges is delayed in responding to the vendor.
When should I conduct pre-employment checks?
Pre-employment screening services can help you avoid adding potential fraudsters and other bad actors to your staff. These checks can be implemented before or after a job offer (with each having its pros and cons).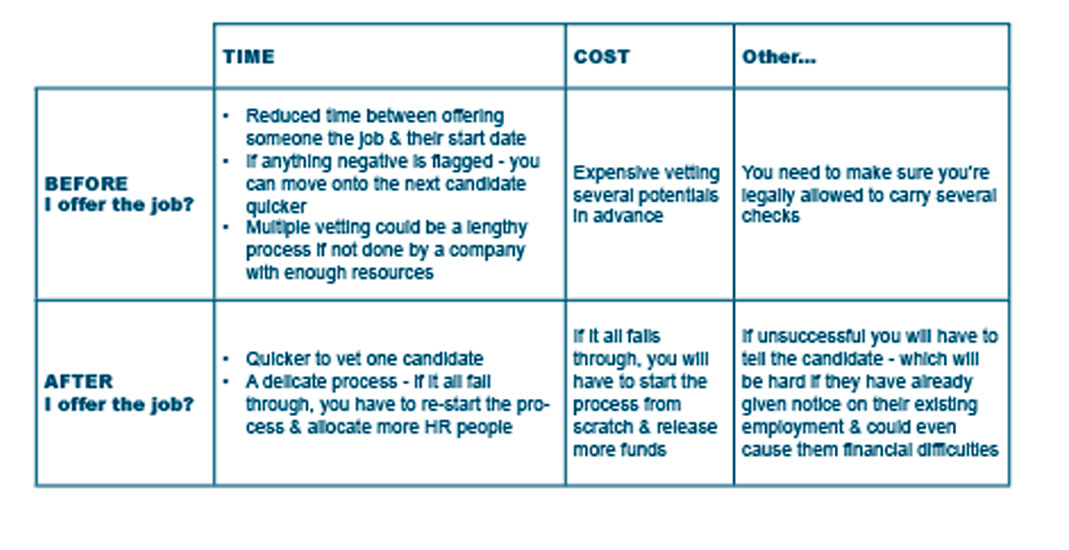 How often should I screen employees?
Employees should be screened regularly to reveal any new information relevant to the business. That's why our background investigations services also include:
Employee monitoring & risk management
Data protection compliance
Employee testing & confidentiality
Employee risk management
Post-employment background checks
How to collect references and what to ask?
Because it is impossible to know how your candidate will work daily from just one interview, you will need references. References are a great way to find out whether your candidates are suitable for the role or will fit with your company culture. A primary reference check asks for:
Employment dates
Employment main responsibilities
Attendance record
Any disciplinary actions against them
Any reasons why they shouldn't be employed
These references will help you back up their CV – however, many candidates tend to exaggerate or misrepresent themselves. Third-party vendors such as CRI® Group can go beyond to get a fuller picture for you:
Greatest strengths?
Are they suitable for the role they've applied for?
Would they rehire the candidate?
Suitable management style?
Do they have any leadership skills?
Situations in which they have excelled at?
Note: Some companies have policies not giving references and just providing necessary employment details, while others direct you towards HR.
How much does it cost to conduct a background check?
That will depend on the scope. Please contact the team for a free consultation.
What are employment references?
CRI® Group's comprehensive and detailed reference checks have been carefully designed for senior-level positions. Our highly skilled researchers probe extensively across a range of performance and behavioural attributes that have been specifically targeted to meet the information and management requirements of hiring senior-level executives.
We also verify any restrictive covenants, disciplinary actions or warnings; attendance or reliability issues; claims by or their former employer; acts of dishonesty, and eligibility for rehire in a comparable role. We provide a valuable perspective of an individual's past performance and behaviours by conducting professional, impartial references.
What is the difference between employment history verification & employment reference?
CRI® Group verifies who the individual reported to and their dates of employment, positions held, remuneration, responsibilities and reason for leaving. This is different to an Employment Reference as it verifies quantitative information such as employment dates, salary packages etc.
Media search
An individual's media profile can encompass both professional and personal activities. This check can provide the client with a unique insight into an individual's public activities and reputation. Our broad-based press search encompasses electronically available national newspapers and regional media sources from states where an individual has worked, helping to ensure that there are no hidden surprises. The search can be conducted by country, region or globally, where it can be of immense value in the uncovering of omissions made by the candidate (note: additional charges apply).
How do I check on entitlement to work?
It is an employer's responsibility to ensure that every individual they hire is legally eligible to work in certain Jurisdictions. CRI® Group uses copies of the candidate's passport or birth certificate to verify entitlement to work in the respective Jurisdiction. Where the candidate is not a local citizen, we have an online verification process set up with the Department of Immigration and Citizenship, as the case may be, to confirm eligibility to work. We will confirm whether or not the candidate is entitled to work in Australia and provide details of any limitations attached to a work visa. This search verifies and appropriately documents the individual's entitlement to work in accordance with DIMIA requirements.
How do you conduct identity checks?
The availability of identity checks varies from nation to nation, depending on centralised databases and legislation. In essence, these checks are designed to ensure the person is who they claim to be. Where there is a recognised legislated identity card system, CRI® Group will collect this card, ensure the details are reflected on the background check form submitted and upload the identity card to the candidate file to allow for the requestor to sight.
Identity theft is on the rise, and validating an individual's identity is essential to making an informed hiring decision. CRI® Group verifies an individual's identity details via a comparison with details held in the electoral roll, online telephone directory and the National database registration authorities.
Passport check
This passport verification solution enables the client to verify a person's identity and whether their passport is forged. Passport Check verifies the authenticity of machine-readable passports and identity documents by simply entering the passport/ID data.
CV comparison check
Curricula Vitae (CV) are increasingly being used as a sales tool rather than a factual account of a person's work history. This check will compare information supplied by the candidate to CRI Group with details supplied to an organisation in a candidate's CV. This check aims to provide a thorough review of the candidate's background and reveal any misrepresentations that may exist through a candidate omitting or overstating information on their CV.
DOWNLOAD THE EMPLOYEE BACKGROUND SCREENING FAQs HERE