An overwhelming number of COVID-19 background screening survey respondents said that the COVID-19 pandemic is affecting human resources at their company. There are also concerns about fraud, and the protection of confidential information as a large percentage of the workforce has gone virtual in work-from-home (WFH) arrangements. CRI® conducted the survey to measure the pulse of human resources during a challenging time in business worldwide. The largest number (38 per cent) of survey participants were human resources professionals, but respondents also included managers (19 per cent), executives, directors, administrators (27 per cent) and other roles.
Survey results
Questions ranged from the impact of COVID-19 on the workforce to issues surrounding fraud and data protection. Most respondents said they are having to approach human resources issues in new ways with the changed landscape of conducting business during a pandemic. The following are a few of the major takeaways from the survey:
Few in the HR world are untouched by COVID-19: More than 88 per cent of respondents said that the pandemic is having an impact on their HR operations, and 65 per cent are considering new ways to retain employees during the crisis.
While there have been layoffs, some companies are hiring during the pandemic: 57 per cent of respondents said they are either currently hiring, or planning to hire, new employees under a work-from-home arrangement. This makes employee background screening a crucial issue that cannot be put on hold during COVID-19.
They've developed ways to ensure that work-from-home policies are being followed: Organizations do this through "observations from supervisors, response rate, time consumption in assignment completion" and "by having frequent video calls on Zoom," among other methods.
Employee background screening is lacking: When asked if all of the employees who are authorized to access sensitive information (e.g., IT department) have been screened from criminal, media, employment history perspective prior to any work-from-home arrangement, 54 per cent answered that they were not.
On the other hand, most companies do conduct background screening of some type:

 In fact, 85 per cent do so, which is important because many companies have learned that trust can be misplaced. While an overwhelming 92 per cent said they trust their employees with confidential data,

background screening

can help verify that your employees aren't hiding anything in their backgrounds that might put your company at risk.

Companies understand the fraud risk factor during the pandemic: Nearly 77 per cent of HR professionals accept that there is a risk that employees can initiate fraudulent activity because of the work-from-home arrangement.
They identified the most critical background checks for employees: These include employment verification, identity checks, reference checks, education verification and criminal background screening.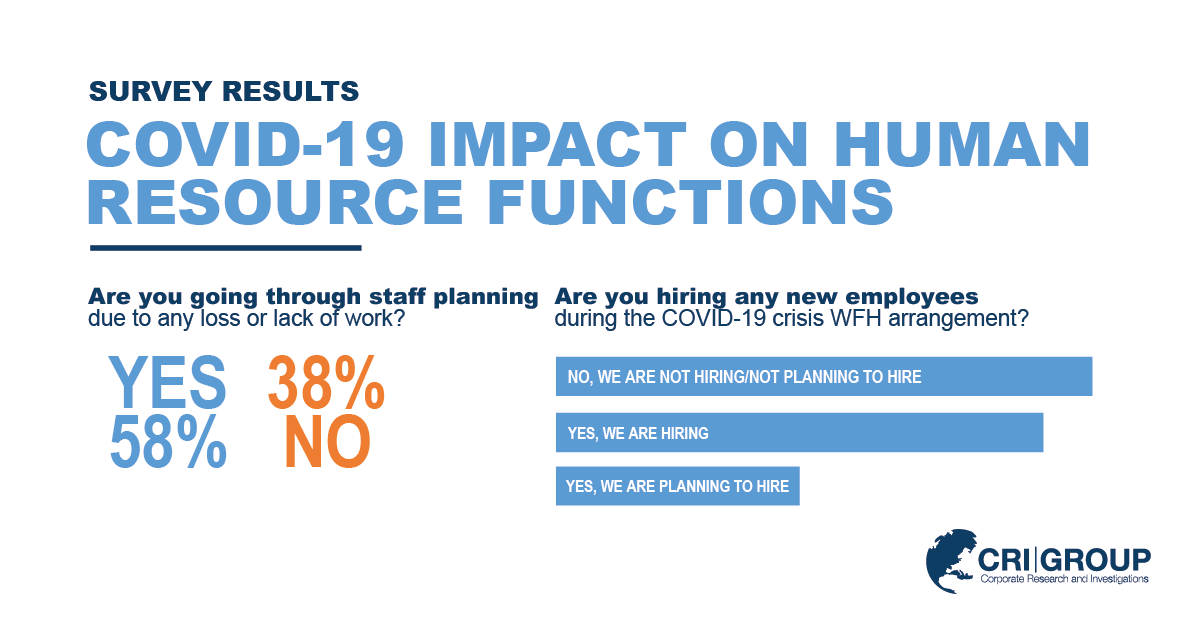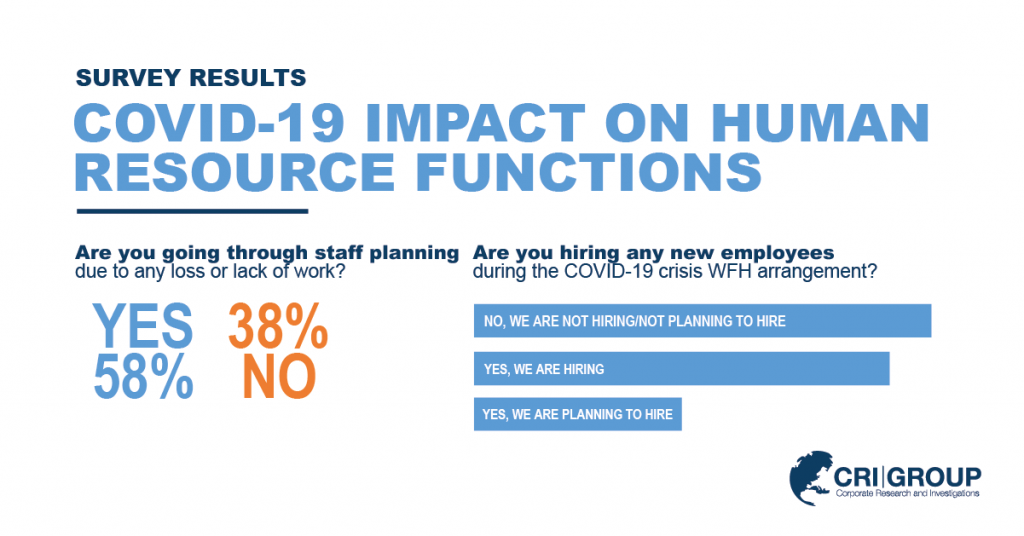 Getting the best employees is their highest motivation: When asked what the most important factors are for conducting background screening, the top responses were to improve quality of hires (73 per cent), protecting employees, customers (54 per cent), mandated by law/regulations (38 per cent) and protect company reputation (also 38 per cent).
HR challenges persist in conducting background screening: The biggest hurdle, according to respondents, is the length of time to get results (69 per cent). Other top challenges include data accuracy (46 per cent) and cost (38 per cent). This is why finding a provider that can deliver quality checks in the shortest timeframe and reasonable cost possible is of the utmost importance for companies dealing with background screening uncertainty during the pandemic (and beyond).
Most organizations represented in the survey were privately held, but the participants also included publicly-held companies and nonprofits. They ranged from under 100 employees to 5,000 or more. The survey provides valuable information for companies, employees, and human resources professionals and teams who serve them. It also sheds light on the critical need for increased employee background screening and data protection during a tumultuous time.
Take part of this survey
Your opinion matters! Participate in the background screening survey now and let us know how COVID-19 and WFH have affected your business.
COVID-19 background screening guide
CRI® has developed EmploySmart™, a robust pre-employment background screening service to address the concerns and issues discussed in the survey. While businesses have changed and adapted during COVID-19, the risks posed to companies remain – and in some cases, are increased. Fraudsters are opportunists who take advantage of vulnerabilities, and a time of crisis presents many changes and deviations from usual business practices.
The rise in recruitment fraud is creating a number of challenges – last year it cost £23 Billion just in the UK. The COVID-19 is set to cost even more. And what is particularly worrying for any HR professional is that fraud in recruitment regularly sees genuine businesses used to add legitimacy to illegal behavior. CRI® developed the complementary COVID-19 Background screening guide. Taken as a whole, this eBook is the perfect primer for any HR professional, business leader and companies looking to avoid employee background screening risks. It provides the tools and knowledge needed to effectively stay ahead of COVID-19.
Read more on how to manage the hiring risks during COVID-19. Read the answers to the following questions:
How to turn the tide' on coronavirus crisis?;

COVID-19 Action point checklist;

Background Screening: Essential Checks;

6 steps for good practice in connection with COVID-19;

11 Steps to Reduce Personnel Costs;

COVID-19 General advice;

How to remove any danger to your business during COVID-19;

… and more!
Download your "Employee Screening during COVID-19: everything you need to know and more!" FREE ebook here! Stay protected during COVID-19 so that when the crisis passes, your company is whole and in a position to thrive, while mitigating any risks that might occur. This eBook is the perfect primer for any HR professional, business leader and companies looking to avoid employee background screening risks. It provides the tools and knowledge needed to effectively stay ahead of COVID-19.
Ethics & Compliance Hotline
We would like to introduce a new Ethics & Compliance Hotline. This hotline is available to all employees, as well as clients, contractors, vendors and others in a business relationship with CRI® and ABAC® Group. If you find yourself in an ethical dilemma or suspect inappropriate or illegal conduct, and you feel uncomfortable reporting through normal channels of communication, or wish to raise the issue anonymously, use CRI® Group's Compliance Hotline in below mentioned ways or provide us with your complaint online on the form below.
Ethics and Compliance Hotline is an anonymous reporting mechanism that facilitates reporting of possible illegal, unethical, or improper conduct when the normal channels of communication have proven ineffective, or are impractical under the circumstances. The Compliance Hotline is a secure and confidential reporting channel managed by an independent provider. When reporting a concern in good faith, you will be protected by CRI® Group's Non-Retaliation Policy. At CRI®, we are committed to having an open dialogue on ethical dilemmas regardless. Speak up – report any illegal, unethical, or improper behavior.
About CRI® Group
Based in London, CRI® works with companies across the Americas, Europe, Africa, Middle East and Asia-Pacific as a one-stop international Risk Management, Employee Background Screening, Business Intelligence, Due Diligence, Compliance Solutions and other professional Investigative Research solutions provider. We have the largest proprietary network of background-screening analysts and investigators across the Middle East and Asia. Our global presence ensures that no matter how international your operations are we have the network needed to provide you with all you need, wherever you happen to be. CRI® also holds BS 102000:2013 and BS 7858:2012 Certifications, is an HRO certified provider and partner with Oracle.
In 2016, CRI® launched Anti-Bribery Anti-Corruption (ABAC®) Center of Excellence – an independent certification body established for ISO 37001:2016 Anti-Bribery Management Systems, ISO 37301 Compliance Management Systems and ISO 31000:2018 Risk Management, providing training and certification. ABAC® operates through its global network of certified ethics and compliance professionals, qualified auditors and other certified professionals. As a result, CRI® Group's global team of certified fraud examiners work as a discreet white-labelled supplier to some of the world's largest organizations. Contact ABAC® for more on ISO Certification and training.