ABOUT CRI GROUP
Since 1990, Corporate Research and Investigations Limited (CRI Group) has been safeguarding businesses from fraud, bribery and corruption. Globally, we are a leading Compliance and Risk Management company licensed and incorporated entity of the Dubai International Financial Center (DIFC) and Qatar Financial Center (QFC). CRI Group protects businesses by establishing the legal compliance, financial viability, and integrity levels of outside partners, suppliers and customers seeking to affiliate with your business. Based in London, United Kingdom, CRI Group is a global company with experts and resources located in key regional marketplaces across the Asia Pacific, South Asia, the Middle East, North Africa, Europe, North and South America. Our global team can support your organisation anywhere in the world.
In 2016, the company launched the Anti-Bribery Anti-Corruption (ABAC®)Center of Excellence – an independent certification body that helps organisations mitigate internal and external risks by providing a complete suite of Anti-Bribery, Compliance and Risk Management programs.
OUR MISSION AND VISION
CRI Group's mission is to safeguard the corporate world by detecting and exposing those elements that can cause irreparable harm to a business

Stand up against the outside forces that, through corruption, collusion, coercion and fraud, can cause financial, organisational, reputational and legal harm to our global clients

Stand out as the preeminent provider of specialised investigative services that enable our clients to exhibit the highest standards of business integrity, ethics and behaviour
The integrity of the global business community is essential for the survival of free markets, economic stability, corporate growth, business profitability and employee well-being. CRI Group's purpose is to provide the knowledge, systems and solutions that fortify worldwide business integrity and preserve the global marketplace.
CRI Group is always ready to assist organisations to effectively manage their workplace in an efficient and risk-free manner that best suits their needs. We safeguard your business from various types of fraud, bribery and corruption, by providing worldwide employee background screening, due diligence, third-party risk management, insurance fraud investigations, and other professional investigative research services, along with anti-bribery management system certification and training solutions. Let our experts at CRI Group help you gain the information you need to make informed decisions that will lead to new growth and continued success.
Our global presence ensures that no matter how international your operations are we have the network needed to provide you with all you need, wherever you happen to be. We take great care to ensure that our experts are the best at what they do. We pride ourselves on having the most stringent recruitment standards in the industry. Our experience, skilled workforce, technical resources, networking capabilities, internal flexibility and global offices maximise our solution efficacy.
Ensuring that our clients have access to the best people is half the battle. Added to that is the fact that our extensive experience gives us the breadth and depth of knowledge needed to make sure that your organisation is protected at all turns, at every corner, and through every deal.
The international nature of business today dictates an increasing demand for proactive measures such as global investigations, compliance & risk management solutions to reduce the exposure to organisations of economic crime and civil wrongs, particularly in the financial, government and multinational business sectors. Are you making informed sound decisions regarding M&A, strategic partnerships & selection of employees, vendors or suppliers?
CRI Group fosters a corporate culture that places a heavy emphasis on professionalism, continuing education, career development, personal growth, and contribution to the mission and values of the organisation.  We embrace a culture that focuses on treating all people with respect, encourages new ideas, rewards hard work, and supports forward-thinking. Further, we endeavor to be an upstanding corporate global citizen in all our operations and in the operations of our subsidiaries, and to fulfill our responsibilities to the societies and communities in which we operate.
CRI Group holds its employees, directors, suppliers, contractors and operating partners to the highest ethical standards, and expects these standards to be upheld at every level of service, including:
Methods by which investigations are conducted

Information searches and preservation of evidence

Surveillance techniques

Understanding and working in compliance with laws and standards

Management of information, analysis and review

Protection and security of client data
It is the policy of CRI Group to comply with all applicable anti-corruption laws such as the Foreign Corrupt Practices Act of the United States, the Bribery Act 2010 of the United Kingdom and the applicable anti-bribery laws of all foreign countries in which our organization operates. CRI Group further adheres to the Code of Conduct provided and published by The Association of Certified Fraud Examiners to regulate fraud examination practices of Certified Fraud Examiners under a Code of Professional Ethics. This code applies to all of the operations of CRI Group and its subsidiaries and sets out the minimum standards which CRI Group's Board of Directors expects from staff in their internal and external dealings with colleagues, customers, stakeholders and third parties.
CRI Group will be vigilant in pursuing and achieving its corporate goals, which include:
Grow Revenue by 30% p.a. in each of the next five years

Assisting international and multi-national organizations in developing risk mitigation systems that enable them to remain compliant with national and international regulation while maintaining standards of business ethics and behavior.

Hiring the most knowledgeable professionals in the industry and equipping them with the training, tools and systems needed to succeed at every level.

Enhancing and expanding current client service levels to adequately respond to ever-changing market forces in the global marketplace.

Increasing market share as the CRI Group brand expands.

Increasing corporate profitability through the effective development of new markets, offering new services and being fiscally responsible.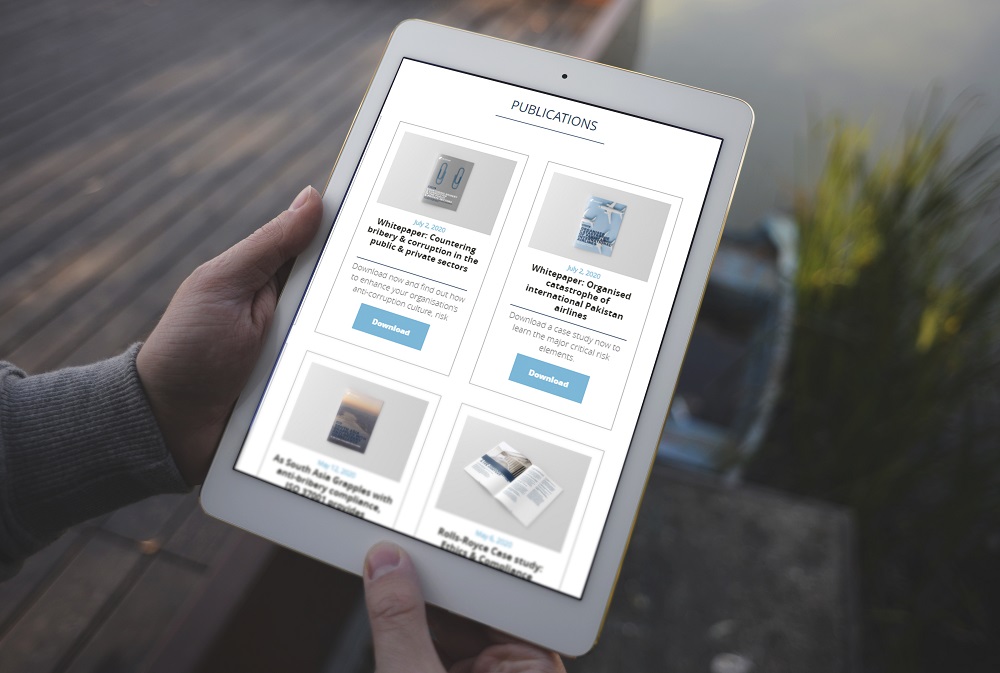 GET INDUSTRY NEWS DELIVERED TO YOUR INBOX
Sign up for risk management, compliance, corporate and background investigations, business intelligence and due diligence related news, solutions, events and publications.