How do you know the candidate you just offered a role to is the ideal candidate? Are you 100% sure you know that everything they're telling you is the truth? 90%? They showed you a diploma, how do you know it's not photoshopped? Did you follow the correct laws during your background checks process? Employee Background Checks and necessary screenings are vital to avoid horror stories and taboo tales that occur within HR, your business or even your brand – simply investing in sufficient screening can save you time, money and heartbreak.
CRI Group has developed EmploySmart™, a robust new pre-employment background screening service to avoid negligent hiring liabilities. Ensure a safe work environment for all – EmploySmart™ can be tailored into specific screening packages to meet the requirements of each specific position within your company. We are a leading worldwide provider, specialised in local and international employment background screening, including pre-employment screening and post-employment background checks.
PRE-EMPLOYMENT CHECKS/BACKGROUND CHECKS, WHAT ARE THEY?
These checks are essentially an investigation into a person's character – inside and outside of their professional lives. Some checks you probably already carry out in-house such as: candidate's qualifications (documents provided), work history (with a reference check), right to work in the country and even a quick social media presence scan. However we provide a full in-depth background screening service for candidates and employees at all levels – from senior executives through to shop-floor employees:
Address Verification (Physical Verification)
Identity Verification
Previous Employment Verification
Education & Credential Verification
Local Language Media Check
Credit Verification & Financial History (where publicly available)
Compliance & Regulatory Check
Civil Litigation Record Check
Bankruptcy Record Check
International Criminal Record Check
Integrity Due Diligence … and more.
WHY BACKGROUND CHECKS ARE IMPORTANT?
These checks can reduce the risk of hiring someone who could cause irrevocable damage. Firms spend years, thousands, even millions to brand their products and services and one bad hire can cause loss of capital and reputation to an extent that may bring a business to fail. A robust pre-employment check can help you and your company:
Reduce turnover & training costs
Gain competitive edge through the hiring of better people
Increase productivity – help your employees be more productive knowing that everyone employed by your company has been screened
Set your company apart & win more business
Reduce employee related problems
Protect company reputation/brand & customer relations
Comply with mandates created by state or federal law for certain industries
Increase retention
Reduce negligent hiring claims
Avoid violence in the workplace (threats of violence & actual violence)
Reduce theft & espionage
Avoid lawsuits & the costs associated with the defence
Avoid loss of goodwill
A business must understand its exposure, type of insurance coverage and limits – does your policy cover a negligent hiring lawsuit? The checks are critical to any company's success – hiring qualified, honest, and hard-working employees is an integral part of thriving in the business community.
WHAT ARE THE BENEFITS OF CHOOSING CRI GROUP?
We combine industry experience with service-orientated approach. Our experts can act on your behalf, supporting your business with legal & regulatory compliance.
At CRI Group, we specialise in employment screening, working as trusted partners to HR and recruiting managers of corporations and institutions across the world. Our people work with energy, insight and care to ensure we provide a positive experience to everyone involved – clients, reference providers and candidates.
CRI's unique identity and vision evolved from our fundamental desire to support our clients and their candidates. We have a passion for screening and a simple belief in setting new standards. These qualities fuel our commitment to excellence and drive our culture. Safeguard data security and integrity with EmploySmart™, while our experienced teams focus on human conversations and interactions. Together, they deliver an outstanding screening experience.
Our EmploySmart™ background screening services expose vulnerabilities and threats within your organisation and can significantly reduce business and financial crime, fraud and malpractice within your workplace. We provide a host of professional services to HR managers representing significant corporations worldwide.
Employees should be screened at regular intervals to reveal any new information relevant to the business that's why our background investigations services also include:
Employee monitoring & risk management
Data protection compliance
Employee testing & confidentiality
Employee risk management
Post-employment background checks
COVID-19: BACKGROUND SCREENING
The COVID-19 pandemic is undeniable affecting the world. And the situation is changing at an hourly rate. Businesses are having to adapt quickly in order to survive, i.e. cutting steps in their hiring process, and no-one knows how this will play out. However, there are ways you can mitigate the impact, EmploySmart™ is a full in-depth (and fast) background screening service of employees and candidates at all levels, and industries.
The virus is, unsurprisingly, having a huge impact on businesses and the recruitment industry is certainly not immune to that. Businesses are having to adapt quickly in order to survive and it is very possible that the legacy of COVID-19 may forever change the nature of recruitment and the workplace landscape.
The rise in recruitment fraud is creating a number of challenges – last year it cost £23 Billion just in the UK. The COVID-19 is set to cost even more. And what is particularly worrying for any HR professional is that fraud in recruitment regularly sees genuine businesses used to add legitimacy to illegal behaviour.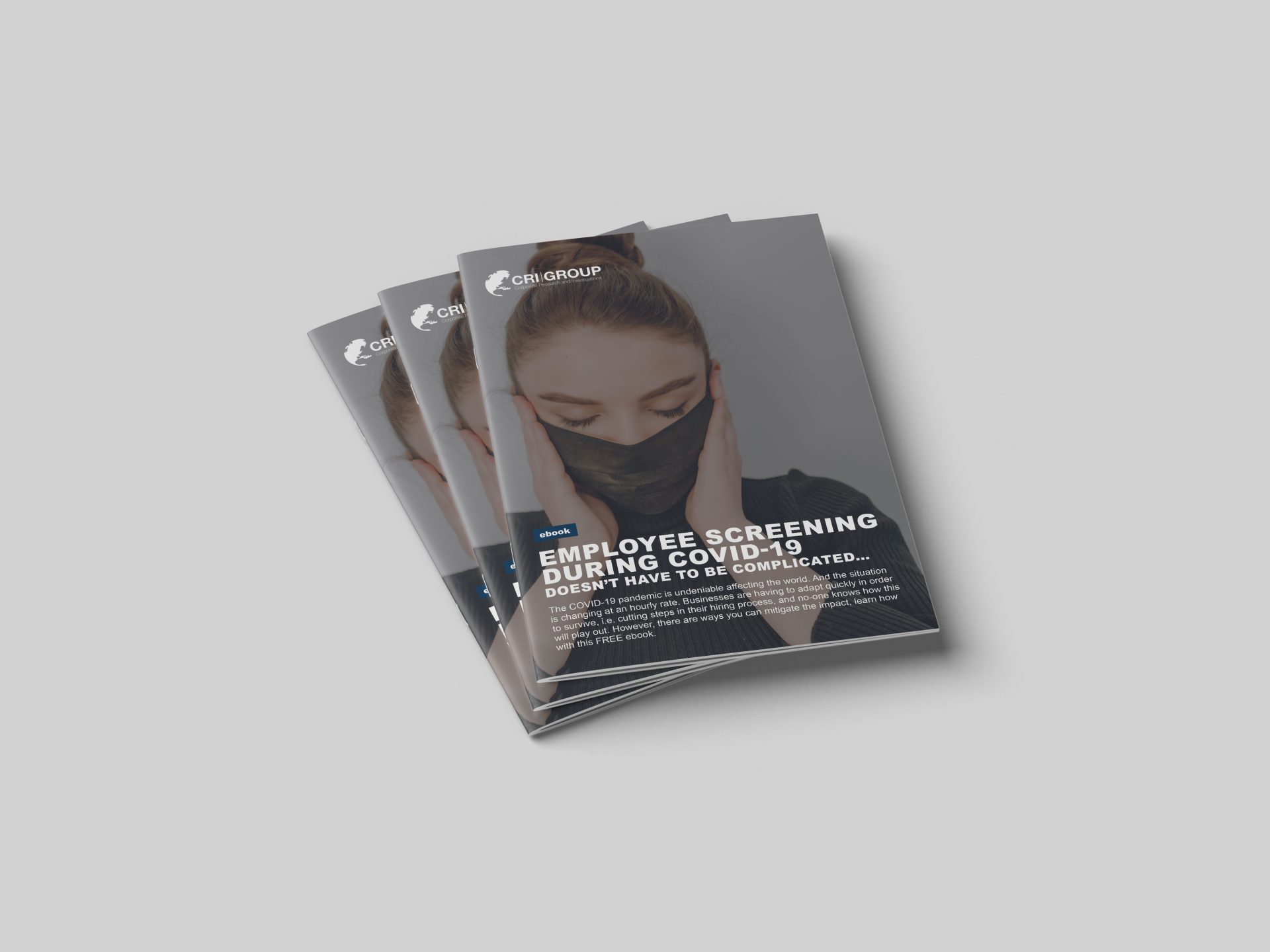 Learn how with this FREE ebook. Taken as a whole, this ebook is the perfect primer for any HR professional, business leader and companies looking to avoid employee background screening risks. It provides the tools and knowledge needed to effectively stay ahead of COVID-19. Read more on how to manage the hiring risks during COVID-19.
DOWNLOAD FREE "BACKGROUND SCREENING DURING COVID-19" EBOOK           FREE QUOTE
BS 7858:2019: EXTRA SECURITY LEVEL TO YOUR BUSINESS AND EMPLOYEES
Certified security screening for professionals working in the security field with EmploySmart™. CRI Group is duly certified by British Standard Institute BSI for the scope of BS 7858:2019 Screening of individuals working in a secure environment, Code of practice (the only BS 7858 certified background screening services provider in the UAE and across the Middle East); and BS 102000:2018 Code of practice for the provision of investigative services.
Ensure a safe work environment for all in this difficult time – EmploySmart™ can be tailored into specific screening packages to meet the requirements of each specific position within your company.
Click below to get a free quote.
Download the brochure to know the new challenges COVID-19 is adding to your job or click below to get a free quote.
CRI Group is trusted by the world's largest corporations and consultancies – outsource your employee due diligence to an experienced provider and you will only ever have to look forward, never back.
MEMBERSHIPS, CERTIFICATIONS AND PARTNERSHIPS
OUR EXPERTS