Employee Background Checks: Ensuring a Safe Work Environment For All
Our employee background checks services, also known as EmploySmart™, is a robust new pre employment screening service certified for BS7858 to avoid negligent hiring liabilities. To ensure a safe work environment for all – EmploySmart™ can be tailored into specific screening packages to meet the requirements of each position within your company. We are a leading worldwide provider, specialising in local and international employee background check, including pre employment background check.
How do you know the candidate you just offered a role to is the ideal candidate? Are you 100% sure you know everything they're telling you is the full truth? Or is it 90% of truth? They showed you a diploma; how do you know it's not photoshopped? Did you follow the correct laws during your background check process by self or through background check companies? Employee background check and employment history check is vital to avoid horror stories and taboo tales within HR, your business, or your brand. Simply investing in sufficient employment screening services can save you time, money and heartbreak.

CRI™ Pre Employment Checks are essentially an investigation into a person's character – inside and outside their professional lives. Some checks you probably already carry out in-house, such as candidate's qualifications (documents provided), work history (with a reference check), right to work in the country and even a quick social media presence scan.
However, we provide a full in-depth background screening service for candidates and employees at all levels – from senior executives through to shop-floor employees.
CRI™ provides a full range of pre-employment screening services and background checks, such as:
Address Verification (Physical Verification)
Identity Verification
Previous Employment Verification
Education & Credential Verification
Local Language Media Check
Credit Verification & Financial History (where publicly available)
Compliance & Regulatory Check
Civil Litigation Record Check
Bankruptcy Record Check
International Criminal Record Check
Integrity Due Diligence
and more.
CRI™ is duly certified by British Standard Institute BSI for the scope of BS 7858:2019 Screening of individuals working in a secure environment, Code of Practice and BS 102000:2018 Code of Practice for the provision of investigative services.
 
CRI™ is the only BS 7858 certified background screening service provider in the UAE and the Middle East. We provide background screening and vetting services for specific industries, such as:
 
British Standard (BS 7858): 
The following background checks are included in the Scope of BS 7858:2019 revised standard: Identity, address and Right to Work in The UK verification in line with the DBS (Disclosure & Barring Service) document guidance:
Identity and address verifications.
Right to Work (The UK verification).
DBS (Disclosure & Barring Service, The UK verification).
Previous Employment, Unemployment, and Self-employment verification (covering the last five years and audit any gap periods if greater than 31 days.
Educational Verifications.
Financial Integrity Verifications (bankruptcy and insolvency checks)
CCJ's Record up to £10,000 (The UK verification)
Civil Litigation Checks
Directorship Checks
Criminal History Record Checks (level of Basic disclosure, which details unspent criminal convictions and conditional cautions or SIA Licence verification, The UK verification)
Global Sanctions/Watchlist check
Social Media Background Checks (Depending on roles, such as senior or public relations roles – Recommended).
Employee Background Checks can reduce the risk of hiring someone who could cause irrevocable damage. Firms spend years, thousands, even millions to brand their products and services and one bad hire can cause loss of capital and reputation to the extent that may bring a business to fail. A robust pre-employment check by background verification companies or background checkers can help you and your company:
Reduce turnover & training costs
Gain a competitive edge through the hiring of better people
Increase productivity – help your employees be more productive knowing that everyone employed by your company has been screened
Set your company apart & win more business
Reduce employee-related problems
Protect company reputation/brand & customer relations
Comply with mandates created by state or federal law for certain industries
Increase retention
Reduce negligent hiring claims
Avoid violence in the workplace (threats of violence & actual violence)
Reduce theft & espionage
Avoid lawsuits & the costs associated with the defence
Avoid loss of goodwill
At CRI™, we specialise in employment screening, working as trusted partners to HR and recruiting managers of corporations and institutions across the world.
One of the largest, most experienced and best-trained integrity due diligence teams globally, with expertise in domestic and international screening.
The ability to manage multiple background checks online
Quick turnaround times
High-quality searches, backed by numerous checks and quality controls
We have a flat structure which means that you will have direct access to senior members of staff throughout the due diligence process.
Our multi-lingual teams have conducted assignments on thousands of subjects in over 80 countries, and we're committed to maintaining and constantly evolving our global network.
Our solutions are easily customisable, flexible and we will tailor our scope to address your concerns and risk areas, saving you time and money.
Our team of more than 50 full-time analysts is spread across Europe, Middle East, Asia, North and South America and fully equipped with the local knowledge to serve your needs globally.
Our extensive solutions include due diligence, employee pre and post-background screening, employment history verification, business intelligence and compliance, facilitating any decision-making across your business no matter what area or department.
Brochure & Publication on Background Check: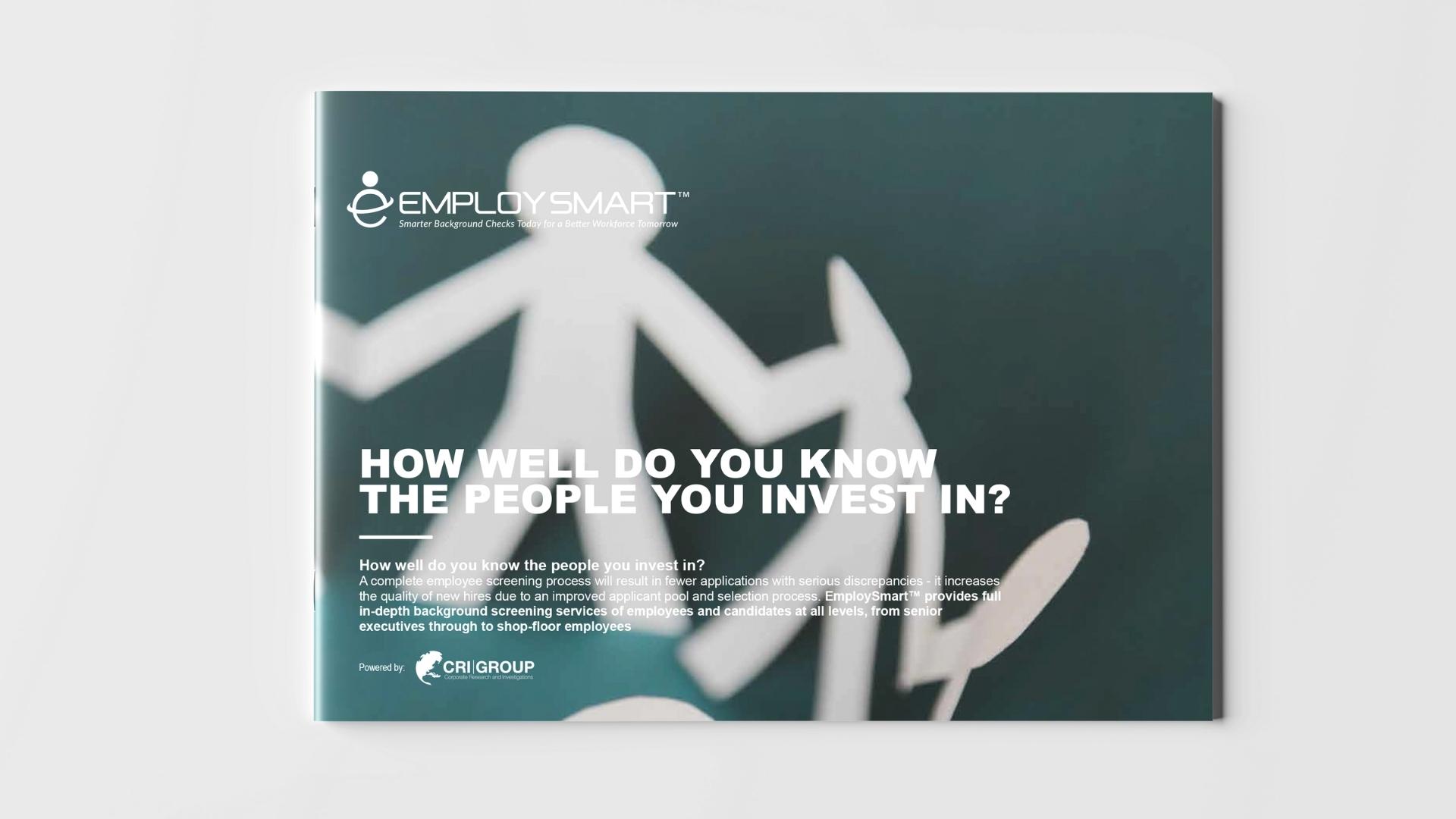 Brochure: EmploySmartTM
EmploySmart™ provides full in-depth background screening services for employees and candidates at all levels, from senior executives to shop-floor employees
Download Brochure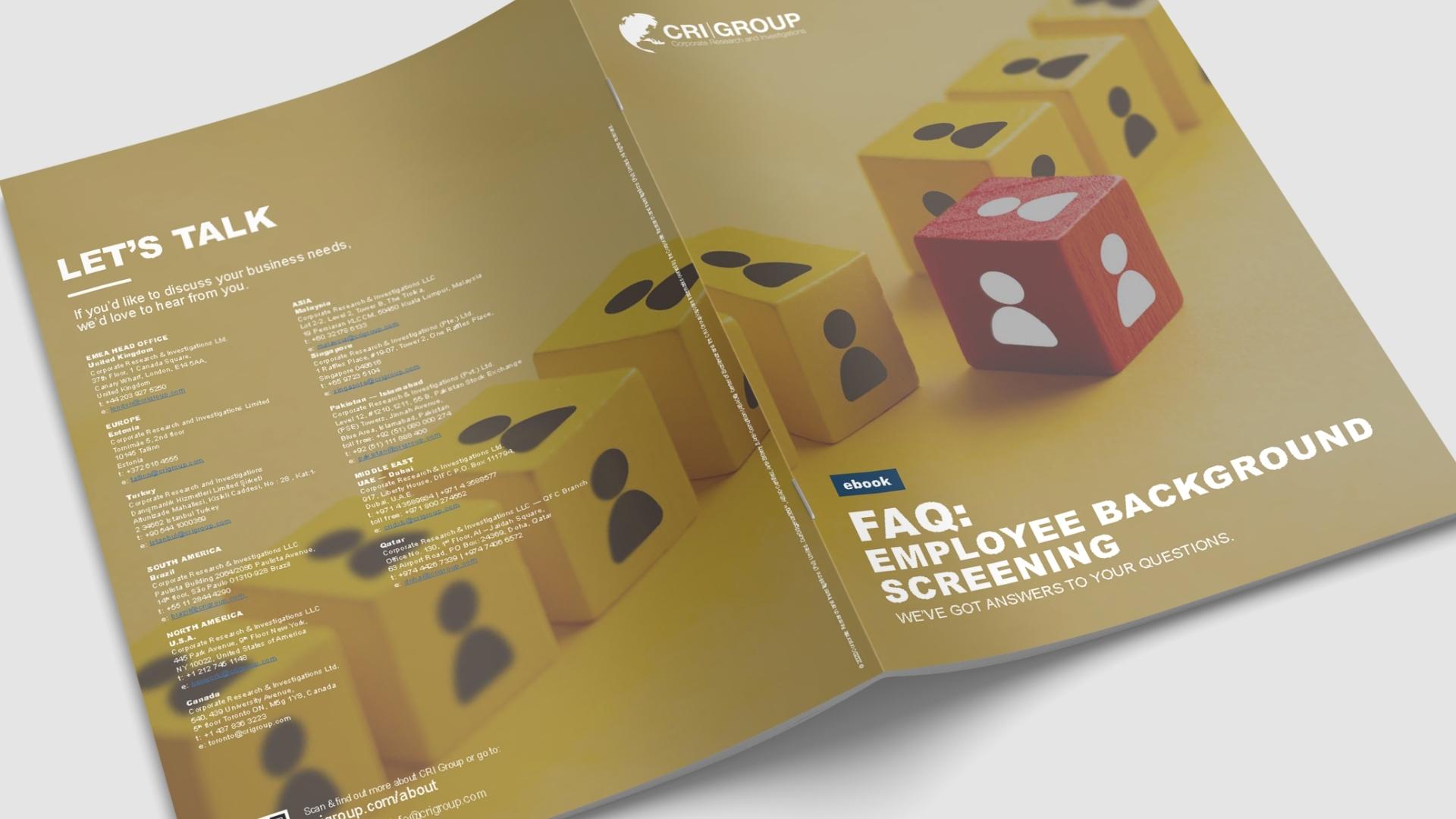 FAQ: Background Screening
All the answers to your questions related to employee background screening – are compiled in this ebook.
Download e-Book
Playbook: Background Vetting (BS7858)
Extra security level for your business and employees. Certified security screening for professionals working in the security field.
Download e-Book
Request an Employee Background Checks Quote
Please complete the form below to help us prepare the best and most accurate quote for you. We will get back to you within 48 working hours.
MEMBERSHIPS, CERTIFICATIONS AND PARTNERSHIPS
YOUR EMPLOYEE BACKGROUND SCREENING EXPERTS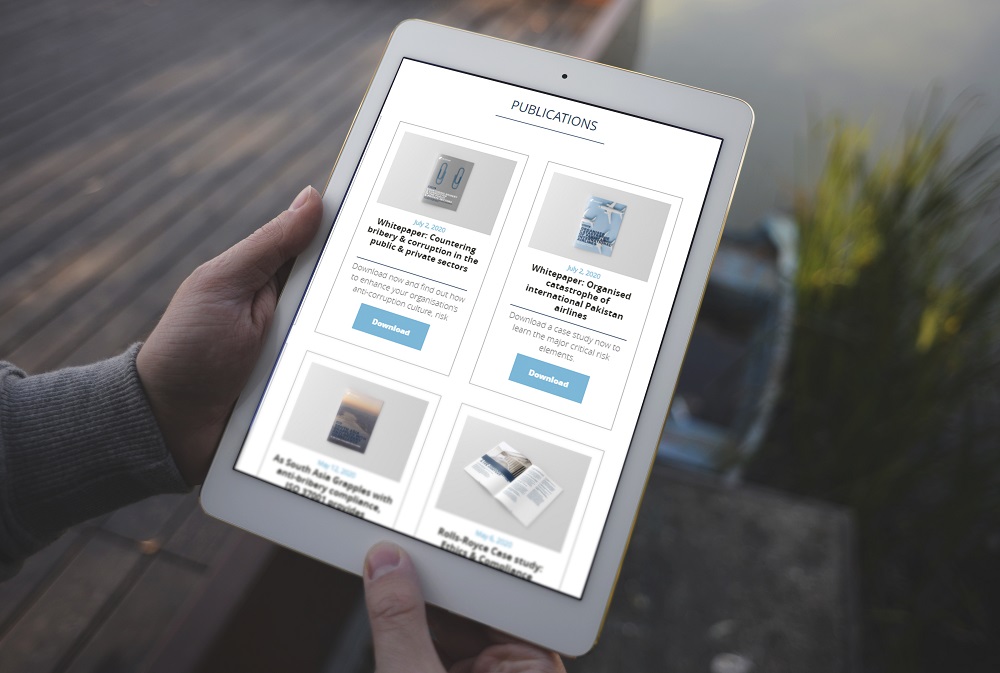 GET INDUSTRY NEWS DELIVERED TO YOUR INBOX
Sign up for risk management, compliance, background investigations, business intelligence and due diligence-related news, events and publications.