The risks of cybercrime claims many victims over many sectors. The PwC Global Economic Crime Survey 2020 found that a company falls victim to six frauds on average. The most common types are customer fraud, asset misappropriation as well as cybercrime. It also proved a roughly even split between frauds committed by internal and external perpetrators, at almost 40% each – with the rest being mostly collusion between the two. Few can deny the enormous technological advancements that are constantly taking place in the modern world. The internet, the computer, and other technological advancements have dramatically changed what it means to socialise, 'chat', and even read a book. Both the disadvantages and advantages of such developments are clear, and as technology gains pace, so have the unlawful activities of those who seek to take advantages of such developments.
According to a 2020 cybercrime report from Europol, COVID-19 sparked upward trend in cybercrime. In fact, since the beginning of the pandemic, the FBI has seen a fourfold increase in cybersecurity complaints, whereas the global losses from cybercrime exceeded $1 trillion in 2020. 
In other words, as technology evolves, the risks of cybercrime have become complex. The sense that one is safe from crime in the privacy of one's own home has been lost. In fact, according to World Economic Forum's "Global Risks Report 2020" the chances of catching and prosecuting a cybercriminal are almost nil (0.05%).
Take the first steps towards developing measures against the risks of cybercrime! 
This playbook critically examines the growth of cybercrime, evaluating the risks it poses in terms of the different forms of cybercrime that exist and the regulations that seek to detect, prevent and punish them.
The extension of an old legislation to include cybercrime is not entirely effective – especially not for crimes committed within the realm of social media and social networking. Therefore the need to develop an 'anti-cybercrime culture emerges. It has to be implemented on an international scale that safeguards these crimes – the promotion of careful use would therefore be facilitated to hinder such crimes before they can materialise. Our playbook includes:
What is cybercrime and why is it important?
Top corporate cybersecurity risks and 10 types of high-tech crimes
How cybercrime impacts business and your company's growth
Cybercrime and regulations in place
And how your response as a business matters – how to can you protect your business from cybercrime including advice and tips on how to telework safely
Download the full playbook today and learn step-by-step things your company can do to be better protected from cybercrime. Robust cyber-security, data protection, anti-fraud and risk management all come together to mitigate the dangers posed by hackers, phishers and other cybercriminals.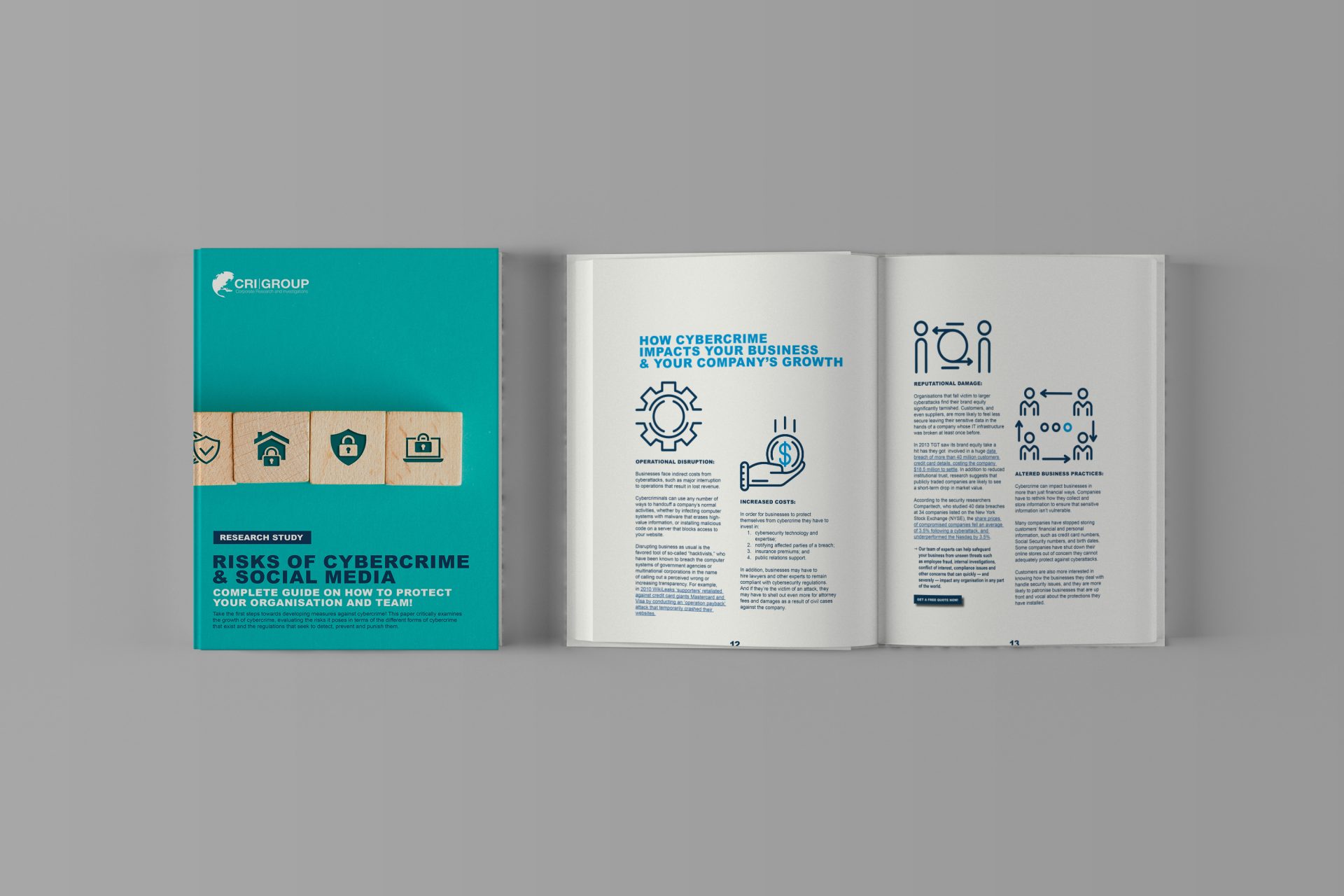 With the playbook in your hands, you'll learn about the most common cyber attacks. This includes viruses, phishing attacks and website hacks. You'll also gain a better understanding of the consequences of different types of cybercrime.
To sum it up, the playbook provides best-practices and ways that companies are lessening their risk without spending prohibitive resources to do so. Above all, the right expert advice means that any company can be on the right track to protecting their customers, their assets, and their employees from the risks of cybercrime.
Who is CRI Group?
Based in London, CRI Group works with companies across the Americas, Europe, Africa, Middle East and Asia-Pacific as a one-stop international Risk Management, Employee Background Screening, Business Intelligence, Due Diligence, Compliance Solutions and other professional Investigative Research solutions provider. We have the largest proprietary network of background screening analysts and investigators across the Middle East and Asia. Our global presence ensures that no matter how international your operations are, we have the network needed to provide you with all you need, wherever you happen to be. CRI Group also holds B.S. 102000:2013 and B.S. 7858:2012 Certifications, is an HRO certified provider and partner with Oracle.
In 2016, CRI Group launched the Anti-Bribery Anti-Corruption (ABAC®) Center of Excellence – an independent certification body established for ISO 37001:2016 Anti-Bribery Management Systems, ISO 37301 Compliance Management Systems and ISO 31000:2018 Risk Management, providing training and certification. ABAC® operates through its global network of certified ethics and compliance professionals, qualified auditors and other certified professionals. As a result, CRI Group's global team of certified fraud examiners work as a discreet white-labelled supplier to some of the world's largest organisations. Contact ABAC® for more on ISO Certification and training.