Compliance Solutions: Take An Extra Step To Ensure Compliance
CRI® Group's compliance solutions are tailored to your organisation's needs, ensuring compliance audit in all areas and keeping you one step ahead of regulatory requirements. Money laundering is a serious global issue, and recent legislation is aimed at requiring organisations to follow strict anti-money laundering protocols.
Trading with rogue businesses or unsavoury individuals can put your business at risk of financial loss while affecting your reputation. Our compliance as a service allows you to conduct due diligence checks on any company or individual you work with, to ensure that they are who they say they are. This business compliance service will enable you to gauge third-party risks and help you run your business smoothly.
Due Diligence on potential business partners is vital to confirm the legitimacy and reduce the risks associated with such professional relationships. Global integrity due diligence investigations provides your business with the critical information it needs in making sound decisions regarding mergers and acquisitions, strategic partnerships and the selection of vendors and suppliers. The level of due diligence will ensure that working with a potential trade partner will achieve your organisation's strategic and financial goals.
Use our DueDiligence360TM reports to help you comply with anti-money laundering, anti-bribery, and corruption regulations ahead of a merger, acquisition, or joint venture. You can also use them for third-party risk assessment, onboarding decision-making, and identifying beneficial ownership structures.
The specialists in the Anti-Money Laundering (AML) Advisory Services division of CRI® Group have provided support and assistance with AML issues for more than three decades. These services help an organization:
Meet international and regional AML compliance requirements
Navigate various regional AML legislation and laws
Identify high-risk individuals and avoid associations with potential money launderers
Our experts have studied the countless tactics and behaviours money launderers exhibit — trafficking, counterfeiting, corruption, third-party fraud, or theft/diversion by insiders — and bring the highest level of competence and proficiency in our ability to execute effective detection and compliance programmes for our clients.
In a rapidly changing world where information has a significant value, supply chains are interconnected, and there is uncertainty when doing business on a global basis, corporate security and resilience have become a board-level issue. The leaders of government and commercial organizations around the world are asking the following questions:
How do we manage the risks to digital and physical assets?
Does the organization have the appropriate controls and contingency plans in place to protect our business?
How quickly can we respond to a serious business crisis?
Can the organisation rely on our third-party business partners to maintain appropriate levels of control?
Corporate security and resilience could never be more important than today. Increased media attention highlights the growing frequency of cyber-attacks, supply chain disruption and high-consequence events such as natural disasters, insider attacks and fraud, ensuring that security and resilience are set to remain core elements of good corporate risk management both within the public and private sector.
CRI Group's experts can help you determine your security and resilience levels and develop controls to help manage and lower risks. Our agents are trained to find security weaknesses and help provide you with the solutions you need to deal with them. With stronger corporate security and resilience, your organisation will be more secure and poised to handle unseen threats.
CRI® Group's own exclusive, expert-developed 3PRM™ services help you proactively mitigate risks from third-party affiliations, protecting your organisation from liability, brand damage and harm to the business. Whether your organisation has a large, well-established third-party program, is in the early stages of development, or is anywhere in between, 3PRM™ solution can improve the health of your program and future-proof your entire business in many forms.
Our 3PRM™ solution streamlines the third-party risk management process through scalability, and efficiencies – from third-party risk identification to assessment what sets us apart is that our 3PRM™ solution includes:
Due Diligence
Screening & background checks
Business intelligence: information management
Investigations: IP, fraud, conflict of interest, etc
Regulatory compliance
Anti-bribery anti-corruption (ABAC) compliance
Employee auditing training & education
Monitoring & reporting
From cybersecurity to anti-bribery, our solution is flexible and responsive to the various risk domains that are most important to your business. With a network of trained professionals positioned across five continents, CRI® Group's 3PRM™ services utilise one of the largest multi-national fraud investigation teams the industry has to offer.
ISO 37301 Compliance Management Systems, through our sister brand ABAC® Group, provides certification for internationally recognised ISO 37301 Compliance Management System standards. So many global and regional laws and regulations, but few resources are available to ensure compliance.
Ensure good governance & transparency with ISO 37301 Compliance Management Systems. ISO 37301 is a worldwide-accepted standard that provides guidance for establishing, developing, implementing, evaluating, maintaining and improving an organisation's compliance management program. It covers all compliance-related issues, including anti-trust, fraud, misconduct, export control, anti-money laundering, and other unexpected risks which might affect your business. This standard is an invaluable complement to ISO 37001 Anti-Bribery Management Systems.
Why partner with CRI® Group for your Compliance Solutions?
CRI® has one of the largest, most experienced, and best-trained integrity due diligence teams globally.
We have a flat structure which means that you will have direct access to senior members of staff throughout the due diligence process.
Our multi-lingual teams have conducted assignments on thousands of subjects in over 80 countries, and we're committed to maintaining and constantly evolving our global network.
We offer flexibility, and we will tailor our scope to address your concerns and risk areas, saving you time and money.
Our extensive solutions include due diligence, employee pre and post-background screening, anti-bribery anti-corruption compliance, business intelligence, and compliance, facilitating any decision-making across your business, regardless of area or department.
Brochure on Compliance Solutions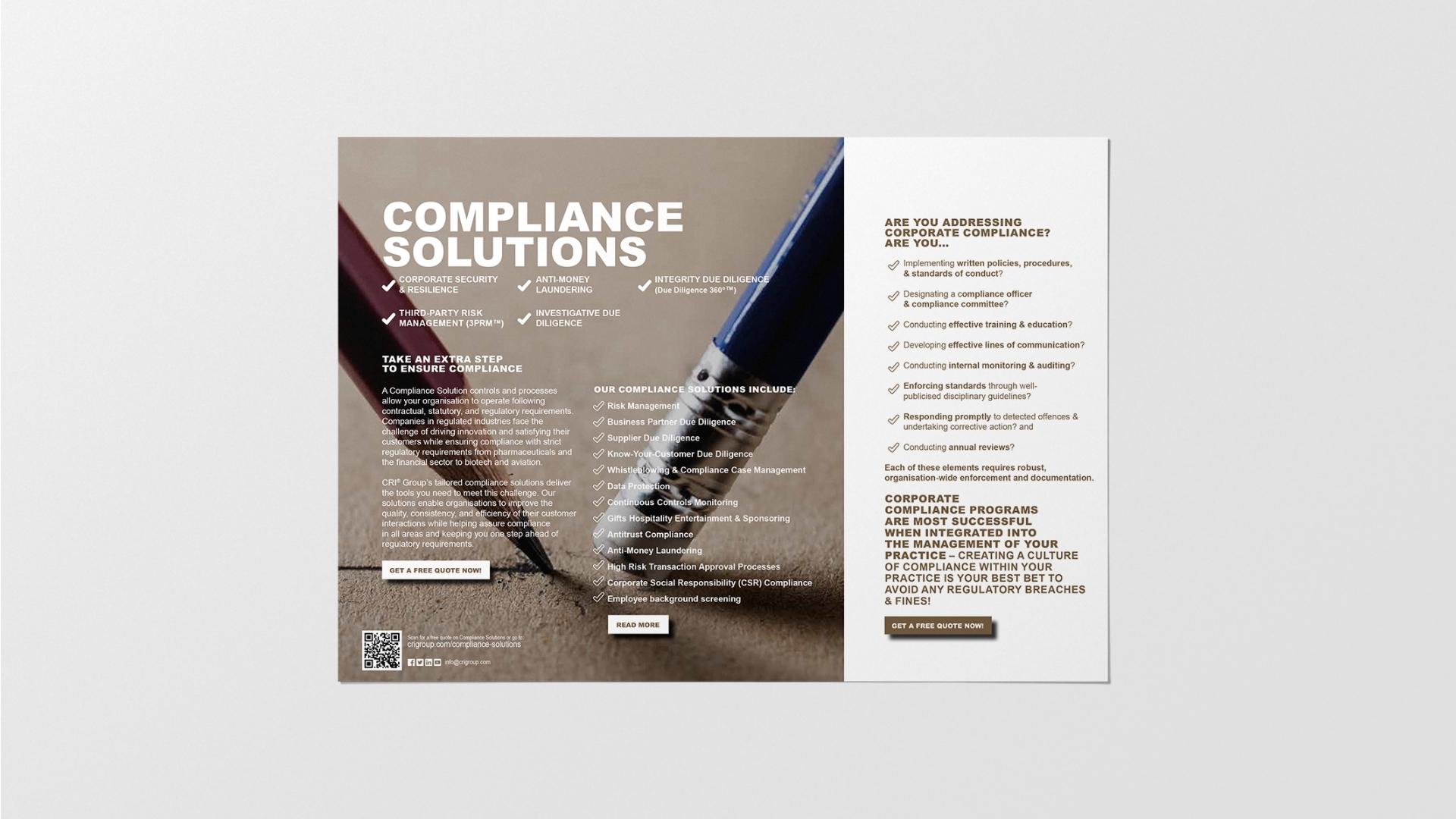 Brochure: Compliance Solutions
Help assure compliance in all areas and keep you one step ahead of regulatory requirements.
Download Brochure
Request a Compliance Solutions Quote
Please complete the form below to help us prepare the best and most accurate quote for you. We will get back to you within 48 working hours.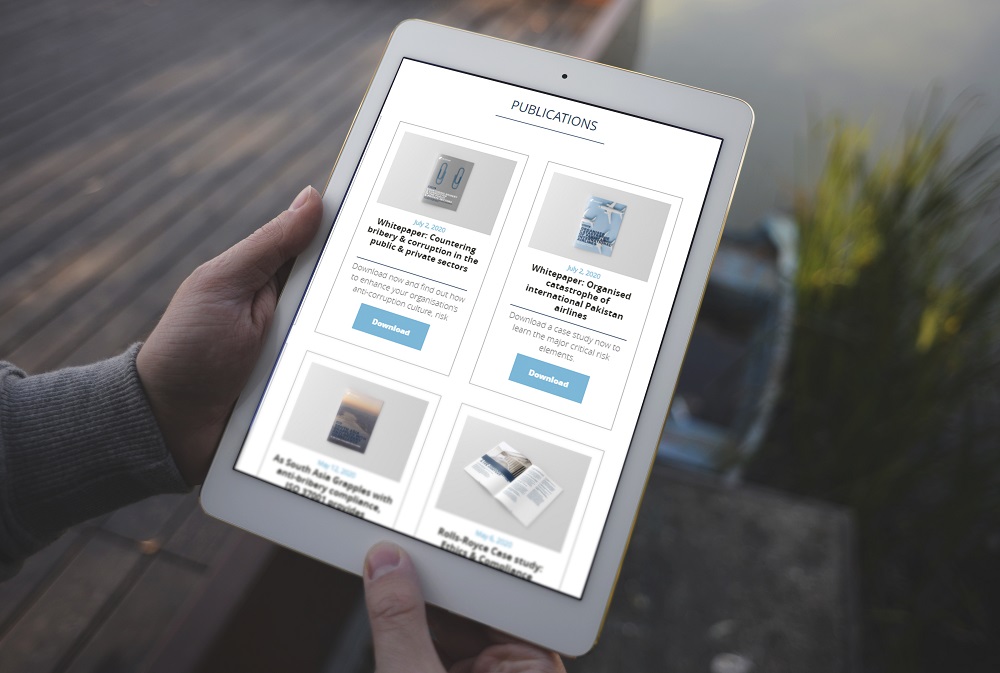 GET INDUSTRY NEWS DELIVERED TO YOUR INBOX
Sign up for risk management, compliance, background investigations, business intelligence and due diligence-related news, events and publications.