Anti-Money Laundering Services: Tailored Solutions For Every Business
CRI® Anti-Money Laundering (AML) advisory services help analyse systems and develop effective solutions. This reduces your company's risk of falling prey to employee, supplier or outside corporate and financial crimes. Our unmatched investigative capabilities and AML services, worldwide presence and long-standing reputation for independence and integrity make us uniquely qualified to resolve regulatory concerns.
If you run a business in the financial sector, you might need to register with an anti money laundering scheme or a certified anti money laundering specialist. In the UK, for instance, some businesses and individuals must register with a supervisory authority to follow anti-money laundering regulations for the prevention of money laundering. Our vast Anti-Corruption and Compliance network gives you much-needed protection when making critical bottom-line decisions crucial to your organisation's success. Leave it to our experts to help you with anti money laundering compliance and provide you with the protection you need in combating money laundering. Ensure you have a 360-degree analysis of your challenges.
Complying with AML regulations requires taking a risk-based approach towards assessing the risks of doing business with customers and third parties. CRI® Group offers a broad spectrum of risk-based screening, monitoring, and due diligence solutions that suit the needs of AML compliance professionals. We provide tailored solutions commensurate with the level of risk involved.
More and more, in-house compliance professionals have faced internal financial pressures and resource constraints while looking to build an effective and robust AML program. CRI® Group can help supplement your existing efforts and provide AML and due diligence solutions capabilities worldwide. Our AML scope of work includes:
In-Depth AML Risk Assessment
GAP Analysis for the scope of ISO 37301 Compliance Management System
Provision of AML Framework
Global Sanction Screening & Third-Party Risk Management
Money laundering reporting officer (MLRO)
Policy statement
AML framework
Anti-money laundering (AML) regulatory requirements
Identifying financing terrorism
Corporate principles – an ethical & integrated business approach
Screening of politically exposed persons & Sanctions
Suspicious activity reporting, tipping off & SAR submission
Record keeping
As a global business entity with a range of subsidiary partner operations that cross several distinct business sectors (including but not limited to telecommunication, financial services, petrochemicals, energy production/distribution, chemicals, fertilisers and food), your organisation needs to recognise that it is targeted by hostile entities seeking to take advantage of your market presence.
One of the critical challenges is corporate finance's control and movement and the need to ensure that effective Anti-Money Laundering (AML Framework) procedures and practices are in place. Refusal to accept the risks and your organisation is openly exposed to:
Corporate Fraud
Corruption
Exploitation from the theft of money & other assets.
You need to comply with national, regional, and international legislative frameworks such as:
Section 453 of the 2017 Companies Act (Pakistan) and
UK's Proceeds of Crime Act (POCA) 2000).
More fundamentally, money that is unknowingly, unwittingly or (in the case of fraud and corruption) even consciously 'laundered' through the organisation could ultimately support, finance and promote international terrorism and the drugs trade.
Meet Stakeholder Expectations & Safeguard Your Corporate Reputation & Competitive Positioning
A money-laundering prevention program is an essential element among institutions' measures to protect their operations and promote trust among their clients and partners. CRI® Group works with clients to design, implement, and refine comprehensive AML policies and an anti money laundering process. This helps establish an overarching AML compliance strategy and culture, including firm-wide training on AML compliance that reflects the latest regulatory and enforcement trends and industry best practices.
As global corporate citizens aware of their responsibilities, any international organisation must comprehensively address these concerns and implement policies, procedures, and associated risk assessment mechanisms.
To have insufficient controls and be charged with engaging in money laundering can have any of the following negative consequence
Damaged corporate reputations & brand devaluation
Eroding employee morale
Potential consumer boycotts
Negative investor perceptions
Possible legal action
Fines & potential jail terms for directors
Why partner with CRI® Group for your Anti-Money Laundering Compliance?
CRI® has one of the largest, most experienced, and best-trained integrity due diligence teams globally.
We have a flat structure which means that you will have direct access to senior members of staff throughout the due diligence process.
Our multi-lingual teams have conducted assignments on thousands of subjects in over 80 countries, and we're committed to maintaining and constantly evolving our global network.
We offer flexibility, and we will tailor our scope to address your concerns and risk areas, saving you time and money.
Our extensive solutions include due diligence, employee pre and post-background screening, anti-bribery anti-corruption compliance, business intelligence, and compliance, facilitating any decision-making across your business, regardless of area or department.
Brochure on Anti-Money Laundering Advisory Service: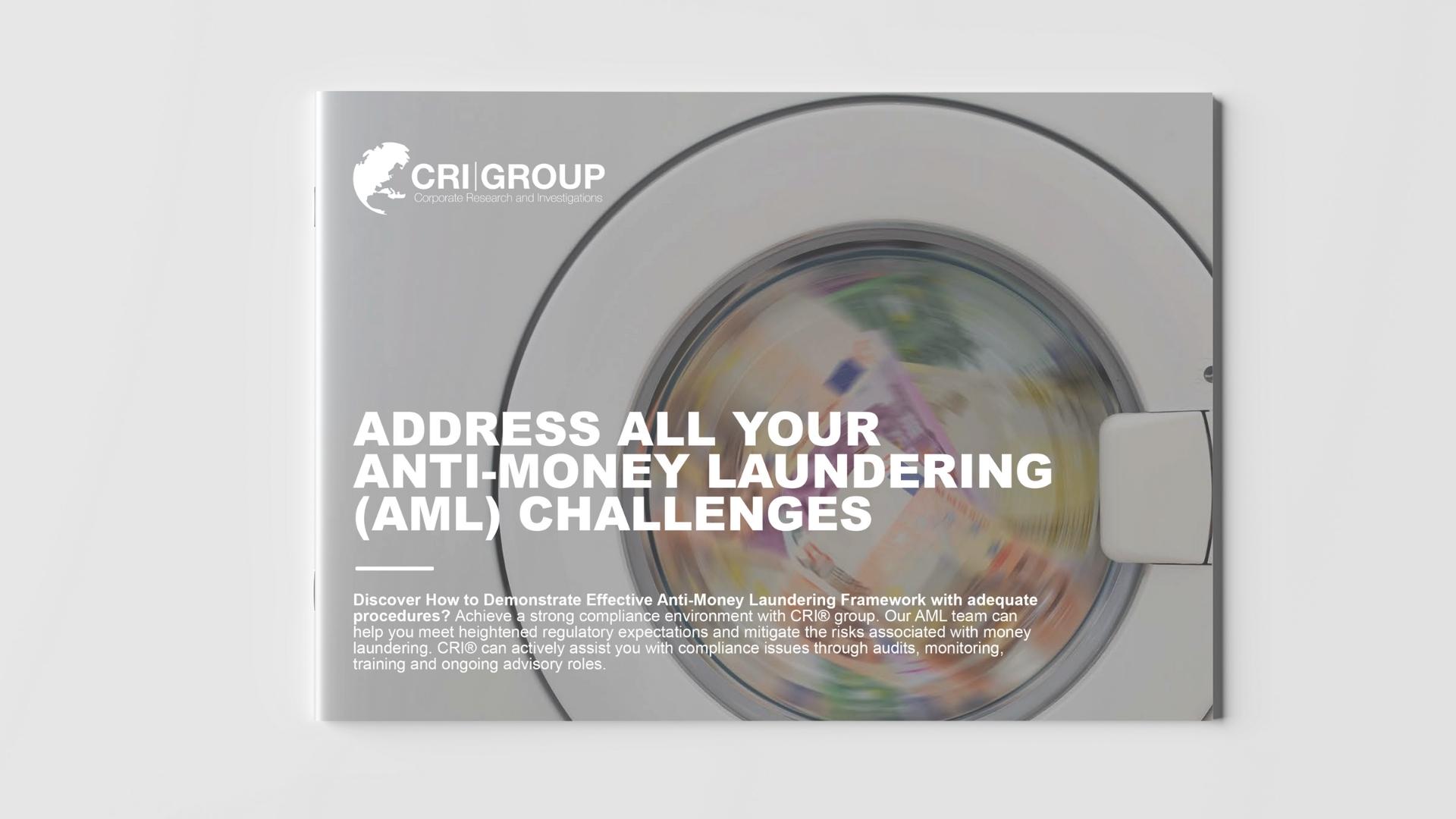 Brochure: AML Advisory
Our AML team can help you meet heightened regulatory expectations and mitigate the risks associated with money laundering.
Download Brochure
Request an AML Advisory Quote
Please complete the form below to help us prepare the best and most accurate quote for you. We will get back to you within 48 working hours.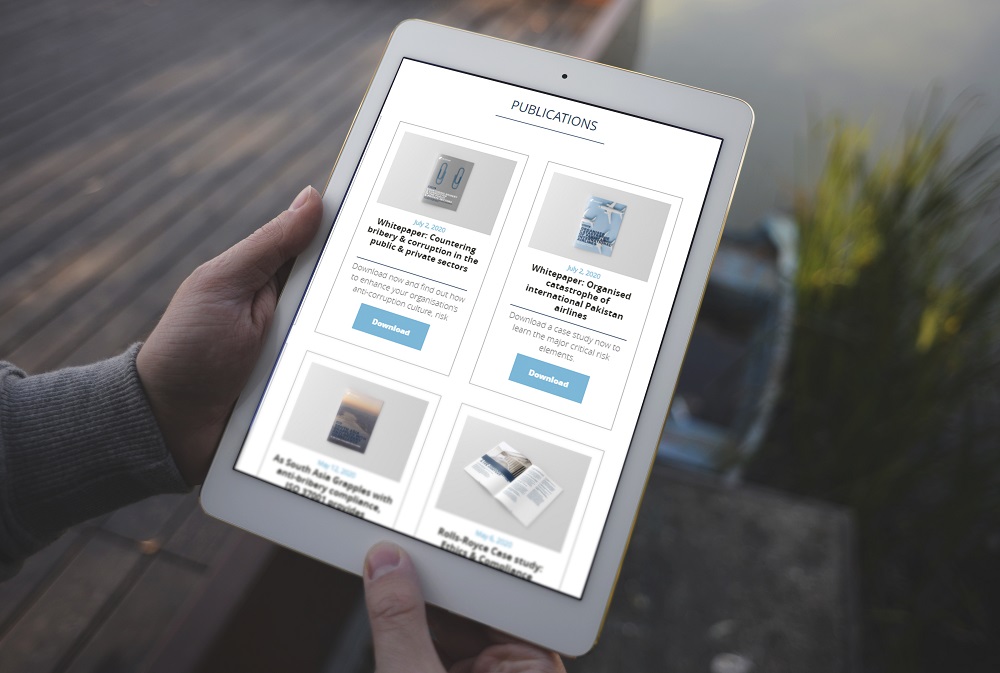 GET INDUSTRY NEWS DELIVERED TO YOUR INBOX
Sign up for risk management, compliance, background investigations, business intelligence and due diligence-related news, events and publications.