UPCOMING WEBINAR | Third-party due diligence and oversight
December 9, 2021 @ 10:30 am

-

12:30 pm

SMT

FREE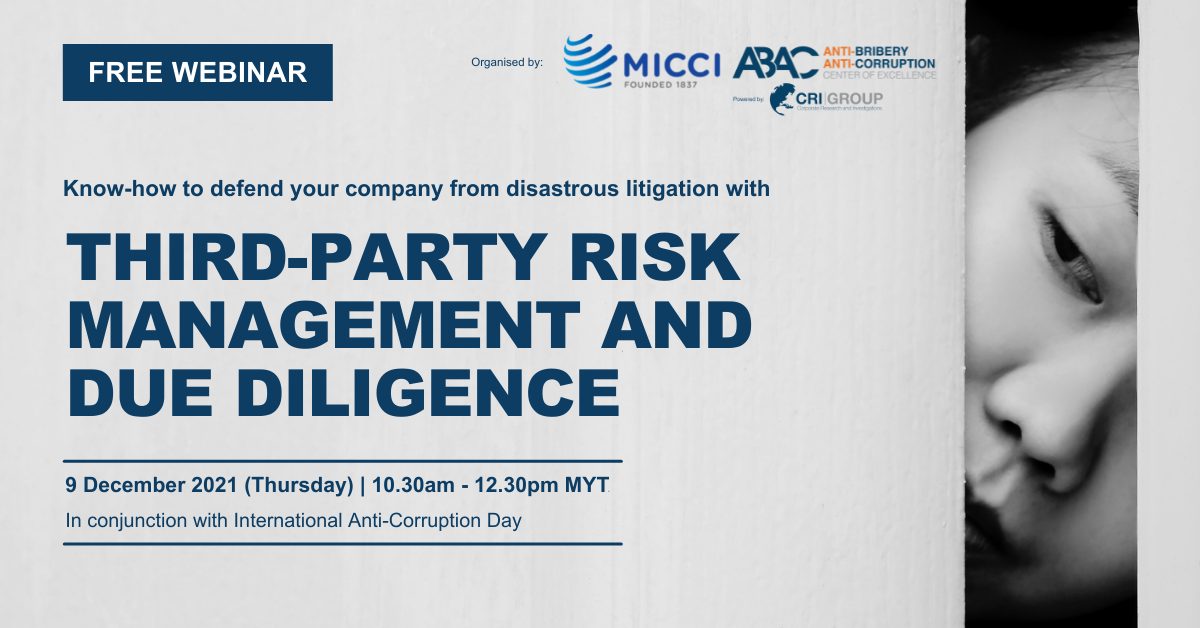 Know-how to defend your company from disastrous litigation with Third-Party Risk Management and Due Diligence
Free Webinar | 9 December 2021 | 10.30 am – 12.30 pm Malaysia Time | In conjunction with International Anti-Corruption Day
CRI® Group is proud to announce our sister brand, Anti-Bribery Anti-Corruption (ABAC®) Center of Excellence Group will be hosting a free webinar with Malaysian International Chamber of Commerce & Industry (MICCI) on 9 December 2021. Our intention is to be able to provide resources on corporate compliance to organisations around the globe that will aid them in expansion and an ethical working environment. Take advantage of this free webinar on due diligence and third-party risk managements. Know how to defend your organisation from disastrous litigation with third-party risk management and due diligence.
In recent years, third-party risk management has become a primary concern for organisations, amid increased outsourcing against a backdrop of rising costs, digitisation and low-interest rates, which have put downward pressure on margins. While there are many benefits driving outsourcing, e.g., increased efficiency and scale, it naturally also increases the level of risk and complexity of third-party relationships. Coupled with increased lengths of agreements, on average five to seven years, the need for ongoing performance management becomes that much greater.
Financial and reputational risks have increased with more outsourcing, and regulators have focused on how companies manage their relationships with third parties, in some cases leading to tighter regulation. The first to increase regulatory scrutiny in this area was the US, with a regulatory paper on third-party risk management as far back as 2002. UK initiatives include the FCA review of outsourcing. In Europe, Solvency II regulates how firms maintain access to and control over outsourced activities. Further requirements have emerged in areas like GDPR in IT outsourcing. Fines imposed in the UK and US show that public and private firms will be held accountable for outsourced activities. Organisations fined for breaches, including insufficient oversight of third parties. In light of increased scrutiny, many organisations are reviewing their third-party risk management frameworks.
ABAC® sister brand of CRI Group joined forces with MICCI to discuss the third-party due diligence frameworks in-depth and explore its best practices – to help provide insights and ideas for your organisations' compliance programme. Join us and save your seat now!
Our speakers will be looking at the following points:
Third-party due diligence and oversight as a robust anti-corruption measure for companies to adopt
Risk-based due diligence and regular oversight of third-party business partners
Informing third-party business partners of their duty and obtaining a reciprocal commitment
Measures for business partners to report suspected bribery or corruption
Other activities to prevent and detect corruption
Third-Party Risk Management strategy! outcomes and its RED FLAGS
Undisclosed third-party transactions
Material misrepresentations or commissions
Unreported financial difficulties
Criminal or regulatory sanctions
Prior bribe or corruption allegations
Undisclosed legal or bankruptcy proceedings
Politically exposed Persons -PEPs

ZAFAR I ANJUM
MSc, MS, LLM, CFE, CII, CIS, Int. Dip. (Fin. Crime), MICA, MIPI, MAB

Founder, Group Chief Executive Officer
Corporate Research & Investigations & ABAC Center of Excellence

E: zanjum@crigroup.com
Book a meeting with Zafar Anjum

Building 30 years' career in anti-corruption, compliance, risk management, fraud prevention, protective integrity, security and compliance, Zafar Anjum is a highly respected professional in his field. As a trusted authority in anti-bribery and anti-corruption, fraud risk assessment and prevention, corporate compliance evaluation, securities among corporate clients, government agencies and industry groups, he is known for creating stable and secure networks across challenging global markets.

With an impressive educational background coupled with his industry expertise, Zafar Anjum is often the first certified global investigator on the scene when multi-national EMEA corporations seek to close compliance, anti-bribery and anti-corruption or corporate security gaps.

Starting his educational background in 1989 with his Bachelor of Arts Degree; he then went on to earn a Master of Science in Counter Fraud and the Counter Corruption University of Portsmouth in the United Kingdom along with specialised knowledge and certification in Fraud Investigations, Fraud and Financial Crimes, Corporate Fraud Control and Anti-Corruption. He was also awarded with Distinction in Master of Fraud and Financial Crime and included in Executive Dean's List of 2016 by Charles Sturt University, Australia.

He earned his LL.M Legal Practice (Master of Laws) (Intellectual Property) from the University of Law in the United Kingdom, which he completed in February 2019. Alongside to enhanced further capabilities and competencies, specifically in the Bribery Risk Assessment framework, he is undertaking ICA International Diploma in Governance Risk and Compliance, ICA International Diploma in Financial Crime and Prevention, ICA International Diploma in Anti Money Laundering from International Compliance Training Academy in the United Kingdom which is mapped and are also awarded in association with Alliance Manchester Business School, The University of Manchester.

His training and business acumen give Zafar Anjum in-depth precision when dealing with fraud risk management, security consultations, crime investigations, crisis management, risk governance, event security and strategic threat management for industry leaders seeking proactive long-term risk prevention.
His leadership creates solid collaborative relationships among prevention teams, crime investigators, government officials, and business executives seeking dynamic solutions across international marketplaces. For industries needing extensive project management, safeguard testing and real-time compliance applications, Zafar Anjum is the assurance expert of choice for industry professionals.


SHEBA GUMIS

Partner from Skrine
Skrine – Advocates & Solicitors

Sheba is a corporate partner, with experience in providing advice on foreign direct investment in a wide range of industries including the set-up of joint ventures and other investment structures in Malaysia. She has notable experience in the education and hospitality sectors. As part of her portfolio, Sheba regularly deals with legal and regulatory compliance issues involving regulatory authorities such as the Malaysian Industrial Development Authority, Ministry of Domestic Trade and Consumer Affairs, Bank Negara Malaysia and others.

Her key practice areas include Mergers & Acquisition, Corporate Advisory and Transactions, Education, Hospitality and Tourism
The webinar is fit for attendees who work in the field of:
Top Management (including Risk, Quality, Health, Safety and Environment Management)
Compliance and Ethics manager and officer
Legal Practices and Counselling
Internal Auditor
Internal Controller
Finance manager and officer
Supply Chain manager and officer
Procurement manager and officer
Operations manager and officer
Based in London, United Kingdom, CRI® is a global company with experts and resources located in key regional marketplaces across the Asia Pacific, South Asia, the Middle East, North Africa, Europe, North and South America. We have experts' speakers who know the industry inside out and have worked in the field for years and are dedicated to our mission of safeguarding the corporate world by detecting and exposing those elements that can cause irreparable harm to an organisation while standing up against the outside forces, who through corruption, collusion, coercion, and fraud, can cause financial, organisational, reputational, and legal harm to our global clients.

Our webinars, resources and other events are always designed with our clients in mind. Expect to be provided detailed insights and expert opinions to all your questions and queries regarding compliance adequate due diligence for third-party risk management, corporate compliance program and what it means for your organisation.

CRI® Group has safeguarded businesses from any risks, providing investigations (i.e. insurance fraud), employee background screening, investigative due diligence, business intelligence, third-party risk management, forensic accounting, compliance and other professional investigative research services. In 2016, CRI® Group launched the Anti-Bribery Anti-Corruption (ABAC®) Center of Excellence – an independent certification body established for ISO 37001:2016 Anti-Bribery Management Systems, ISO 37301 Compliance Management Systems and ISO 31000:2018 Risk Management, providing training and certification. ABAC® operates through its global network of certified ethics and compliance professionals, qualified auditors and other certified professionals.

MICCI traces its history from the formation of its ancestor, The Penang Chamber of Commerce and Agriculture in 1837. Following amalgamation with the Perak Chamber of Commerce and the Selangor Chamber of Commerce in the early 20th century, the Chamber was restructured in 1974 as a company limited by guarantee and renamed the Malaysian International Chamber of Commerce & Industry. MICCI is a Chamber that aims to facilitate and support members in their goals to successfully develop their business in Malaysia. MICCI engage(s) with state and federal governments to continue to ensure the development and implementation of a robust regulatory framework, which is conducive to a healthy business environment.