Compliance & Adequate Due Diligence for Third-Party Risk Management | WEBINAR RECORDING
November 11, 2021 @ 2:00 pm

-

3:00 pm

+04

FREE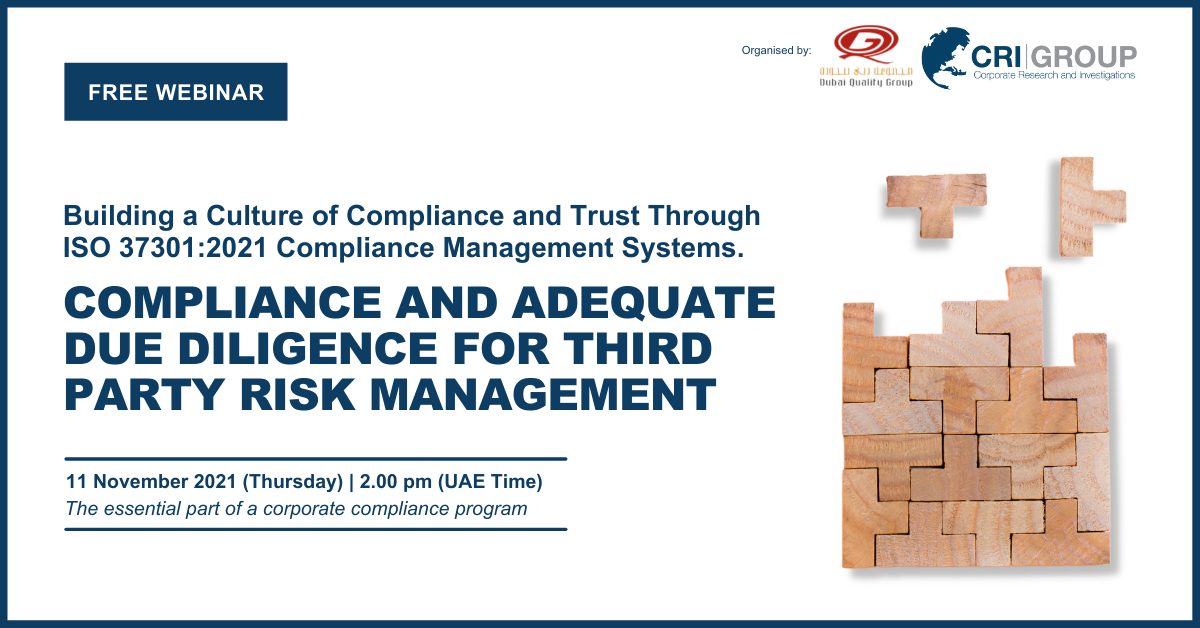 Building a Culture of Compliance and Trust Through ISO 37301:2021 CMS: Compliance adequate Due Diligence for Third-Party Risk Management – An essential part of a corporate compliance program
Free Webinar | 11 November 2021 | 2 pm – 3 pm UAE Time | in collaboration with Dubai Quality Group (DQG)
CRI® Group will be hosting a free webinar on November 11th in collaboration with Dubai Quality Group and sister brand the Anti-Bribery Anti-Corruption (ABAC®) Center of Excellence. Our intention is to be able to provide resources on corporate compliance and due diligence to organisations around the globe that will aid them in expansion and an ethical working environment. Take advantage of this free webinar on compliance and adequate due diligence for Third-Party Risk Management.
Widespread trust is built on a company culture of doing the right thing, where every employee contributes because they understand and believe in its importance. Our "Building a Culture of Compliance and Trust Through ISO 37301:2021 CMS" webinar in collaboration with DQG will highlight all essential parts of a corporate compliance program.
Compliance in the Workplace
The compliance standard directs an organisation to establish ideals and ethics. It involves the organisation to illustrate those ideals and ethics adequately in a manner in which team members can recognise them and submit to them. A compliance standard necessitates that an organisation train team members on ideals and ethics and demands that the organisation hold team members liable for their conflicts and behaviours. In other words, compliance helps to define the force in the wake of the organisation and its motivational efforts.
However, many authoritative figures view compliance as intrinsically fundamentalist as they assume that the objective of compliance is to rein in conduct that couldn't be further than the truth. Compliance provides a compelling instrument of prolonged adjustment. If everyday behaviour branches from education and codes of conduct, and codes of conduct branch from ethics, expression, and alteration; over time, these said principles can intensely influence administrative behaviour. Standards can be deemed as a leveraging point, and in the long run, compliance centres on the driving principles of an organisation therefore, it is incredibly important to implement them into your corporate culture which is what we intend on discussing in our webinar.
Why ISO?
Issued in April 2021, the ISO 37301 framework offers a certifiable global benchmark for compliance systems and explains in detail how to construct a compliance management system to comply with international official standards and regulations. This standard is also acknowledged to indicate compliance with social and ethical principles across the globe.
The International Organization for Standardization (ISO) is an independent, non-governmental body that has developed and implemented the ISO 37301. Corporate compliance continues to be one of the utmost risk interests for management – to which the key solution in preserving integrity and confidence within an organisation and third-party representatives is to implement a robust compliance program. The ISO 37301 further urges organisations to place emphasis on the methodical implementation of an organisation-wide compliance system as a means of efficiency and compliance understanding the workplace.
Like other ISO standards for management systems, such as the ISO 37001 standard for anti-bribery management systems, the ISO 37301 pulls on the founded ISO value of "Plan-Do-Check-Act" (PDCA) – a standard which necessitates those certified organisations to operate within an unremitting development progression sequence.
Most individuals are vaguely aware of what fraud prevention entails but many cannot fully comprehend how intensive and impactful a proper fraud prevention strategy can be. Our speakers will be looking at the following points:
What does compliance mean?
Compliance obligations
Compliance related areas
What is ISO 37301:2021 Compliance Management Systems
Common elements of the framework
Compliance risk assessment
The process: Top management
Questions to ask when developing a compliance management policy
The involvement of third parties
The results: the pay-off of good governance
The results: long-lasting benefits integration with ISO 37001
Anti-Bribery Management System, ISO 37000:2021 Governance of organisations, and ISO 37002:2021 Whistleblowing Management systems

SAMIA EL KADIRI

IRCA Lead Auditor | TOT
Governance & Compliance Consultant – Hawkamah Institute for Corporate Governance (DIFC), UAE
Auditor at Anti-Bribery Anti-Corruption (ABAC®) Center of Excellence

She brings in over nine years of progressive experience working in private and government-owned entities in compliance, management, quality assurance and excellence functions. Possess keen understanding, oversight and reporting mechanisms on Financial Crimes – Anti-Money Laundering, UAE Central Bank regulations, Dubai and UAE federal government mandates. She Developed and delivered various workshops and awareness sessions to leaders and decision-makers on "Good Corporate Governance Practices", "Development of Strategic Plan and Effective Policies" and "Financial Ethics" (AML&CFT according to Central Bank Guidelines). Authored reports and research papers on Compliance and the evolution of CG in the MENA region.

She is currently a Consultant at DIFC – Hawkamah Institute for Corporate Governance charged with leading entities consultancy and advisory engagements in identifying the relevant controls, processes and frameworks and recommend areas of improvements, in addition to her independent role with ABAC where she provides auditing services and expertise on management systems related to fighting Bribery and corruption. She works closely with clients in assessment and development, advisory and succession planning across multiple industries (Dubai and Federal Government entities, Healthcare, Financial institutions including Banks, and Real Estate) and functional topics (Ethics, Strategic Excellence, Clinical Governance, Regulatory Compliance and Audit, Policies & Procedures, etc.).

She participated in the ESG Index; the MENA wide Environment, Social and Governance (ESG) Index in cooperation with Standard & Poor's with the support of the International Finance Corporation (IFC).
Prior to joining Hawkamah, she was the Regulatory Compliance Officer and Chief Editor of Compliance newsletter at Wall Street Exchange, a member of Emirates Post Group where she developed systems, policies and procedures for compliance with relevant UAE laws. Prior to that, she worked with the American Clinics for Psychiatry and Neurology where she focused on health care compliance with MOH and Dubai Healthcare Authority's mandates.

Prior to ACPN, she worked at Roads and Transport Authority (RTA) in Dubai where she focused on government excellence, quality, and customer happiness.
She is a Certified Train the Trainer – Institute of Leadership and Management (UK), In addition to other accreditations related to Anti-Money Laundry (AML) and Counter Financing Crimes.

ZAFAR I ANJUM
MSc, MS, LLM, CFE, CII, CIS, Int. Dip. (Fin. Crime), MICA, MIPI, MAB

Founder, Group Chief Executive Officer
Corporate Research & Investigations & ABAC Center of Excellence

Building 30 years' career in anti-corruption, compliance, risk management, fraud prevention, protective integrity, security and compliance, Zafar Anjum is a highly respected professional in his field. As a trusted authority in anti-bribery and anti-corruption, fraud risk assessment and prevention, corporate compliance evaluation, securities among corporate clients, government agencies and industry groups, he is known for creating stable and secure networks across challenging global markets.

With an impressive educational background coupled with his industry expertise, Zafar Anjum is often the first certified global investigator on the scene when multi-national EMEA corporations seek to close compliance, anti-bribery and anti-corruption or corporate security gaps.

Starting his educational background in 1989 with his Bachelor of Arts Degree; he then went on to earn a Master of Science in Counter Fraud and the Counter Corruption University of Portsmouth in the United Kingdom along with specialised knowledge and certification in Fraud Investigations, Fraud and Financial Crimes, Corporate Fraud Control and Anti-Corruption. He was also awarded with Distinction in Master of Fraud and Financial Crime and included in Executive Dean's List of 2016 by Charles Sturt University, Australia.

He earned his LL.M Legal Practice (Master of Laws) (Intellectual Property) from the University of Law in the United Kingdom, which he completed in February 2019. Alongside to enhanced further capabilities and competencies, specifically in the Bribery Risk Assessment framework, he is undertaking ICA International Diploma in Governance Risk and Compliance, ICA International Diploma in Financial Crime and Prevention, ICA International Diploma in Anti Money Laundering from International Compliance Training Academy in the United Kingdom which is mapped and are also awarded in association with Alliance Manchester Business School, The University of Manchester.

His training and business acumen give Zafar Anjum in-depth precision when dealing with fraud risk management, security consultations, crime investigations, crisis management, risk governance, event security and strategic threat management for industry leaders seeking proactive long-term risk prevention.
His leadership creates solid collaborative relationships among prevention teams, crime investigators, government officials, and business executives seeking dynamic solutions across international marketplaces. For industries needing extensive project management, safeguard testing and real-time compliance applications, Zafar Anjum is the assurance expert of choice for industry professionals.
The webinar is fit for attendees who work in the field of:
Top Management (including Risk, Quality, Health, Safety and Environment Management)
Compliance and Ethics manager and officer
Legal Practices and Counselling
Internal Auditor
Internal Controller
Finance manager and officer
Supply Chain manager and officer
Procurement manager and officer
Operations manager and officer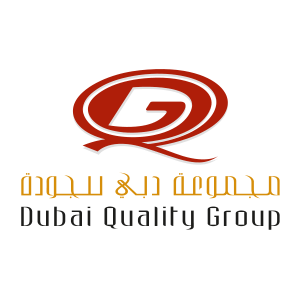 Dubai Quality Group is a non-profit organization set up by the Dubai Economy under the patronage of H.H. Sheikh Ahmed bin Saeed Al Maktoum. Guided by the vision of H. H. Sheikh Mohammed bin Rashid Al Maktoum, Vice President and Prime Minister of the UAE and Ruler of Dubai, Dubai Quality Group was established in 1994 to develop and promote Excellence in UAE.

DQG Subgroups provide 'like-minded' members with a platform to come together and discuss their thoughts, views and expertise in different fields. Each Subgroup meets regularly and has the freedom to organize seminars, benchmarking programs and other activities.

Through its associations with international bodies such as the EFQM, ASQ, Ideas UK, Ideas America, DIB Germany, GBN etc., the group brings international knowledge and best practices to the local business community.

DQG is committed to being centre of Knowledge sharing for all topics relating to Innovation and Excellence, for more information please click here.
Based in London, United Kingdom, CRI® is a global company with experts and resources located in key regional marketplaces across the Asia Pacific, South Asia, the Middle East, North Africa, Europe, North and South America. We have experts' speakers who know the industry inside out and have worked in the field for years and are dedicated to our mission of safeguarding the corporate world by detecting and exposing those elements that can cause irreparable harm to an organization while standing up against the outside forces, who through corruption, collusion, coercion, and fraud, can cause financial, organizational, reputational, and legal harm to our global clients.

Our webinars, resources and other events are always designed with our clients in mind. Expect to be provided detailed insights and expert opinions to all your questions and queries regarding compliance adequate due diligence for third-party risk management, corporate compliance program and what it means for your organization.

CRI® Group has safeguarded businesses from any risks, providing investigations (i.e. insurance fraud), employee background screening, investigative due diligence, business intelligence, third-party risk management, forensic accounting, compliance and other professional investigative research services. In 2016, CRI® Group launched the Anti-Bribery Anti-Corruption (ABAC®) Center of Excellence – an independent certification body established for ISO 37001:2016 Anti-Bribery Management Systems, ISO 37301 Compliance Management Systems and ISO 31000:2018 Risk Management, providing training and certification. ABAC® operates through its global network of certified ethics and compliance professionals, qualified auditors and other certified professionals.