WEBINAR | What does it mean to be a whistleblower
October 29, 2021 @ 10:00 am

-

12:00 pm

SMT

Free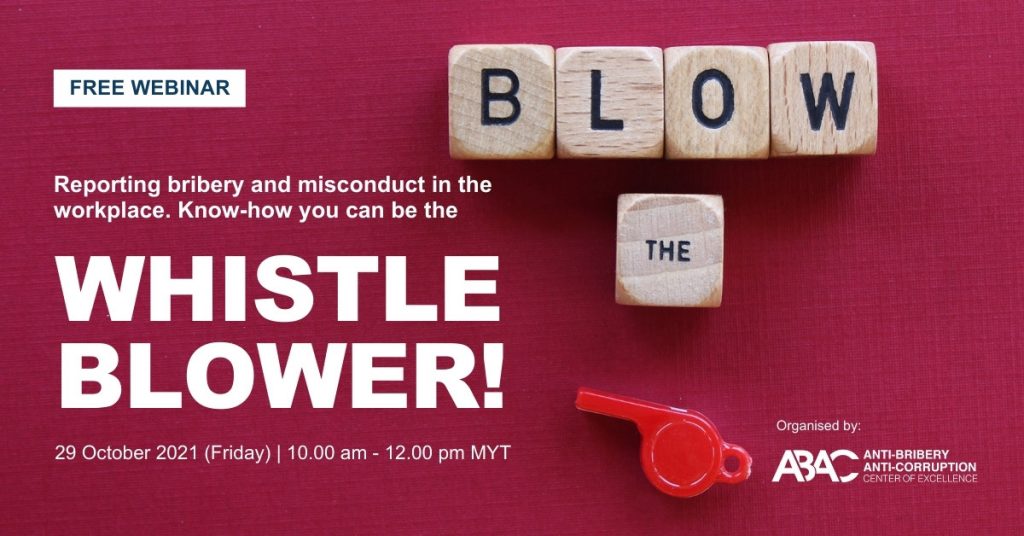 Reporting bribery and misconduct in the workplace. Know-how you can be the whistleblower!
Exclusive additional topic of discussion "Building a better whistleblowing mechanism by adopting ISO 37002:2021"
Free Webinar | 29 October 2021 (Friday) | 10 am – 12 pm Malaysia Time
Whistleblowing does not only refer to the act of a whistleblower who informs, reports or discloses on someone or the organisation is conducting or going to conduct any illicit activity which may harm the interests of stakeholders. Meanwhile, it has also emerged in its mainstream functions and the essential roles in leading today's modern corporations to enforce effective whistleblowing policy within their compounds of governance. The world's famous corporate governance cases such as Enron and Worldcom have attracted the spotlight of corporate citizens to the issue of poor yet ineffective sound governance practices in corporation operations. Because of these, the impetus of enforcing and practising sound governance practices by the world national bodies, government agencies, and business community has been triggered.
One of the significant practices that must be highlighted in promoting sound governance in a corporation's operations will absolutely be the whistleblowing act and this act is definitely welcomed and encouraged in the workplace. In the embrace of corporate governance, myriad concepts, principles, legislative acts, codes as well as good practices have been incorporated and served as a great benchmark for modern corporations in applying them into their actual governance practices.
CRI Group is proud to announce that our sister brand, the Anti-Bribery Anti-Corruption (ABAC®) Center of Excellence, will be hosting a free webinar on Friday 29th October 2021, 10:00am-12:00pm MYT. Our intention is to be able to provide resources and access to organisations around the globe on standards and certifications that will aid them in expansion and an ethical working environment. Take advantage of this free webinar and find out what whistleblowing could mean for you organisation.
The webinar is fit for attendees who work in the field of
Top Management (including Risk, Quality, Health, Safety and Environment Management)
Compliance and Ethics manager and officer
Legal Practises and Counselling
Internal Audit0r
Internal Controller
Finance manager and officer
Supply Chain manager and officer
Procurement manager and officer
Operations manager and officer
Seats are limited to 30 participants.
Register now to secure your place.
DISCUSSION POINTS
Most individuals are vaguely aware of what being a whistleblower entails but many cannot fully comprehend how intensive and impactful this role can be. That being said, our speakers will be looking at the following points:
Definition of whistleblowing
The benefits of encouraging whistleblowers in the workplace
Laws to promote and protect whistleblowers in Malaysia
Issues concerning whistleblowing in Malaysia
Can whistleblowers help to improve corporate governance?
Whistleblowing and sound governance
The need for whistleblowing policy in the workplace
Suggestions to formulate internal whistleblowing policies for companies
Strengthen whistleblowing mechanism by adopting ISO 37002:2021
We have experts speakers who know the industry inside out and have worked in the field for years. Expect to be provided detailed insights and expert opinions to all of your questions and queries in regards to whistleblowing and what it means for your business.  Find out more about our speakers and the event here.