Webinar | Remote work & other trends shaping workplace cultures
August 31, 2022 @ 11:00 am

-

12:00 pm

UTC+5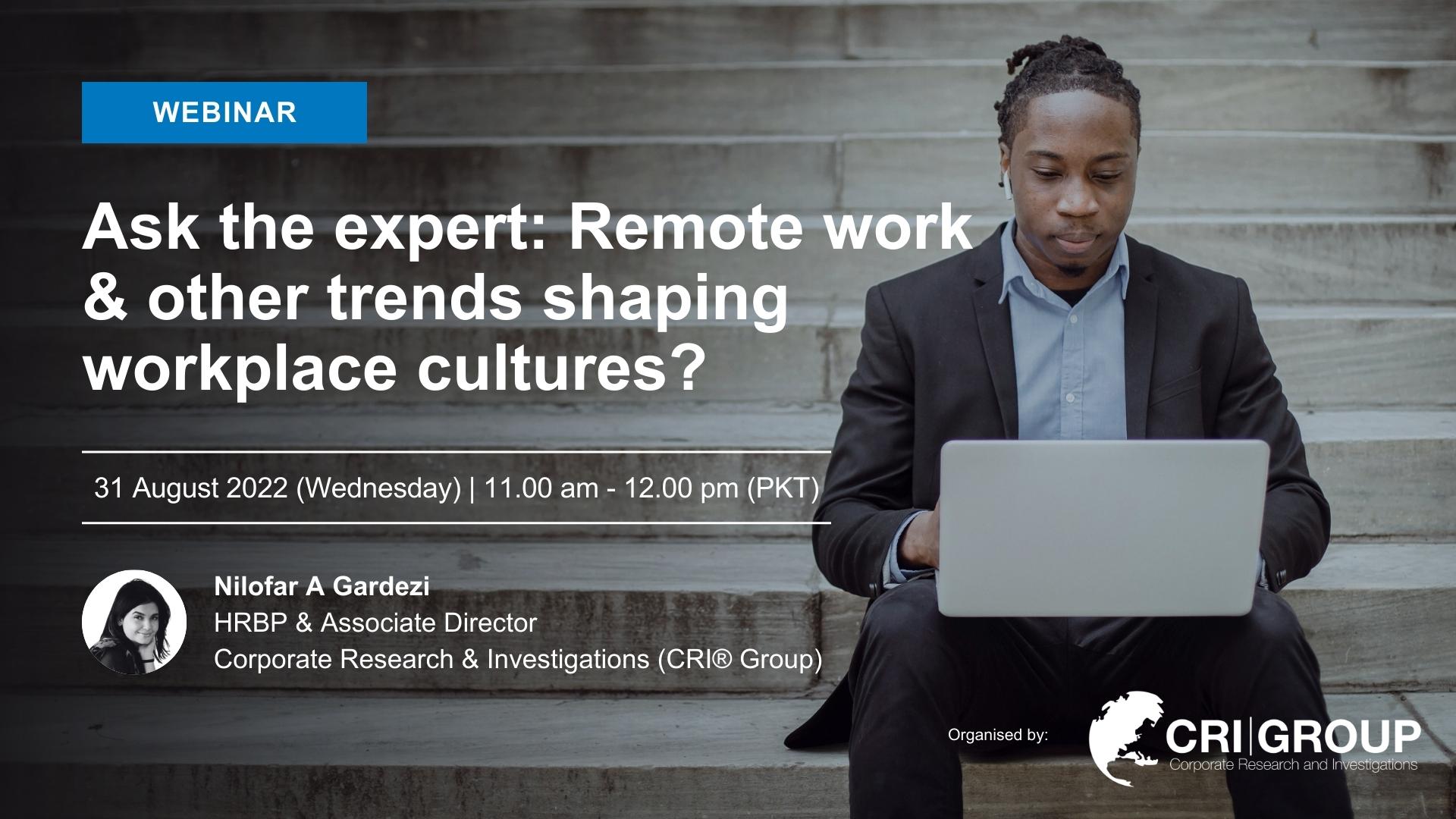 Remote work & other trends shaping workplace cultures with Nilofar A. Gardezi
CRI® Group is hosting a free webinar on August 31st. We intend to be able to provide resources on workplace cultures in organisations around the globe that will aid them in expansion and a positive employee environment. Take advantage of this free webinar on employee wellness, remote work, pre-employment screening and workplace cultures.
Workplace trends are dictating major shifts and becoming new norms in the workplace. These trends are expected to grow in the coming years. Examples of this include hybrid work, employee wellness, and ongoing education. Adapting to workplace trends will help employers improve company culture, boost employee retention and defeat workplace complacency. This will help companies stay competitive within the industry and remain relevant in the wider world.
About the speaker
The webinar will be conducted by a senior certified HR professional and member of CRI's expert team, Nilofar A. Gardezi. With over nine years of experience in HR, Nilofar A. Gardezi​ is an HRBP & an Associate Director with the CRI Group. She is a gold-certified Trainer from DWE with a Certification in Psychology and serves as a Certified Professional Counsellor. She has worked with renowned organisations like Attock Group, British Council and Standard Chartered Bank.
Those attending the live training session will benefit immensely from her expertise in strategic human-centric HR practices. Those registering for the live training session will receive an email with the speaker's contact details for further Q&A.
Webinar Registration Form | Fill in the form below to register for the webinar.
About CRI® Group
The CRI® Group has protected businesses from fraud, bribery and corruption since 1990. We are a global company based in London, United Kingdom. Our experts and resources are located in key regional marketplaces. These are across the Asia Pacific, South Asia, the Middle East, North Africa, Europe, and North and South America. Our global team can support your organisation anywhere in the world. ​For more details about the CRI® Group or to schedule a meeting with us, click here.
In 2016, the company launched the Anti-Bribery Anti-Corruption (ABAC®) Center of Excellence. The ABAC® Center of Excellence is an independent certification body that helps organisations mitigate internal and external risks by providing a complete suite of Anti-Bribery, Compliance and Risk Management programs.
Struggling with employee screening?
Get answers to frequently asked questions about background checks, screening cost, guidelines, check references etc. This eBook is a compilation of all the background screening-related questions you ever needed answers to. This eBook is the perfect primer for any HR professional, business leader and company looking to avoid employee background screening risks. It provides the tools and knowledge needed to make the right decisions.