Webinar | Web-based or on-site due diligence investigation: When, why and who will need it?
September 30, 2022 @ 11:00 am

-

12:30 pm

UTC+4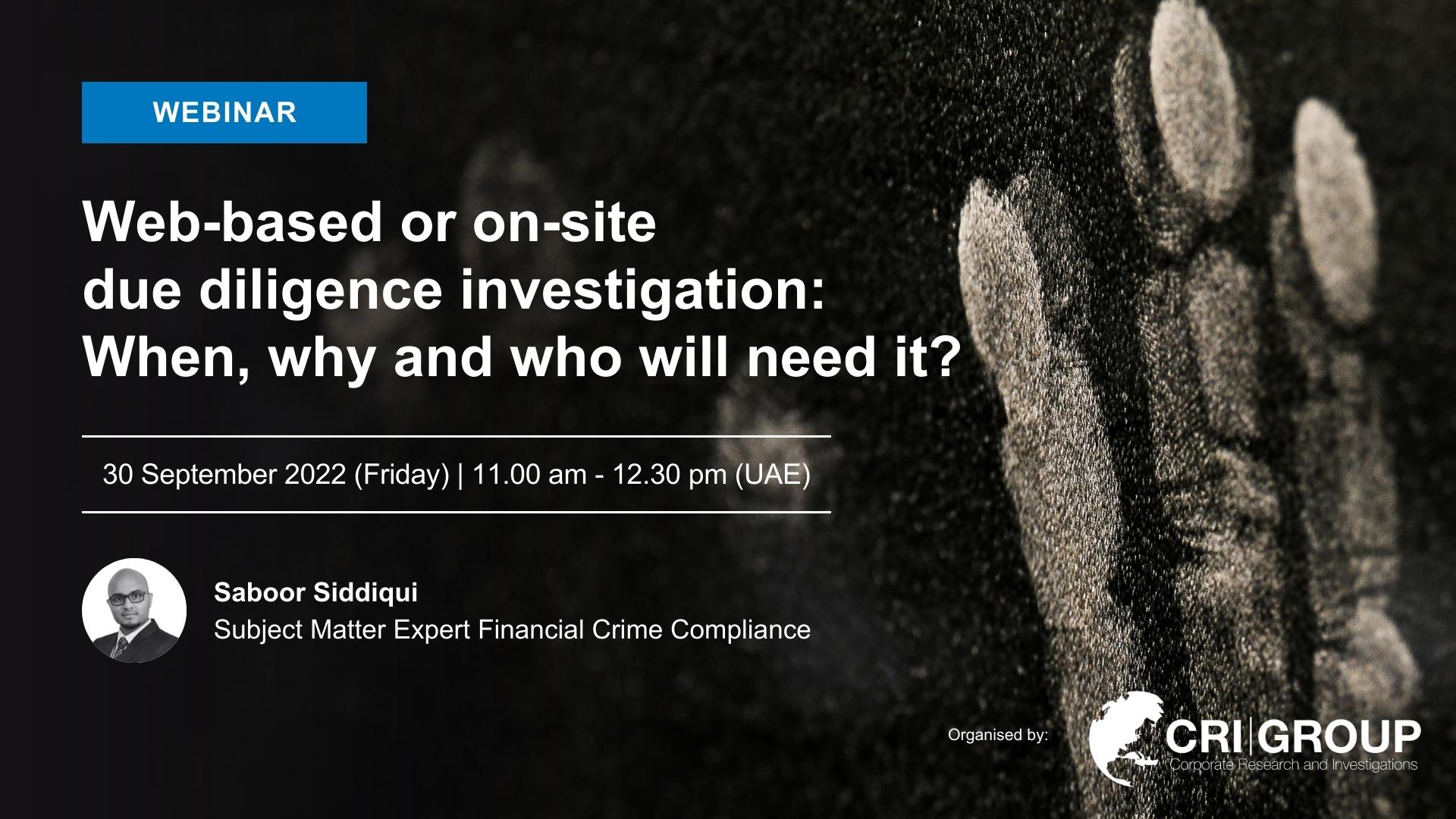 Due diligence investigation: Web-based or on-site? Which one to choose?
Due diligence investigation webinar hosted by CRI® Group will help you understand the crucial aspects of due diligence in various business areas and the best practices you should adopt. Due diligence is the most critical step in any business deal. Looking for hidden liabilities before you enter into a contract with another individual or company ensures that your decision will be well-informed and sequential, not as rash as some might think!
A thorough due diligence investigation will provide the information needed to make an informed decision. This includes any illegal or improper activity that has been suppressed and a history of litigation involving your subject matter- which could be used against them in court.
There are several approaches to conducting due diligence. Either web-based or on-site investigation. Both methods weigh differently in terms of their importance and validity. Hence this webinar will further look into this matter in-depth to provide an insight into which approach to choose, when, why and who will need it.
Register now. Seats are limited to 100 virtual attendees.
What will you learn from this webinar?
How is web-based due diligence conducted?

How is on-site due diligence conducted?

Web-based or on-site, or both? Which methods provide robust validity and trust to the information being investigated?

How extensive does the due diligence investigation be with the web-based and on-site?

When is a web-based due diligence investigation adequately required? And who will need it?

When is on-site due diligence investigation adequately required? And who will need it?

When are both web-based and on-site due diligence investigations required? And who will need it?

What are the types of due diligence investigation offered in the current market?

Current Laws and Legislation around the world that are mandating businesses to conduct due diligence investigations
About the speaker: Saboor Siddiqui
Saboor is the Financial Crime Compliance specialist advisor with a distinctive experience of working for and with the FIU as well as the reporting entities/financial institutions. Subject Matter Expert of Suspicious Reports (SARs/STRs), AML/CFT Compliance Reports, Audits and Investigations. He is currently the Global Head of Government Advisory Service & Director in MENA, heading the function of government and law enforcement advisory services globally and heading all functions in the MENA region.
About CRI® Group
The CRI® Group has protected businesses from fraud, bribery and corruption since 1990. We are a global company based in London, United Kingdom. Our experts and resources are located in key regional marketplaces. These are across the Asia Pacific, South Asia, the Middle East, North Africa, Europe, and North and South America. Our global team can support your organisation anywhere in the world. ​For more details about the CRI® Group or to schedule a meeting with us, click here.
In 2016, the company launched the Anti-Bribery Anti-Corruption (ABAC®) Center of Excellence. The ABAC® Center of Excellence is an independent certification body that helps organisations mitigate internal and external risks by providing a complete suite of Anti-Bribery, Compliance and Risk Management programs.
Latest Update on Due Diligence
In January 2023, a new German law, known as the Supply Chain Due Diligence Act (LkSG), short for Lieferkettensorgfaltspflichtengesetz in German, becomes practical and applies to companies operating or trading in Germany. This eBook looks at the critical issues in the Supply Chain Due Diligence Act. The law requires businesses to manage social and environmental issues in their supply chains through more responsible business practices. The Supply Chain Due Diligence Act requires businesses to undergo significant efforts to achieve compliance.


Webinar Registration Form | Fill in the form below to register for the webinar.