Watch webinar: Effective Due Diligence for Third-Party Risk Management
August 25, 2020 @ 12:00 am

-

August 26, 2020 @ 12:00 am

UTC+0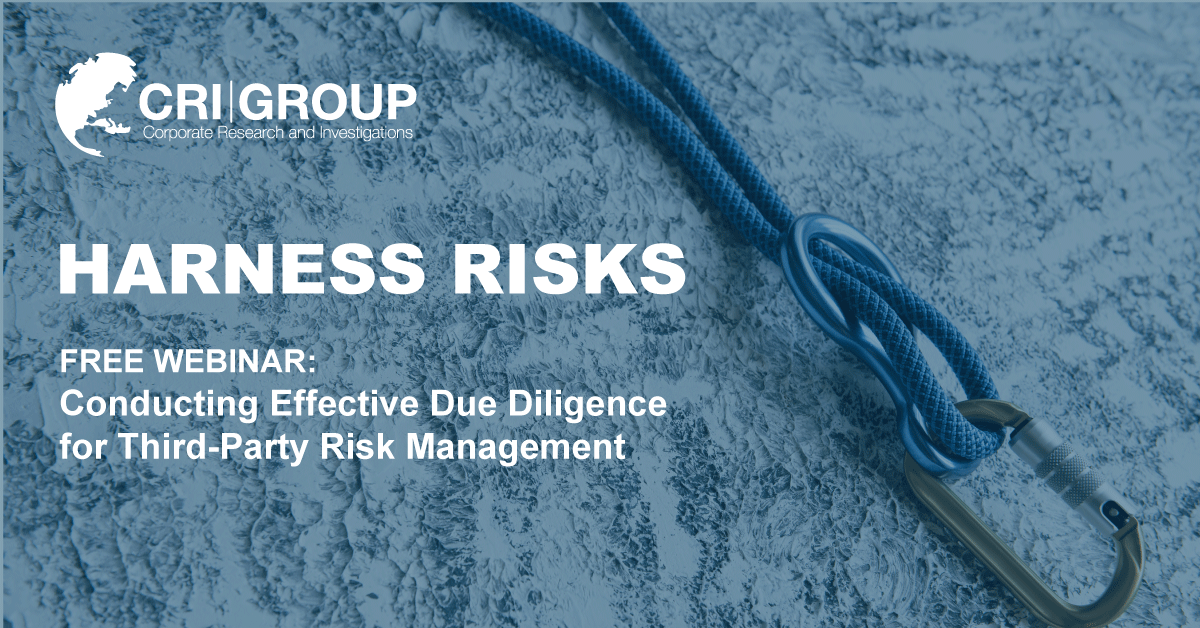 Effective Due Diligence for Third-Party Risk Management: Webinar Series
Effective Due Diligence for Third-Party Risk Management. The term "due diligence" is an overused expression in the compliance field. Even industry specialists have difficulty defining it except highlighting that it has different meanings in different contexts. Every year organisations worldwide fall prey to unscrupulous business dealings and other outside threats posed by seemingly legitimate business partners.
The current climate of pandemics made global organisations even more vulnerable. It is more critical than ever to stay compliant and have an effective strategy for evaluating and monitoring third-party risks during these unprecedented times. Usually, onboarding a new third party is just the beginning of more essential processes towards the organisation's success.
To make this journey easier for businesses across the globe, we are pleased to announce a complimentary webinar on "Conducting Effective Due Diligence for Third-Party Risk Management". This webinar is hosted by the CRI Group in collaboration with the Pakistan Institute of Corporate Governance (PICG).
Watch this FREE webinar to hear directly from distinguished experts about the essential processes and best practices to conduct investigative and effective due diligence. Use your chance to extend your knowledge and learn the key opportunities and risks associated with your business.
KEY TOPICS
What is due diligence, and why it is important?

Best practices – how to conduct effective due diligence to minimise the risk?

COVID-19 and digital due diligence

How to comply with anti-money laundering, anti-bribery, and corruption regulations or ahead of a merger, acquisition, or joint venture

Customer Due Diligence – an essential part of Anti-Money Laundering (AML) and Counter-Terrorist Financing (CTF)

FCPA compliance, UK Bribery Act compliance and other international counter-bribery legislations

Case studies and e

ngaging Q&A session – attendees will have the opportunity to ask questions at the end.
INTENDED AUDIENCE
There are no prerequisites for this webinar, and preparation is not required. Target professionals might include but are not limited to top-level management positions and specialists having expertise in:
Management (including Risk, Quality, Health and Safety)

Compliance and Ethics

Legal Practises and Counseling

Internal Control

Finance

Supply Chain

Procurement

Operations
WEBINAR GUEST SPEAKERS
Faisal Anwar, CCEP-I, Certified Compliance & Ethics Professional-International, Advisor/Independent Consultant & Trainer
Faisal Anwar is a senior management consultant & trainer with diverse experience spanning over 30 years with top-notch multinational banks, i.e., RBS, ABN AMRO, Bank of America, and HBL, as well as a newly established MDB, ECO Trade & Development Bank, at its headquarters in Istanbul, Turkey.
He has held top management positions such as Executive Director & COO-Pakistan for ABN AMRO and RBS, and CCO & Head of Global Compliance Group at HBL, the largest bank of Pakistan. Since leaving HBL in Dec 2016, he has provided independent consultancy/advisory and training & development services to banks and other organizations. Faisal has handled key themes across the assignments: compliance accountability & management; ORM; ethical compliance, including market conduct, business code of conduct; third party/vendor risk management, design & implementation of policies & procedures; corporate governance, etc.
WEBINAR ORGANISERS
CRI Group
Pakistan Institute of Corporate Governance (PICG)
PICG is a not-for-profit company, limited by guarantee and without share capital, set up under section 42 of the Companies Ordinance, 1984. The Institute is charged with promoting good corporate governance practices in Pakistan. PICG was established in 2004; and our founding members include the Securities and Exchange Commission of Pakistan (SECP), State Bank of Pakistan (SBP), the three stock exchanges in Pakistan (now merged into one entity: Pakistan Stock Exchange), banking and insurance associations, apex bodies of the corporate businesses and Non-Bank Financial Institutions (NBFIs) as well as the leading business educational institutions such as Institute of Chartered Accountants Pakistan (ICAP) and Institute of Cost and Management Accountants of Pakistan (ICMAP).