How can ISO 37001:2016 help the Middle East battle against Bribery and corruption?
Political and governmental unrest can affect a region's economy and the integrity of business transactions. The current state of the Middle East exemplifies this phenomenon. While governments in the region are making efforts to curb corruption, political instability and regime changes often undermine these measures. Bad actors understand how to take advantage of such vulnerabilities, leading to increased bribery and corruption across international borders. ISO 37001
Recent cases and statistics show that the problem persists in most countries in the region. Against this backdrop, most government officials and private sector business leaders view it as a high priority to reduce bribery and corruption. One of the problems, however, is that some dishonest politicians use supposed anti-corruption efforts as a tool against political enemies. This makes clear that the best approach is for government agencies and businesses themselves to lead from the front. By adopting an internationally recognised set of anti-bribery anti-corruption standards, increased business integrity will result.
Organisations that are committed to this effort are adopting the ISO 37001 – Anti-Bribery Management Systems standard as a comprehensive approach to mitigating bribery and corruption risk. ISO 37001 and its elements can be tailored to any type of organisation, of any size. The key elements include adopting an anti-bribery policy, appointing a person to oversee anti-bribery compliance, training, risk assessments and due diligence on projects and business associates. ISO 37001 also calls for implementing financial and commercial controls, and instituting reporting and investigation procedures.
To download the FREE eBook, please CLICK HERE!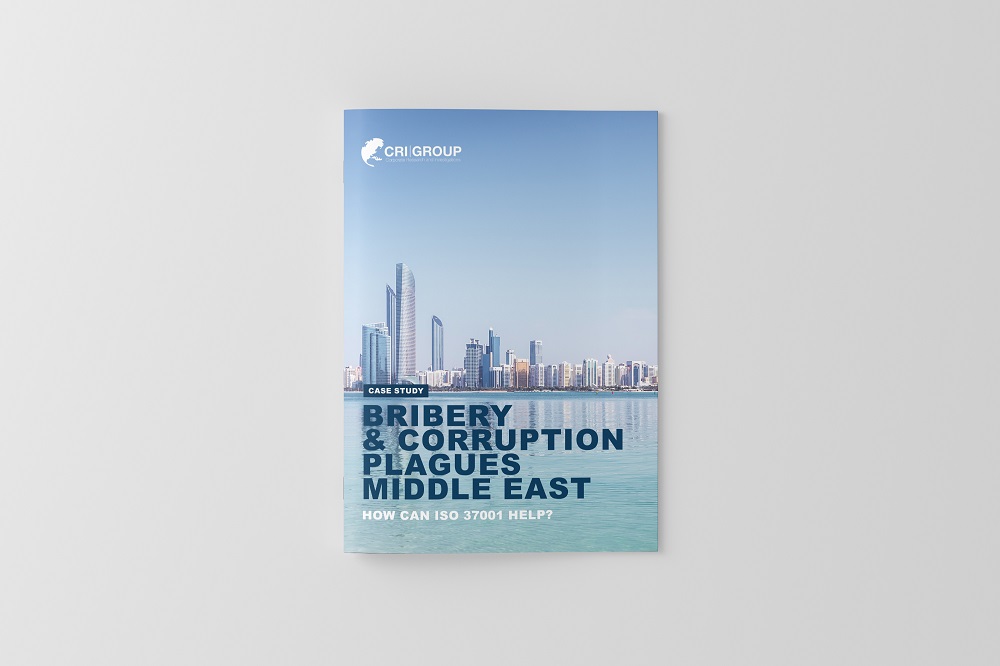 Other Solutions
While CRI® may not offer the ABMS certification, we do offer other services. We specialise in solutions regarding compliance, working as trusted partners to businesses and institutions across the globe. Our experts work with energy, insight and care to ensure we provide a positive experience to everyone involved – clients, reference providers and candidates. CRI® Group's unique identity and vision evolved from our fundamental desire to support our clients and their candidates, thus creating the DueDiligence360™.
The DueDiligence360™ reports help organisations comply with anti-money laundering, anti-bribery, and anti-corruption regulations. This service also proves beneficial ahead of a merger, acquisition, or joint venture as it can be used for a third-party risk assessment, onboarding decision-making, and identifying beneficial ownership structures. Identifying key risk issues clearly and concisely helps enhance your knowledge and understanding of the customer, supplier, and third-party risk, helping you avoid those involved with financial crime.
Why not consider our background investigative solutions? Employee Background Checks can aid in reducing the risk of hiring an employee who does not live up to their supposed skill set and could cause irrevocable damage. Firms spend years, thousands, even millions to brand their products and services – it only takes one bad hire to cause a loss of capital and reputation. It can go as far as bringing a business to fail – especially if the employee holds malice towards the organisation. EmploySmart™ is CRI® Group's own solution aiming to expose vulnerabilities and threats within your organisation. Much like the ISO certification, our EmploySmart™ is a risk management measure that can be used to significantly reduce business and financial crime, fraud and malpractice within your workplace.
Our solutions are also certified by the British Standard Institute BSI for the scope of BS 7858:2019 Screening of individuals working in a secure environment, Code of practice (the only BS 7858 certified background screening services provider in the UAE and across the Middle East); and BS 102000:2018 Code of practice for the provision of investigative services.
Another risk management solution to consider from CRI® is our Third-Party Risk Management solution (TPRM), also known as 3PRM™. In the wake of the global pandemic, the 3PRM-Certified™ was developed in a bid to aid organisations in accurately determining the legal compliance, financial viability, and integrity levels of external parties, vendors, and customers who seek to be affiliated with and represent the business.
The 3PRM-Certified™ program consists of gap analysis and investigative due diligence on the targeted above parties. This highly thorough program reveals anti-corruption, compliance and risk management discrepancies associated with the international regulatory framework helping your business to flourish at any scale. Find out more about CRI® Group's Risk Management Solutions.
If you're unsure of what solution may be best for you and your business, how about connecting with one of our experts for a free consultation? Receive tailored advice from the top analysts and investigators across the globe.
Who is CRI® Group?
Based in London, CRI® Group works with companies across the Americas, Europe, Africa, Middle East and Asia-Pacific as a one-stop international Risk Management, Employee Background Screening, Business Intelligence, TPRM, Due Diligence, Compliance Solutions and other professional Investigative Research solutions provider. We have the largest proprietary network of background-screening analysts and investigators across the Middle East and Asia. Our global presence ensures that no matter how international your operations are we have the network needed to provide you with all you need, wherever you happen to be. CRI® Group also holds BS 102000:2013 and BS 7858:2012 Certifications, is an HRO certified provider and partner with Oracle.
In 2016, CRI® Group launched Anti-Bribery Anti-Corruption (ABAC®) Center of Excellence – an independent certification body that provides education and certification services for individuals and organisations on a wide range of disciplines and ISO standards, including ISO 31000:2018 Risk Management- Guidelines; ISO 37000:2021 Governance of Organisations; ISO 37002:2021 Whistleblowing Management System; ISO 37301:2021 (formerly ISO 19600) Compliance Management system (CMS); Anti-Money Laundering (AML); and ISO 37001:2016 Anti-Bribery Management Systems ABMS. ABAC® offers a complete suite of solutions designed to help organisations mitigate the internal and external risks associated with operating in multi-jurisdiction and multi-cultural environments while assisting in developing frameworks for strategic compliance programs. Contact ABAC® for more on ISO Certification and training.