Pakistan International Airlines PIA is a national flag carrier found in very miserable circumstance nowadays from fake degrees and professional licenses of the pilots to horrifying crashes with loss of precious lives. This situation is not a coincidence but an organised failure of institutional management, state, and internal controls.
The incidence of fraud and corruption in State-owned enterprises, particularly in Pakistan, has been on the rise at an alarming rate in fairly recent times (Simpson, 2002, p. 21). While the perpetration of financial crime and fraud in Pakistan is a globally renowned fact and while privatised institutions play a particularly substantial role in such statistics (Loughman and Sibery, 2011, p. 254), fraud in the governmental institutions is also a key element in the fabric of financial crime in Pakistan (Daudpota, 2013). In that regard, Pakistan International Airlines (PIA hereafter) plays a significant role in the context of being a State-owned enterprise.
Being the national flag carrier of Pakistan, PIA has a shareholding structure that is predominantly State-based (International Monetary Fund and Middle East and Central Asia Dept, 2014). Indeed, the State owns approximately 87% of the shares in the Airlines, with the remainder 13% being held by private investors (United Nations ESCAP, 2009, p. 183). Yet, despite the active involvement of the government, or rather owing to the active engagement of the administration, PIA has been fraught with corruption and financial fraud for some time now (John, 2009, p. 61). Even recently, three PIA officials have been fired owing to charges of corruption and human trafficking, reflecting the inherent culture of corporate management within PIA (Pakistan Today, 2015).
When one considers such colossal failures to manage financial crime within such public bodies, several critical risk factors such as collusion with tenderers and financial bungling play a prominent role. Of these, this paper seeks to essentially focus on the two main critical risk factors of kickbacks and mismanagement, in order to analyse the manner in which these risk factors have played a role in the perpetration of financial fraud in PIA. Further to this study, the paper shall propose a potential solution in controlling the advent and extent of financial crime in the PIA, as per the established standards of crime control (Croall, 2003). Read the answers to the following questions:
Critical Risk factors of mismanagement;
Critical risk factors and the kickbacks;
Risk identification and framework analysis;
… and more!
Download the case study now to learn the major critical risk elements.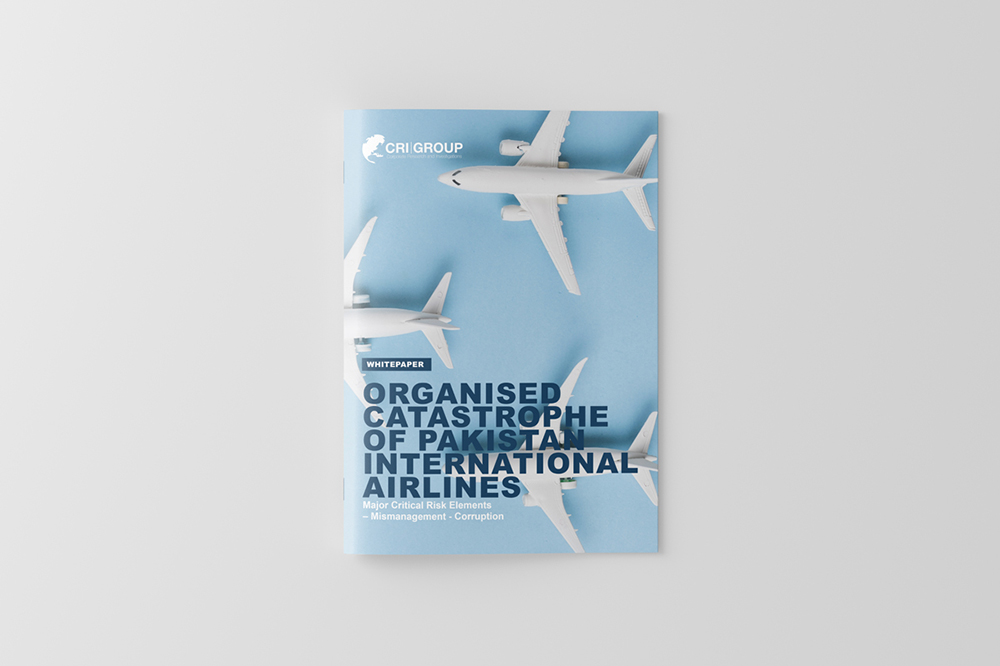 Who is CRI Group?
Based in London, CRI Group works with companies across the Americas, Europe, Africa, Middle East and Asia-Pacific as a one-stop international Risk Management, Employee Background Screening, Business Intelligence, Due Diligence, Compliance Solutions and other professional Investigative Research solutions provider. We have the largest proprietary network of background-screening analysts and investigators across the Middle East and Asia. Our global presence ensures that no matter how international your operations are we have the network needed to provide you with all you need, wherever you happen to be. CRI Group also holds BS 102000:2013 and BS 7858:2012 Certifications, is an HRO certified provider and partner with Oracle.
In 2016, CRI Group launched Anti-Bribery Anti-Corruption (ABAC®) Center of Excellence – an independent certification body established for ISO 37001:2016 Anti-Bribery Management Systems, ISO 19600:2014 Compliance Management Systems and ISO 31000:2018 Risk Management, providing training and certification. ABAC® operates through its global network of certified ethics and compliance professionals, qualified auditors and other certified professionals. As a result, CRI Group's global team of certified fraud examiners work as a discreet white-labelled supplier to some of the world's largest organisations. Contact ABAC® for more on ISO Certification and training.