How to eradicate unethical practice in the life sciences industry has been a major concern for the industry, following a series of SEC investigations during this decade. Given the crucial role that healthcare plays in society, the impact of unethical and/or illegal behaviour can be particularly harmful.
CRI Group (parent brand of ABAC) has conducted an empirical review of international laws and conventions; professional association codes; and individual company Anti-Bribery and Anti-Corruption policies, as well as conducting in-depth interviews with ABAC and Life Sciences legal professionals, in order to validate the efficacy of existing measures, and to identify gaps in good practice and enforcement.
Your Free ebook analysis:
ABAC laws and conventions overview including:

FOREIGN CORRUPT PRACTICES ACT, 1977
1997 OECD CONVENTION ON COMBATING BRIBERY OF FOREIGN PUBLIC OFFICIALS IN INTERNATIONAL BUSINESS TRANSACTIONS
2005 UN CONVENTION AGAINST CORRUPTION
UK BRIBERY ACT 2010

Codes of life sciences business practices overview including:

ABHI CODE OF ETHICAL BUSINESS PRACTICE 2018
ABPI CODE OF PRACTICE FOR THE PHARMACEUTICAL INDUSTRY
MHRA'S THE BLUE GUIDE: ADVERTISING AND PROMOTION OF MEDICINES IN THE UK
MEDTECH EUROPE CODE OF BUSINESS PRACTICE

Life sciences companies case studies overview
ISO 37001:2016 – Overview including:

Conducting bribery risk assessment
Ensuring top management responsibility
Employee Awareness and Training
Third Party Culpability
Support for Whistle-blowers
Internal Accounting Controls
Continual improvement

A Legal Perspective: Interviews with ABAC and Life Sciences Lawyers Overview and Individual Profiles
Our analysis of six pharmaceutical companies (GlaxoSmithKline, Pfizer, Merck/MSD, Novartis AG, AstraZeneca PLC, Johnson & Johnson) and their Anti-Bribery and Anti-Corruption violations found they all exhibited inadequate bribery risk assessment; a lack of top management responsibility; insufficient employee awareness and training; no third-party culpability; limited support for whistle-blowers; inadequate internal accounting controls; and limited continual improvement. All of these issues would, in theory, have been addressed by adherence to ISO 37001.
The conclusions of the report, include:
The UN Convention and OECD Convention offer powerful, guiding principles for the Life Sciences industry that are necessary, but not sufficient.
Industry codes of good practice, including ABHI Code, ABPI Code, MHRA's Blue Guide, and the MedTech Europe Code are important, mainly for their quantitative thresholds. Whereas other laws and conventions broadly prohibit "excessive" offers of bribery, professional association codes set clear restrictions. They are also specially tailored to the life sciences industry.
Company-specific risk mitigation steps are indispensable but have also proven to be insufficient.
Legislation 'with teeth' is necessary for a truly effective regime. Examples include the Foreign Corrupt Practices Act in the US (enforced by the SEC), and the UK's Bribery Act. While such enforcement agencies tend to have 'long-arms', the absence of a coherent international regulatory regime for an industry as global as Life Sciences means risk remains.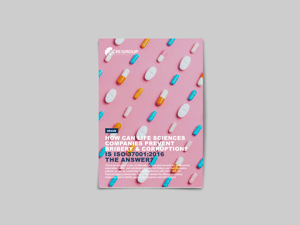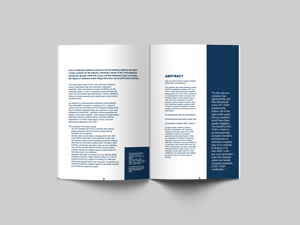 Who is CRI Group?
Based in London, CRI Group works with companies across the Americas, Europe, Africa, Middle East and Asia-Pacific as a one-stop international Risk Management, Employee Background Screening, Business Intelligence, Due Diligence, Compliance Solutions and other professional Investigative Research solutions provider. We have the largest proprietary network of background-screening analysts and investigators across the Middle East and Asia. Our global presence ensures that no matter how international your operations are we have the network needed to provide you with all you need, wherever you happen to be. CRI Group also holds BS 102000:2013 and BS 7858:2012 Certifications, is an HRO certified provider and partner with Oracle.
In 2016, CRI Group launched Anti-Bribery Anti-Corruption (ABAC®) Center of Excellence – an independent certification body established for ISO 37001:2016 Anti-Bribery Management Systems, ISO 19600:2014 Compliance Management Systems and ISO 31000:2018 Risk Management, providing training and certification. ABAC® operates through its global network of certified ethics and compliance professionals, qualified auditors and other certified professionals. As a result, CRI Group's global team of certified fraud examiners work as a discreet white-labelled supplier to some of the world's largest organisations. Contact ABAC® for more on ISO Certification and training.